The Baudo oropendola (Psarocolius cassini) has gone from less than a dozen known individuals to nearly a hundred due to the discovery of two new colonies in northwestern Colombia by local conservation group, Fundación ProAves. However, the new colonies are located in an unprotected area currently being impacted by deforestation.
George Fenwick, president of American Bird Conservancy which focuses on bird conservation, said in a press release that his organization "is thrilled to have helped fund the research expedition that led to this stunning discovery of these two new colonies of this rare bird. Now we need to work with ProAves to conserve and protect them."
| | |
| --- | --- |
| | The endangered Baudo oropendola (Psarocolius cassini). Fundación ProAves. |
The new colonies were discovered some 75 miles from the known population.
As members of the Icterid family, oropendolas are passerine birds native to Central and South America related to blackbirds and orioles.
A colorful and very vocal bird, the Baudo oropendola is known by a distinct pink cheek patch. It is currently listed as Endangered by the IUCN Red List.
Related articles
New bird discovered in Colombia—and released alive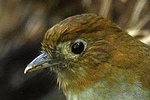 (05/26/2010) Researchers have discovered a new species of antpitta in the montane cloud forests of the Colibri del Sol Bird Reserve in western Colombia. A thrush-like bird, the new cinnamon and gray species was, according to a press release by the American Bird Conservancy (ABC), "captured, banded, measured, photographed, sampled for DNA, and then released alive back into the wild". This is one of only a few incidences in which a new species has been described without 'collecting' an individual (i.e. killing) to provide a model of the species in a museum. The new bird has been named Fenwick's antpitta (Grallaria fenwickorum) after the President of ABC, George Fenwick, and his family.
Population of Asia's rarest waterbird 30% higher than previously thought
(09/13/2010) A record-breaking 429 White-shouldered Ibis (Pseudibis davisoni) were recorded in a new survey in Cambodia, dramatically expanding the known global population of the critically endangered bird species, reports BirdLife International.
'No hope now remains' for the Alaotra grebe
(05/31/2010) World governments have missed their goal of stemming biodiversity loss by this year, instead biodiversity loss has worsened according to scientists and policy-makers, and a little rusty-colored bird, the Alaotra grebe (Tachybaptus rufolavatus) is perhaps a victim of this failure to prioritize biodiversity conservation. Native to a small region in Madagascar, the grebe has been declared extinct by BirdLife International and the IUCN Red List due to several factors including the introduction of invasive carnivorous fish and the use of nylon gill-nets by local fishermen, which now cover much of the bird's habitat, and are thought to have drowned diving grebes. The bird was also poached for food.