One thousand endangered tortoises are being illegally collected each week in southern Madagascar, reports WWF.
The trade, driven by international demand for the endemic radiated tortoise (Astrochelys radiata) and the spider tortoise (Pyxis arachnoids) as well as local consumption, is driving the slow-to-reproduce species toward extinction in the wild. Additionally, tortoise trafficking poses a risk to local authorities, with poachers increasingly likely to be "armed and dangerous," according to WWF.
Some 7,855 living tortoises and more than 4.8 tonnes of meat were seized between 2001 and 2010 according TRAFFIC, WWF's wildlife trade monitoring program. TRAFFIC estimates the seizures represent only two percent of the estimated 600,000 tortoises collected from the southern Madagascar during that period.
| | |
| --- | --- |
| | Radiated tortoise in Madagascar. Photo by Rhett Butler |
"The population decline of these flagship species is alarming," said Tiana Ramahaleo, WWF's Conservation Planning and Species Program Coordinator in Madagascar, in a statement. "If we don't manage to halt tortoise poaching and habitat destruction in the South, we might lose both tortoises in the wild in less than fifty years."
Tortoises are collected as a local delicacy as well as the international pet trade, where the reptiles fetch high prices.
Related articles
Once common tortoise from Madagascar will be 'extinct in 20 years'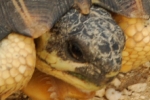 (04/05/2010) The radiated tortoise, once common throughout Madagascar, faces extinction within the next 20 years due to poaching for its meat and the illegal pet trade, according to biologists with the Turtle Survival Alliance (TSA) and the Wildlife Conservation Society (WCS). Returning from field surveys in southern Madagascar's spiny forest, they found regions without a single turtle. Locals said that armed bands of poachers were taking truckloads of tortoises to be sold in meat markets. The tortoise is also popular in the underground pet trade, although it is protected by CITES (Convention on International Trade in Endangered Species).
World's rarest tortoises stolen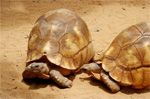 (06/08/2009) Four of the world's rarest tortoises have been stolen from a captive breeding program in Madagascar. The critically endangered animals were part of a group of 44 due for release by the Durrell Wildlife Conservation Trust and were being held in pre-release enclosures at a secret location. The Trust fears the stolen ploughshare tortoises are destined for Europe, USA or Asia where collectors will pay thousands of dollars for individuals due to the rarity of the species. It is estimated that only 500 adults remain in the wild and they are only found in Baly Bay national park, where the tortoises were taken from. After extensive investigations in the area arrests have been made but the tortoises are yet to be recovered.