The NASA Goddard Institute for Space Studies (GISS) has found that the global average temperature of July 2010 was nearly 1 degree Fahrenheit (0.55 degrees Celsius) higher than average temperatures from July 1951-1980. In fact, this July was tied for the warmest on record with July 2005 and 1998.
Temperatures soared dramatically in Eastern Europe and Eastern Asia where they rose above 10 degrees Fahrenheit (5 degrees Celsius) from 1951-1980 averages. Russia suffered one of its worse natural disasters with weeks of fires that blanketed an already sweltering Moscow in toxic smoke. Drought destroyed a third of the nation's grain crop.
Some places, such as Central Asia and parts of South America, saw temperatures below normal, but these regional trends were not enough to counteract higher-than-average temperatures across most of the globe.
While the last seven months have been the hottest on record worldwide since data-taking began in the 1880s, researchers believe that cooler temperatures may be on the horizon as the expected La Niña (the opposite of an El Niño) brings in cooler weather. Still, it is likely that 2010 will be among the warmest years on record.
Climate experts overwhelmingly agree that the world is warming due to extensive greenhouse gas emissions from human activities. The past decade (from 2000-2009) was the warmest decade on record. Recently officials have stated that the heat wave and drought in Russia, freak floods in the US, and the devastating floods in Pakistan that have affected over 20 million people are in line with climate change expectations.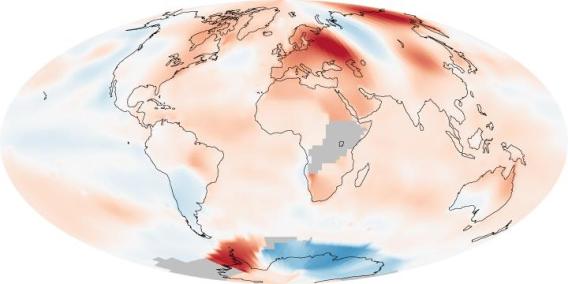 This map show global land temperature anomalies for July 2010 from average July temperatures of 1951-1980. Above-average temps are in red; below-average temps are in blue, while gray areas indicate insufficient data. Image courtesy of NASA-GISS. Click image to enlarge.
Related articles
New NASA images reveal devastating impact of Russian fires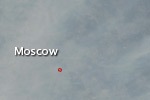 (08/11/2010) A new series of images released by NASA show the extent of smoke hovering over Moscow and Central European Russia, while another image measures the amount of carbon monoxide in the area, a gas which can produce a number of health problems. Russia is in the midst of a full-scale disaster as hundreds of forest and peatland fires are covering part of the world's largest nation in a thick cloud of smoke. Temperatures in Moscow and elsewhere have broken past heat records several times in the last month while a long drought combined with fires have led to the loss of 20 percent of Russia's grain crop, causing Prime Minister Vladimir Putin to ban grain exports. Russian officials say that it;s likely some 15,000 people to date have died from the disaster.
Summer from hell: seventeen nations hit all-time heat records
(08/09/2010) The summer isn't over yet, but already seventeen nations have matched or beaten their all-time heat records. According to Jeff Masters' WunderBlog, Belarus, the Ukraine, Cyprus, Russia, Finland, Qatar, the Sudan, Saudi Arabia, Niger, Chad, Kuwait, Iraq, Pakistan, Colombia, Myanmar, Ascension Island, and the Solomon Islands have all equaled or broken their top temperature records this year. In addition, the hottest temperature ever recorded in Asia was taken in Pakistan at 128 degrees Fahrenheit (53 degrees Celsius); this incredible temperature still has to be reviewed by the World Meteorological Organization (WMO).
Officials point to Russian drought and Asian deluge as consistent with climate change
(08/08/2010) Government officials are pointing to the drought and wildfires in Russia, and the floods across Central and East Asia as consistent with climate change predictions. While climatologists say that a single weather event cannot be linked directly to a warming planet, patterns of worsening storms, severer droughts, and disasters brought on by extreme weather are expected as the planet warms.