This post is a commentary.
An open letter to the Prime Minister of Malaysia.
Dear Prime Minister Najib Tun Razak,
I write to you as a deeply concerned and saddened citizen of Malaysia. For most of the 45 years of my life, I have been proud to be Malaysian. Recently, I have become heartbroken to be Malaysian.
I am profoundly grateful to write this with the support of both my local communities in Sabah, Malaysian Borneo and California, U.S.A., and a larger world community. That said, I take full ownership of and sole responsibility for the views articulated in this letter; I express them from my stand as a mother, an earth citizen and a leader.
I founded and lead a public charity and non profit organization both in Malaysia and in the U.S., to bridge between worlds and build partnerships for ecological conservation. I have been at the front lines of the founding and mobilization of Green SURF (Sabah Unite to RePower the Future), the civil society movement opposing the construction of the 300 megawatt coal-fired power plant in Lahad Datu, Sabah, on the edge of the Coral Triangle, one of three of the world's most bio-diverse ecosystems. You know. You signed the 6-nation declaration between Malaysia, Indonesia, Philippines, Papua New Guinea, East Timor and Solomon Islands to collectively protect this 1.6 billion acres of ocean. You also know of course of your pledge at Copenhagen to reduce carbon emission intensity by up to 40% by 2020. You likely also know that the plant will displace fishing communities who have been there for a long time – irreparably contaminating their livelihoods forever. And if you listened, you would also know that they do not want the "development" that your government is imposing on them.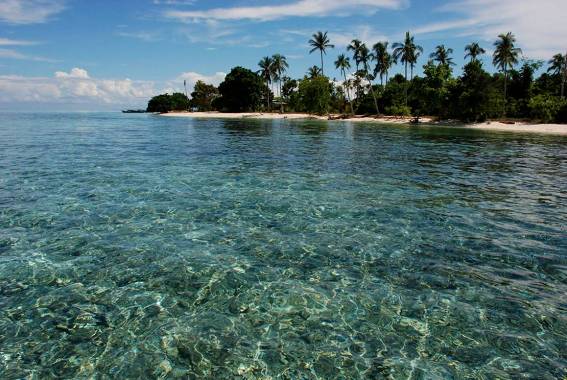 Tun Sakaran Marine Park , made up of pristine islands and marine waters, lies off the coast of Semporna less than 100 kilometers from the coal plant. Photo by: Yee I-Lann.
One of the priorities of Green SURF was to study clean energy alternatives to the coal-plant, and propose them to the government. We collectively invested tremendous time and resources to identify and commission the expertise of Professor Daniel Kammen at Renewable and Appropriate Energy Laboratory of University of California, Berkeley to conduct the Clean Energy Options for Sabah report. We had no notion of the outcome of the study, and results showed that Sabah is in an exceptional position to shift towards clean energy due to the availability of natural resources. We are in fact in an opportune position to lead the nation and the region in clean energy – the kind of leadership the world so urgently needs now. I wonder if you know that Sabah is the last coal power-free frontier of Borneo. FYI, the 5 core NGOs in Green SURF are amongst the largest, oldest and most recognized conservation groups in Sabah and Malaysia – collectively responsible for most of the conservation work in the nation, with partnerships that span the world.
We have tried every avenue available to communicate to you the results of our findings and to engage in discussion about the future of energy for Sabah. After months of unsuccessful attempts to meet with you, I can only conclude that you do not want to meet with us. This confuses and disturbs me. Your words in public are about listening to the rakyat (people) and hearing their views. A sizeable portion of the rakyat of Sabah has been doing everything within their power to be heard by you. To no avail. We have given you the benefit of the doubt that word is not getting to you, and yet we have met with those around you who promised they would convey our message to you. Many months, memos, reports, letters, faxes, emails and phone calls later, and we have not received a single response from you or any member of your administration. We also did our best at state level government, and have huge support from within the government but ultimately the message is that this is untouchable because "ini Najib mau" (Najib wants this).
| | |
| --- | --- |
| | |
Sir, my most consistent experience of your administration is stone walls, arrogance and insincerity. I am shocked by the behavior of the leadership of my nation. I find it patronizing, archaic, oppressive, blatantly and self-righteously elitist and top-down. I do not experience your administration as democratic, transparent, open, accountable or responsible. There is a deep incongruence between what you are projecting externally and what we have experienced internally. I can only surmise that you intentionally run your administration in this manner. Otherwise, it would mean that your leadership is incompetent and ineffective.
I am angry, and I am not willing to accept systemic disempowerment of our people. I am writing this open letter as a last resort. Sabahans are speaking up because we are deeply troubled and scared about the fate of our ecological and cultural legacy, and what we will be able to hand down to our future generations. Please show true leadership and listen. You and your administration have much to do to regain a modicum of respect amongst many Sabahans. If 1Malaysia is more than a PR campaign and is truly intended "to provide a free and open forum to discuss the things that matter deeply to us as a Nation", please walk your talk.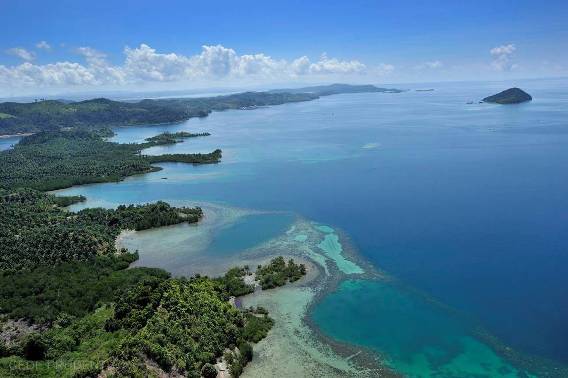 The coal plant will be built on the northern edge of Lahad Datu Bay. Photo by: Cede Prudente.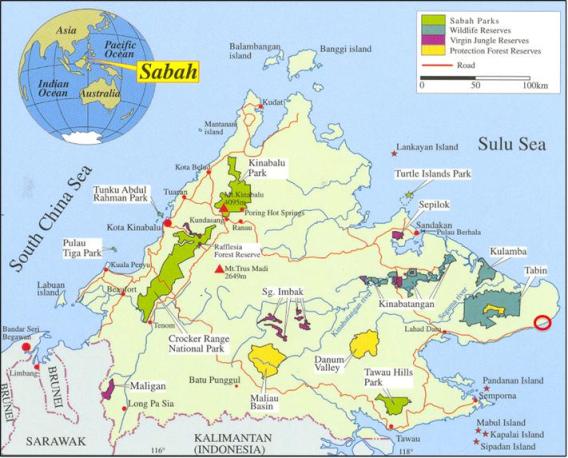 The circle denotes the coal plant. Tabin Wildlife Reserve is to the west, Semporna (Tun Sakaran Marine Park) is to the south. Map courtesy of Green SURF.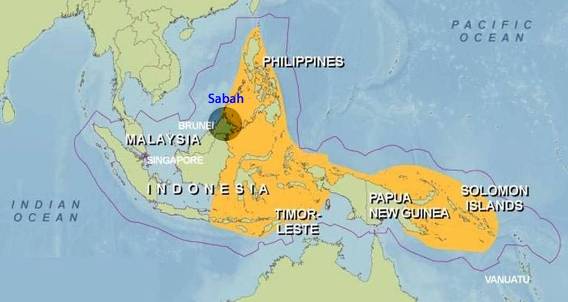 Map shows Sabah's place in the coral triangle. Map courtesy of Green SURF.
Related articles
Photos reveal paradise-like site for coal plant in Borneo

(05/21/2010) With the world's eyes on the environmental catastrophe in the Gulf of Mexico, many are beginning to ponder the rightness of not just America's, but the world's dependence on fossil fuels. Yet large-scale fossil-fuel energy projects continue to march ahead, including one in the Malaysian state of Sabah on Borneo to build a 300 MW coal plant, which has come under fierce opposition from locals (already the project has been forced to move locations twice). The newest proposal will build the coal plant, as photos below reveal, on an undeveloped beach overlooking the Coral Triangle, one of the world's most biodiverse marine environments, with transmission lines likely running through nearby pristine rainforest that are home to several endangered species, including orangutans and Bornean rhinos.
Fishermen express doubts about coal plant overlooking their fishing grounds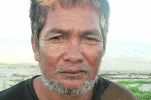 (06/13/2010) Local fishermen in the Malaysian state of Sabah are uncertain of their future, if the government pushes ahead to build a 300 megawatt coal power plant. They have been told they will be moved from their current seaside village to one deeper inland, and while the coal plant will provide manual labor work in its building stages, the fishermen express doubt about the impacts over the long-term effects of the coal plant on their livelihood. "Someone mentioned that maybe we have to move to Sungai Merah, which is quite far from our village. We are also worried because Sungai Merah is not next to the sea like [our village] is," local fishermen, Ali Hia, told Green SURF and Save Sandakan members—two local organizations opposed to the coal plant—who recently visited the seaside village of Kampung Sinakut, site of the proposed coal plant.
Analysis shows Borneo can say 'no' to coal power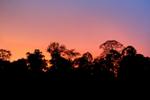 (03/17/2010) Plans for a coal power plant in the Malaysian state of Sabah in northern Borneo have run into stiff opposition. Environmentalists say the coal plant could damage extensive coral reef systems, pollute water supplies, open rainforests to mining, and contribute to global climate change, undercutting Sabah's image as a 'green' destination. The federal government contends that the coal plant is necessary to fix Sabah's energy problems. However, a recent energy audit by the Renewable and Appropriate Energy Laboratory (RAEL) at the University of California Berkeley shows that pollution-intensive coal doesn't have to be in Sabah's future.
Coal plant could damage rainforest reserves, coral reefs, palm oil plantations in Malaysian Borneo
(12/20/2009) A proposed coal-fired power plant in Malaysian Borneo could damage the region's world-renowned coral reefs, pollute air and water supplies, open Sabah's biodiverse rainforests to mining, and undermine the state's effort to promote itself as a destination for "green" investment and ecotourism, warn environmentalists leading an effort to block the project. The scheme, which is backed by the federal Tenaga Nasional Berhad and state energy company, Sabah Electricity Sdn. Bhd, has faced strong opposition and already been forced to re-locate twice since it was conceived more than two years ago. The 300-MW plant is now planned for a coastal area that is situated in the middle of the Coral Triangle/Sulu Sulawesi Marine Ecoregion, an area renowned for astounding levels of biodiversity.