UNESCO's World Heritage committee has added Madagascar's unique tropical forests to its Danger List of threatened ecosystems. The move comes following a drawn-out illegal logging crisis that has seen loggers and traders infiltrating the island-nation's national parks for rosewood. Bushmeat hunting of lemurs and other rare species also accompanied the crisis.
"In adding this site to the danger list, we are calling for international action to halt illegal logging and to also ensure that no illegally logged precious woods from Madagascar enter national markets," Tim Badman, head of the World Heritage at the International Union for the Conservation of Nature (IUCN) said in a statement. The IUCN is an advisory body to UNESCO. In its decision, UNESCO specified the rainforests of eastern Madagascar, known as the Atsinanana.
The plunder of Madagascar's rainforests began after a government coup in 2009 with foreign traders taking advantage of the ensuing instability, while the new government sent mixed messages.
| | |
| --- | --- |
| | While Madagascar is famous for its lemurs, it is also home to a wide variety of endemic chameleons, like this Parson's chameleon. In total approximately half of the world's chameleons are found in Madagascar. Photo by: Rhett A. Butler. |
"What has been happening in Madagascar since the coup is little more than a smash-and-grab raid. Unscrupulous companies have been taking advantage of the upheaval and the willingness of the current regime to allow highly damaging practices which bring no benefit to the nation and simply enrich a few greedy people," said the head of Conservation International (CI) and an expert on Madagascar's wildlife, Dr. Russell Mittermeier.
Approximately 80 percent of the species found in Madagascar's Atsinanana are endemic to the ecosystem, i.e. found no-where else. Such high endemism is not unusual in Madagascar which harbors all of the world's lemurs in addition to hundreds of unique birds, amphibians, and reptiles.
The UNESCO committee also agreed to place the Everglades back on the list due to pollution, over-development, and water scarcity.
In addition, the Galapagos Islands were removed from the Danger List, however conservationists say that the removal comes too soon. While the IUCN pushed for the islands to remain on the list, member nations voted it off.
Related articles
If Madagascar's biodiversity is to be saved, international community must step up
(07/27/2010) The international community's boycott of environmental aid to Madagascar is imperiling the island's unique and endangered wildlife, according to a new report commissioned by the US Agency for International Development's (USAID) Bureau of Africa. International aid to the desperately poor nation slowed to a trickle after a government coup last year, including a halt on environmental funding from the US government. Since then the island has experienced an environmental crisis: illegal loggers and traders began decimating protected areas, and the wildlife trade, including hunting endangered lemurs for bushmeat, took off.
The illegal logging cycle in Madagascar
(06/23/2010) The latest issue of the journal Madagascar Conservation & Development provides a comprehensive look into Madagascar's illegal logging trade, which has generated more than $200 million for a small group of individuals over the past year. The trade, which spikes just prior to national elections and may be a source of funds for ruling politicians, has taken a heavy toll on the lowland rainforests of Madagascar, with targeted species now at risk of extinction.
Rainforest slaughter continues in Madagascar despite "ban" on timber exports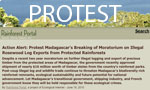 (06/21/2010) New eyewitness reports indicate continued logging of Madagascar's Masoala National Park for rosewood despite a government "moratorium" on logging and timber exports. A source near Marofinaritra, a town between Masoala and Antalaha, reports heavy night-time movement of trucks carrying illegally logged timber from the park. The wood is believed to be destined for Antalaha, a regional hub for the rosewood trade.