To je obtížná otázka,kterou se už dlouhodobě snaží vyřešit ochránci přírody. WCS (Wildlife Conversation society)přišlo s novým plánem jak ochránit na světě nejvíce ohrožené gorily (Cross River gorilla) před pytláky.Místním obyvatelům poskytuje jiný a lepší způsob obživy a tím jsou hospodářství se šneky.
V počátcích, fundovaných programem Great Apes organizace Arcus,WCS vybral osm bývalých pytláků že čtyř vesnic,aby se stali farmáři šneků.Proč,ale chovat šneky?
| | |
| --- | --- |
| | WCS doufá, že tyto africké obří šneky bude poskytovat alternativní zdroj příjmu za posledních gorila pytláky. Foto zdvořilostní z WCS. |
Podle WCS,výdaje potřebné na hospodaření se šneky jsou kolem 87 US dolarů a přitom zisk z 3000 ročně prodaných šneků je kolem 413 US dolarů,což znamená,že zisk farmáře je 326 US dolarů ročně.Na druhé straně,pytlačení goril pro maso přináší jen kolem 70 US dolarů. Na rozdíl od pytlačení,příjem z hospodaření se šneky je spolehlivý a pravidelný.
"Lidé,žijící blízko Cross River gorillas mají problém s hledáním jiných zdrojů obživy a jídla a proto pytlačí,"řekl v tisku James Deutsch,ředitel progamu WCS Africa."Pracujeme s nimi,abychom otestovali mnoho jiných způsobů obživy,ale pravděpodobně nejvíce slibné je právě hospodaření se šneky.
Pytláci,že kterých se stali farmáři šneků získali Africké obrovské šneky od WCS na začátek jejich podnikání.Tyto šneci se množí rychle a obsahují mnoho proteinů.
Než byla Cross River gorila( Gorilla gorilla diehli), znovu objevena v 80 letech ,byla považována za vyhynulou.S Poddruhem západní gorily to nevypadá dobře: vědci se domnívají že jich je dnes méně než 300.Cross River gorila žije na hornatých hranicích mezi Nigérii a Kamerunem.
| | |
| --- | --- |
| | Přesto z jediné video z gorila Cross River ve volné přírodě. Foto zdvořilostní z WCS. |
Před dvěma lety,vytvořila Kamerunská vláda Takamanda National Park, na záchranu Cross River goril.
"Přežití Cross River gorillas závisí na právním nátlaku a ochranářských úsilí " říká Andrew Dunn,ředitel WCS Nigeria Country." Práce WCS a našich oddaných polních-zaměstnanců vytvořit jiný způsob obživy pro místní pytláky je jen jeden krůček na cestě k zotavení těchto výjimečných zvířat."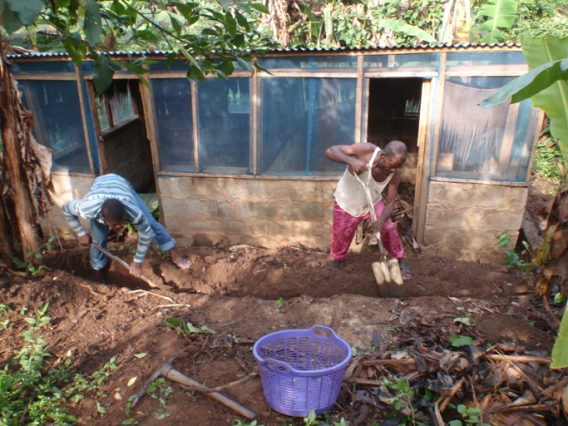 Stavební šnek farmě. Foto ze zdvořilosti: WCS.