In the late 1970s, the fate of the Eurasian Otter (Lutra lutra) in France was very gloomy. By just looking at the otter's range map, one could see that most of the country was left with vast regions devoid of a species that was once found in every region. Estimations barely reached 1,500 otters left in the wild for the whole country. Today, 2,000 to 3,000 individuals are believed to room in creeks and rivers mostly in the Massif Central, the Atlantic side (Bretagne) and western area, in particular in the wetland of Poitevin. The upward trend in population size is good news and a step towards reconstituting sustainable populations, however, the overall population is still critically low. By contrast, in the early 1900s otters were quite abundant in France with over 50,000 wild animals.
| | |
| --- | --- |
| | Eurasian Otter (Lutra lutra) in Southwold, England. Photo by: Catherine Trigg. |
The Eurasian otter has a large distribution including temperate, Mediterranean, and tropical regions, covering parts of three continents (Africa, Asia, and Europe). The most abundant populations are found in Russia. However, in Japan it is believed to be extinct and Critically Endangered in South Korea. It occupies streams, rivers, lakes, marshes and sometimes coastal areas. The otter is at ease within both aquatic and terrestrial habitats, however, it prefers habitat with abundant food, freshwater, and natural bank with vegetation, tree roots, rock piles, wood and other debris in which to build holts (i.e. otter dens). Predominately nocturnal, biologists have a hard time surveying them, making the Eurasian otter cryptic and farouche. Most population estimates are conducted by searching for otter signs like tracks and feces on the river banks. If you see one in the wild in France, then consider yourself very lucky!
Until the early 1980s, otters were heavily hunted for their fur, food and as a pest in aquaculture fields. Their sharp decline was accelerated by significant water pollution (e.g., DDT/DDE, polychlorinated biphenyls (PCBs), and metal mercury), as well as habitat destruction and fragmentation, which both remain the current dominant threats. The slow increase in range and the number of otters in France is clearly attributed to three main causes. The first is the legal protection of the species in 1972 and 1981 including the ban on using jaw traps in 1994. The second one is the significant water quality improvement achieved in many water bodies over decades. Finally, construction of otter tunnels under roads and passages at various hydroelectric dams have saved many otters' lives. Between 1980 and 1990, 4 (direct counts of dead individuals) to 20 otters (estimates) were killed each year by vehicles in the region of Bretagne, accounting for 5 percent of the estimated population. Hundreds of tunnels and passages have being build since 1980s. For example, along the Highway A89, 45 tunnels alone were constructed including the installation of remote cameras to evaluate their efficiency. The cost associated with this type of infrastructures (e.g. ledges, underpasses, fencing) is generally low ranging from 75 to several hundred Euros per linear meter of construction, the total cost usually not exceeding 20,000 Euros. The same underpasses are often beneficial to other wildlife species like amphibians. It is also important to note that in the 1980s, the Eurasian Otter became an important flagship species for French conservation groups including Société National de Protection de la Nature (SNPN) and WWF France, which promoted conservation awareness and activities for otters.
| | |
| --- | --- |
| | Feces of Eurasian otter. Photo by: Pierre Fidenci. |
Reintroduction of Eurasian otters has been the subject of intense debates since most of its historic range is now devoid of them. Only one region, Alsace, in northern France, has made an unsuccessfully attempt to reintroduce otters. Opposition against otter reintroduction is strong and fisherman lobbies and aquaculture activities oppose them as otters prey mostly on fish.
Very slowly but surely, the Eurasian otter is coming back in France, but at this pace, it may take another century to re-conquer most of its historical range.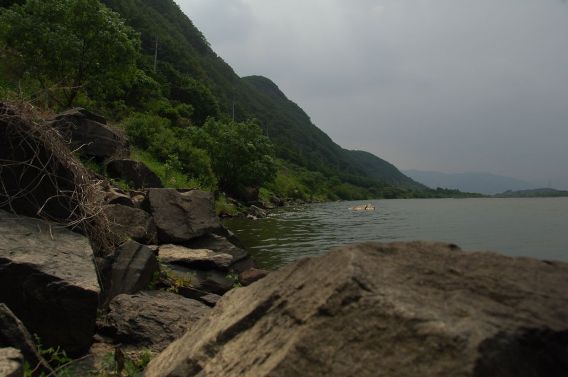 Habitat occupied by the Euarsian otter. Photo by: Pierre Fidenci.

Related articles
Eleven new species discovered in France
(07/29/2010) Usually announcements of new species come from biodiverse rainforests or unexplored marine depths, but researchers have announced the discovery of nearly a dozen new species in one of Earth's most well-trodden place: France. Eleven new species have been discovered in Mercantour National Park in southern France. All the new species are insects, including one beetle, seven new aquatic invertebrate living under creek beds, and three springtails, which are soil-dwelling arthropods.
Endangered otter rediscovered in Borneo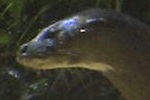 (07/25/2010) The last time the hairy-nosed otter (Lutra sumatrana) was seen in Borneo it was road-kill, but researchers have now photographed a living individual of this elusive and endangered species. Photos were taken by camera trap in the Dermakot forest in Sabah, a state of Malaysian Borneo. While the last specimen known in Borneo was killed by a car in 1997, the species hasn't been found confirmed in Sabah for over a century.