Walmart on Wednesday fired back at Greenpeace after the activist group linked the retail giant to destruction of Indonesia's rainforests through its purchases from Sinar Mas Group's Asia Pulp & Paper (APP), a Singapore-based firm associated with destructive logging practices.
Noting that it was already working with Greenpeace to eliminate deforestation from its supply chain, the world's largest retailer said it "does not support deforestation" and does not source from APP for its "largest markets." Walmart said it was "surprised" Greenpeace targeted it in a recent press release announcing 'How Sinar Mas is Pulping the Planet' [PDF], a report alleging environmental transgressions by APP, including destruction of rainforests and drainage of carbon-dense peatlands.
"We were surprised Greenpeace would single us out in their press release as we have been in ongoing discussions with them and continue to partner on a variety of projects around the world," said Walmart in a statement, alluding to its work with Greenpeace to reduce the impact of cattle ranching in the Amazon. "Globally, we are committed to traceability in the timber supply chain, and we work closely with government, NGO and supplier partners to build a better, more transparent, and more sustainable supply system."

Draining and clearing of peat forest in Central Kalimantan. Photo by Rhett A. Butler.

Seeking maximum exposure for its new report, Greenpeace linked Walmart to rainforest destruction in Southeast Asia. In the process, the activist group may have damaged its credibility after a series of highly influential reports on palm oil, soy, and cattle ranching which pushed global giants to implement new sourcing policies.
Walmart China continues to source from APP, but Walmart says it has "taken the steps to stop development on private brand products with APP and are looking at what measures can be taken regarding branded products."
In response to Walmart's statement, Greenpeace Forest Campaigner Andy Tait told mongabay.com "Walmart's decision to phase out APP products in China is an extremely positive step forward, assuming it's now confirmed. Sinar Mas/APP have to wake up to the fact that in a global market place their current business practices are completely unacceptable – and this decision provides yet more evidence of that."
Tait added that Greenpeace targeted Walmart as "one of a number of international retailers operating in China who at the time of the report launch not taken a clear stance in relation to probably the most notorious pulp and paper company in the world."
APP has a nefarious reputation in environmental circles due to its damaging logging operations in Sumatra, China, and Cambodia. In recent years these concerns spurred Walmart, Ricoh, Office Depot, Staples, Woolworths, and others to cancel contracts with the firm. APP also lost its accreditation under the Forest Stewardship Council (FSC), an environmental certification standard for timber and paper products. In response, the company launched a marketing effort to promote its "green" image. The campaign has been touted by activist groups as a prime example of "greenwashing", or misrepresenting its environmental credentials in order to win back business.
Related articles
In Battle to Save Forests, Activists Target Corporations

(06/24/2010) The image of rainforests being torn down by giant bulldozers, felled by chainsaw-wielding loggers, and torched by large-scale developers has never been more fitting: Corporations have today replaced small-scale farmers as the prime drivers of deforestation, a shift that has critical implications for conservation. Yet while industrial actors exploit resources more efficiently and cause widespread environmental damage, they also are more sensitive to pressure from consumers and green groups. As a result, activists have more power today than ever to affect corporate behavior and slow the dizzying pace of tropical deforestation worldwide. That power has been on display in recent months, as campaigns by environmental groups have forced major corporations to stop doing business with companies accused of widespread deforestation.
KFC, Walmart contributing to destruction of Indonesia's rainforests, endangering orangutans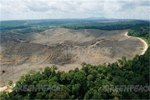 (07/05/2010) Major U.S. companies are contributing to the destruction of Indonesia's rainforests by sourcing paper from Asia Pulp and Paper (APP), a subsidiary of Indonesia-based conglomerate Sinar Mas, alleges a new report from Greenpeace. Investigating two sites on the Indonesian island of Sumatra, the activist group documented destruction of rainforests and carbon-dense peatlands by APP, a company that has lost several major contacts in recent years due to its poor environmental record. Greenpeace called out Walmart, Auchan, and Kentucky Fried Chicken (KFC) as companies that continue to buy from APP despite its role in deforestation and peatlands degradation.
Nestle caves to activist pressure on palm oil

(05/17/2010) After a two month campaign against Nestle for its use of palm oil linked to rainforest destruction spearheaded by Greenpeace, the food giant has given in to activists' demands. The Swiss-based company announced today in Malaysia that it will partner with the Forest Trust, an international non-profit organization, to rid its supply chain of any sources involved in the destruction of rainforests. "Nestle's actions will focus on the systematic identification and exclusion of companies owning or managing high risk plantations or farms linked to deforestation," a press release from the company reads, adding that "Nestle wants to ensure that its products have no deforestation footprint."
Nestle shareholder meeting interrupted by Greenpeace orangutans
(04/15/2010) Nestle's shareholder meeting turned raucous today, as Greenpeace protesters were arrested in full-orangutan outfits outside the meeting and inside Greenpeace activists—in a scene out of a spy movie—propelled down from the ceiling and dropped a giant banner and a shower of leaflets above the shareholders' heads. "Nestlé's chair, Peter Brabeck-Letmathe, was explaining how well the company had performed over the last fiscal year when noises were heard up in the roof and leaflets began raining down, not at all unlike a shower of cash," describes a Greenpeace blog entry today.
Forest destruction by Sinar Mas undermines efforts to develop and promote greener palm oil
(12/14/2009) An investigation commissioned by Unilever, the world's largest buyer of palm oil, confirms that Indonesian group Sinar Mas, the world's second largest producer of palm oil, has been destroying forests and peatlands despite committing to "greener" palm oil production as a member of the Roundtable on Sustainable Palm Oil (RSPO). Unilever has now suspended its $32.6 million contract with Sinar Mas.
Unilever suspends palm oil contract after supplier found to be destroying rainforests
(12/12/2009) The world's largest user of palm oil, Unilever, has suspended its $32.6 million contract with the Indonesian group Sinar Mas after an independent audit proved that Sinar Mas is involved in the destruction of rainforest, reports Reuters. The audit was conducted early this year after a report by Greenpeace alleged that Sinar Mas was engaged in deforestation and the draining of peatlands, both of which release significant amounts of greenhouse gases into the atmosphere. Deforestation across Indonesia and Malaysia, in part for oil palm plantations, has also added pressure on many many endangered species, including orangutans, tigers, elephants, and rhinos.
Paper provider for fashion gurus drops APP due to deforestation across Indonesia
(12/02/2009) One by one, the fashion industry's biggest companies are leaving Asian Pulp and Paper (APP)—and deforestation in Indonesia—behind. The newest defector is PAK 2000, a packaging company for fashion products. After a sustained campaign by the Rainforest Action Network (RAN) and fashion companies buying from PAK 2000, the New Hampshire-based company, has announced that it is severing all ties with APP by the end of the year. The announcement means that big famous companies—from Versace to J. Crew—will have an easier time avoiding paper products that cause rainforest destruction.
Blackwashing by NGOs, greenwashing by corporations, threatens environmental progress
(11/12/2009) Misinformation campaigns by both corporations and environmental groups threaten to undermine efforts to conserve biodiversity and reduce environmental degradation, argues a new paper published in the journal Biotropica. Growing concerns over climate change and unsustainable resource extraction have put companies that exploit the environment in the spotlight. Some firms have responded by taking measures to reduce their environmental impact. Others have alternatively engaged in sophisticated marketing campaigns intended to mislead consumers on their environmental performance, maintaining that environmentally-destructive practices are instead benign. At the same time some activist groups have been guilty of exaggerating claims of environmental misconduct in order to boost support for their campaigns and therefore their fundraising efforts.
Brazilian beef giants agree to moratorium on Amazon deforestation
(10/07/2009) Four of the world's largest cattle producers and traders have agreed to a moratorium on buying cattle from newly deforested areas in the Amazon rainforest, reports Greenpeace.
Concerns over deforestation may drive new approach to cattle ranching in the Amazon
(09/08/2009) While you're browsing the mall for running shoes, the Amazon rainforest is probably the farthest thing from your mind. Perhaps it shouldn't be. The globalization of commodity supply chains has created links between consumer products and distant ecosystems like the Amazon. Shoes sold in downtown Manhattan may have been assembled in Vietnam using leather supplied from a Brazilian processor that subcontracted to a rancher in the Amazon. But while demand for these products is currently driving environmental degradation, this connection may also hold the key to slowing the destruction of Earth's largest rainforest.
Nike, Unilever, Burger King, IKEA may unwittingly contribute to Amazon destruction, says Greenpeace
(06/01/2009) Major international companies are unwittingly driving the deforestation of the Amazon rainforest through their purchases of leather, beef and other products supplied from the Brazil cattle industry, alleges a new report from Greenpeace. The report, Slaughtering the Amazon, is based on a three-year undercover investigation of the Brazilian cattle industry, which accounts for 80 percent of Amazon deforestation and roughly 14 percent of the world's annual forest loss. Greenpeace found that Brazilian beef companies are important suppliers of raw materials used by leading global brands, including Adidas/Reebok, Nike, Carrefour, Eurostar, Unilever, Johnson & Johnson, Toyota, Honda, Gucci, Louis Vuitton, Prada, IKEA, Kraft, Tesco and Wal-Mart, among others.
APP, Sinar Mas plan to log habitat of critically endangered orangutans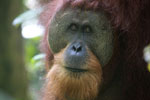 (05/20/2009) Asia Pulp & Paper and Sinar Mas Group have acquired a license to clear hundreds of hectares of unprotected rainforest near Bukit Tigapuluh National Park on the Indonesian island of Sumatra, report environmental groups who say the activity threatens a population of critically endangered orangutans that have been re-introduced into the wild. The companies intend to log the concession for timber and plant it for industrial timber and oil palm plantations.
Amazon soy ban seems to be effective in reducing explicit deforestation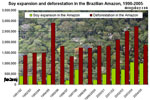 (04/03/2008) An industry-led ban on soy production in the Amazon appears to be proving effective at reducing new clearing for explicit soy production, according to a survey published Monday by Greenpeace and the Brazilian Vegetable Oils Industry Association. The moratorium, which was signed by some of the largest soy crushers in the Amazon in response to a campaign by environmental group Greenpeace, went into effect in October 2006. While soy is believed to be having an indirect impact on deforestation by driving up land prices and competing with the dominant form of land use in the Amazon — cattle ranching — the news is a hopeful sign for conservationists.