While the Indonesian government basks in a recent agreement with Norway to slow deforestation to the tune of a billion US dollars, a new report by Eyes on the Forest shows photographic evidence of largely government sanctioned deforestation that flouts several Indonesia laws. Potentially embarrassing, the report and photos reveal that two companies, Asian Pulp and Paper (APP) and Asia Pacific Resource International (APRIL), have destroyed 5 percent of Riau province's forests since 2009, including deep peatlands, high conservation value forests (HCVF), Critically Endangered Sumatran tiger habitat, and forest within the Giam Siak Kecil- Bukit Batu UNESCO Biosphere Reserve. In total, over 130,000 hectares (an area larger than Hong Kong) of mostly peat forest were destroyed for pulp.
"APP and APRIL are undermining our President's commitment to reduce the country's emissions by up to 41 percent. We call on APP and APRIL to immediately stop using any timber associated with the conversion of tropical rainforest and draining of peatlands," said Ian Kosasih of WWF Indonesia in a press release.
Under the agreement with Norway, the President of Indonesia, Susilo Bambang Yudhoyono, committed to a two year moratorium on all new forest and peatland concessions beginning in January 2011. However, the announcement of the moratorium may have spurred the government to quickly grant new forest licenses for APP and APRIL: according to Media Indonesia, 17 new licenses to cut natural forest have been issued in Riau, providing up to 29 percent of APP's and 50 percent of APRIL's raw material for mills in Riau.
| | |
| --- | --- |
| | Logging site in PT Artelindo Wiratama concession, connected to APP, in Bukit Tigapuluh tropical lowland forest where 2,000 hectares of natural forest already cleared for pulpwood plantation conversion. Photo by: Eyes on the Forest. |
Given the number of possible loopholes in the moratorium, Moray McLeish, a project manager for the World Resources Institute, told that Wall Street Journal that even with the moratorium "we could still see quite a lot of deforestation happening over the next two years."
In another instance of the Indonesian government appearing to sanction deforestation, Eyes on the Forest's investigative report found that "much of the deforestation is 'planned', based on permits solicited by the pulp and paper industry [from the government]," even though a number of the permits went against Indonesian law by occurring on peatlands over three meters deep. In fact, out of 25 licenses issued in 2009 to these two companies, 20 of them were issued for forests with peatlands greater than 3 meters.
"APP and APRIL affiliated companies continue to clear natural forests and drain deep peat while issues of license legality and corruption are being investigated by Indonesia's
Corruption Eradication Commission and Presidential task forces," explains Hariansyah Usman of Walhi Riau. "We urge our government to put on hold all existing licenses and investigate their legality and sustainability. Any forest loss resulting from the irregular issuance of a license is irrevertable and thus has to be avoided."
Both companies had pledged that by 2009 they would stop pulping natural forests for their paper and pulp products. However, Eyes on the Forest estimates that destroyed natural forests in Riau represented 40 percent of APP's and 84 percent of APRIL's raw material needs from last year.
| | |
| --- | --- |
| | A monkey perches on logs that felled by PT SRL of Rupat block in Rupat Island proving that forest conversion by the company threatens habitat of species living in the peat forest. Photo by: Eyes on the Forest. |
While forests were being felled and peatlands drained, APP has been pushing green PR, according to Eyes on the Forest. APP has advertised its commitment to Riau's Giam Siak Kecil- Bukit Batu UNESCO Biosphere Reserve on CNN, while it was simultaneously clearing natural forest in the reserve. In addition at a time when it was advertising its commitment to tiger conservation, the company has been clearing habitat for the Critically Endangered Sumatran tiger. Around 500 Sumatran tigers survive on the island.
"Customers should take the intensive green washing campaigns by both companies exactly for what they are, expensive PR stunts designed to fool the world," said Santo Kurniawan, coordinator of Jikalahari, an NGO network in Riau.
Adding obfuscation to the problem of greenwashing and deforestation, APP is made up of 13 subsidiary companies and APRIL is made up of 12.
Environmentalists say a tougher moratorium needs to be established if the goal of slowing deforestation in Indonesia is to succeed.
"We call on the Ministry [of Forests] to back up our President's historic commitment to reduce Indonesia's carbon emissions, by retracting all new annual cutting licenses," says Santo Kurniawan. "Since the agreement with Norway was signed many in the world have doubted that Indonesia was serious and believed business-as-usual would continue. Let us prove them to be wrong."
Indonesia is the world's third largest emitter of greenhouse gases after China and the US. But unlike these two industrial juggernauts, Indonesia's emissions are largely due to vast deforestation and the draining of peatland. Due to this, the Indonesian President has pledged that the nation will reduce emissions by 41 percent by 2020 from a projected baseline if wealthy nations support the effort financially. On top of Norway's one billion dollar agreement, the US has also recently provided 136 million to help Indonesia stop deforestation. Whether these new revelations will give pause to Norway and the US remains to be seen.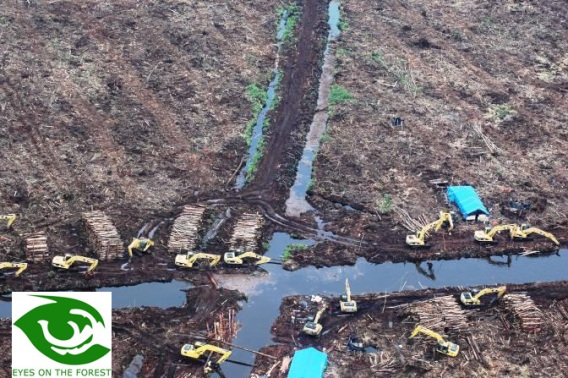 Rampant deforestation in the deep peatlands of Kerumutan forest can be seen from a flyover. This protected peat forest was converted to a pulpwood plantation by an affiliated company with APRIL: PT Sumatera Riang Lestari of Blok Indragiri. Photo by: Eyes on the Forest.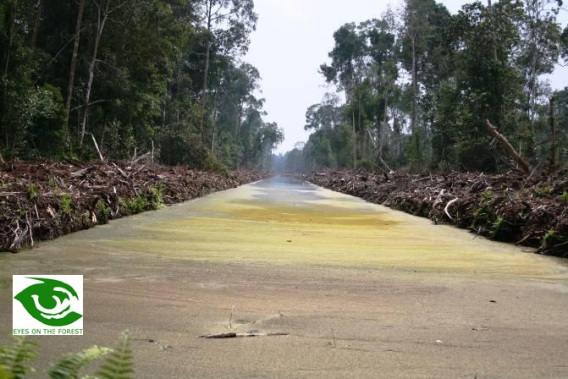 Peat canal drained by PT LUM following natural forest clearance in Pulau Tebing Tinggi. Photo by: Eyes on the Forest.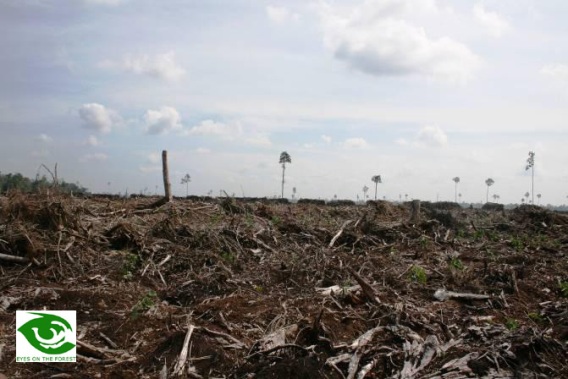 Natural forest clearance by a company known as PT Sumatera Riang Lestari on Rupat Island. The company only leaves certain sizes of ramin trees (Gonystylus spp.) and chops down smaller ones. Due to over-exploitation ramin was place under the Appendix II of CITES in 2004, thus requiring appropriate export permits for trade. As a swamp species ramin cannot be cultivated on plantations, therefore these remaining ramin trees will also felled due to ecosystem of forest destroyed for pulpwood plantation. According to Eyes on the Forest, the expansion of pulpwood plantation by PT SRL has eliminated ramin species that should be protected. Photo by: Eyes on the Forest.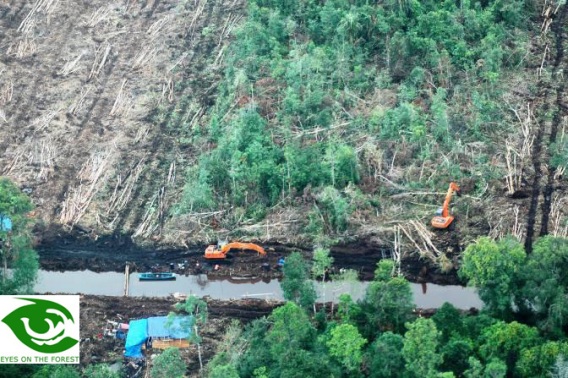 Natural forest clearance in peat swamp forest of Kerumutan by PT Sumatera Riang Lestari of Blok Indragiri. Photo by: Eyes on the Forest.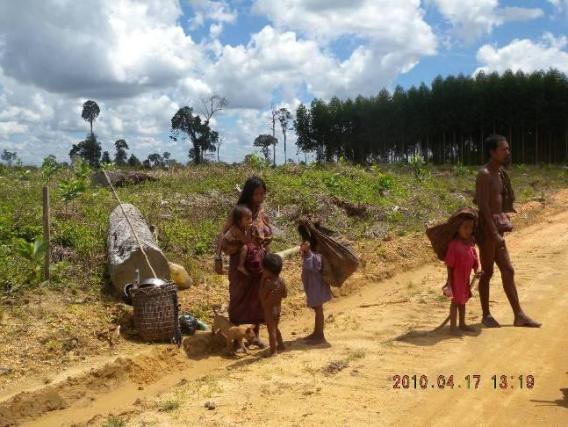 A family of indigenous people known as Suku Anak Dalam (SAD) or Orang Rimba looked for new place to live as their rainforest was cleared in a concession of PT Tebo Multi Agro in Bukit Tigapuluh forest, Jambi. Photo by: Eyes on the Forest.
Related articles
Indonesia's plan to save its rainforests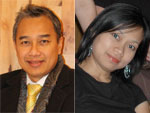 (06/14/2010) Late last year Indonesia made global headlines with a bold pledge to reduce deforestation, which claimed nearly 28 million hectares (108,000 square miles) of forest between 1990 and 2005 and is the source of about 80 percent of the country's greenhouse gas emissions. President Susilo Bambang Yudhoyono said Indonesia would voluntarily cut emissions 26 percent — and up to 41 percent with sufficient international support — from a projected baseline by 2020. Last month, Indonesia began to finally detail its plan, which includes a two-year moratorium on new forestry concession on rainforest lands and peat swamps and will be supported over the next five years by a one billion dollar contribution by Norway, under the Scandinavian nation's International Climate and Forests Initiative. In an interview with mongabay.com, Agus Purnomo and Yani Saloh of Indonesia's National Climate Change Council to the President discussed the new forest program and Norway's billion dollar commitment.
US pledges 136 million dollars to the environment in Indonesia
(07/01/2010) The US has pledged $136 million to environment and climate change initiatives in Indonesia over the next three years reports Reuters. Earlier in the year, Norway pledged over seven times the US amount (one billion US dollars) to fight deforestation in the Southeast Asian country.
Indonesia identifies possible sites for forest conservation pilot project
(06/06/2010) The government of Indonesia has named four forests which could serve as pilot projects for its conservation deal with Norway, according to the Jakarta Post. The deal, including a billion US dollar donation from Norway, is meant to help Indonesia stem rampant deforestation throughout the nation, which has pushed Indonesia to become the world's third highest greenhouse gas emitter.
Confusion in Indonesia over forestry licenses and conservation deal with Norway
(06/03/2010) Indonesia's chief economic minister said on Wednesday that the government will not revoke existing forestry licenses to develop natural forests under a billion dollar conservation deal signed last week with Norway.
Indonesia announces moratorium on granting new forest concessions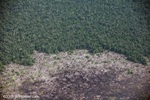 (05/28/2010) With one of the highest rates of deforestation in the world, the world's third largest greenhouse gas emissions due mostly to forest loss, and with a rich biodiversity that is fighting to survive amid large-scale habitat loss, Indonesia today announced a deal that may be the beginning of stopping forest loss in the Southeast Asian country. Indonesia announced a two year moratorium on granting new concessions of rainforest and peat forest for clearing in Oslo, Norway, however concessions already granted to companies will not be stopped. The announcement came as Indonesia received 1 billion US dollars from Norway to help the country stop deforestation.
Norway to provide Indonesia with $1 billion to protect rainforests
(05/19/2010) Norway will provide up to $1 billion to Indonesia to help reduce deforestation and forest degradation, reports The Jakarta Post.
Paper company loses green certification after rainforest destruction in Indonesia
(04/18/2010) The Forest Stewardship Council (FSC), a global certifier of sustainably managed forest, has dropped another Indonesian company for the destruction of rainforests. Asia Paper Resources International Limited (APRIL), has had its certification suspended due to evidence of conversion of rainforests for acacia plantations, the destruction of 'High Conservation Value Forest', draining peatlands, as well as continuing conflicts with local communities. The decision was made by the Rainforest Alliances Smartwood, an accreditation program with the FSC.