The international community's boycott of environmental aid to Madagascar is imperiling the island's unique and endangered wildlife, according to a new report commissioned by the US Agency for International Development's (USAID) Bureau of Africa. International aid to the desperately poor nation slowed to a trickle after a government coup last year, including a halt on environmental funding from the US government. Since then the island has experienced an environmental crisis: illegal loggers and traders began decimating protected areas, and the wildlife trade, including hunting endangered lemurs for bushmeat, took off.
"The world simply cannot give up on Madagascar. It is perhaps the highest priority biodiversity hotspots on our planet and we have both a moral and scientific obligation to save what remains there. The commitment of aid agencies such as USAID has made a huge difference over the past 25 years in protecting its irreplaceable natural resources and biodiversity. What we need now is not less, but much much more," said Dr. Russ Mittermeier, president of Conservation International (CI). UDAID commissioned the report to be drafted by CI and the International Resources Group (IRG).
"Now is not the time to withdraw. Aid continues to provide substantial humanitarian assistance to Madagascar, but it is now imperative to recognize that the environment must be considered part of any humanitarian package," Mittermeier continued.
| | |
| --- | --- |
| | Deforestation in Madagascar. Photo by: Rhett A. Butler. |
While the government announced a moratorium in March on logging and timber exports, reports of logging continued as recently as late June and tens of thousands of hectares have been lost.
The report highlights three possible scenarios for USAID work in Madagascar. The first would give up on Madagascar and its biodiversity, putting financial resources elsewhere. The second would continue programs that have began in the mid-1980s and push for another 20 years of funding. The third, and final scenario, would push for more funding given the current environmental crisis, opting for paying local communities directly to preserve forests and biodiversity. Many of the nations protected areas are already co-managed by local communities.
According to the report the third scenario "essentially recognizes that the international community values Madagascar's biodiversity far more highly than do its government and its people. We must therefore be prepared to pay for its protection."
"I'm hopeful," said Tim Resch, Environmental Advisor to USAID Bureau for Africa, also at the report's launch. "This review gives us a real platform to launch a wider discussion about how USAID might respond when the opportunity to re-engage with Madagascar presents itself. Let's all hope that happens soon."
Madagascar sports more families of plants and animals that are endemic, i.e. live no-where else in the world, than any other country. All of the world's species of lemurs—101 in total—live only in Madagascar; in addition 363 reptiles, 244 amphibians, and 260 birds are found no-where else. Widespread poverty and rapid population growth—the population has nearly doubled since 1990—have taken a toll on Madagascar's forests; slash-and-burn agriculture, logging, and harvesting for firewood have cut 2 million hectares of forest over the past twenty years.
"We don't want Madagascar to wind up like a huge Haiti," said Mittermeier, "but if things continue, they will. The world has already made a huge commitment to Haiti, a country less than 1/20 the size of Madagascar. We need at least a comparable effort for this truly amazing global gem that Madagascar represents."

Diademed Sifaka (Propithecus diadema) is listed as Endangered by the IUCN Red List. Photo by: Rhett A. Butler.
Related articles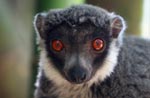 How to end Madagascar's logging crisis

(02/10/2010) In the aftermath of a military coup last March, Madagascar's rainforests have been pillaged for precious hardwoods, including rosewood and ebonies. Tens of thousands of hectares have been affected, including some of the island's most biologically-diverse national parks: Marojejy, Masoala, and Makira. Illegal logging has also spurred the rise of a commercial bushmeat trade. Hunters are now slaughtering rare and gentle lemurs for restaurants.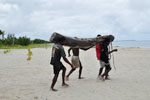 World Bank, European governments finance illegal timber exports from Madagascar

(01/11/2010) While Madagascar's current government has drawn sharp criticism from the international community for its failure to prevent the environmental destruction of recent months, France, Holland, Morocco, and the World Bank have all been implicated in financing illegal logging operations in Madagascar's national parks over the past year. Even as foreign governments condemned the surge in illegal logging last year, many–either directly or through institutions they support–are shareholders in the very banks that have financed the export of illegal lumber from Madagascar's SAVA region. The Bank of Africa Madagascar, for instance, is part owned by Proparco, a subsidiary of the Agence Française du Développement, as well as the World Bank's International Finance Corporation, Dutch development bank FMO, and the Banque Marocaine du Commerce Extérieur. Société Générale and Crédit Lyonnais, both part-owned by the French government, have also provided loans to illegal timber traders.
The illegal logging cycle in Madagascar

(06/23/2010) The latest issue of the journal Madagascar Conservation & Development provides a comprehensive look into Madagascar's illegal logging trade, which has generated more than $200 million for a small group of individuals over the past year. The trade, which spikes just prior to national elections and may be a source of funds for ruling politicians, has taken a heavy toll on the lowland rainforests of Madagascar, with targeted species now at risk of extinction.