The Kinabatangan River in Malaysian state of Sabah is home to a fabulous wealth of species, including orangutans, proboscis monkeys, and a sizeable population of the world's smallest elephant, the Borneo pygmy elephant. While local politicians have stated numerous times that the ecology of the river will be protected, locals are reporting a number of legally sanctioned sang dredging operations on the river. Dredging can affect river flows, negatively impact wildlife, and release toxins from the sediments.
"We have stopped and boarded some of the barges but all seem to have valid authorisation letters from the Environmental Protection Department," Azri Sawang, head of the Honorary Wildlife Warden team from the Kinabatangan Orang-utan Conservation Project (KOCP), explains in a press release.
"It is very confusing for us, on one hand we hear time and time again the government is commitment to protecting this area, then we find another department issues such letters that allow this type of destruction. As for us, we want to protect the Kinabatangan, so it weighs very heavy on me."
According to the local French NGO, HUTAN, at least three barges are seen on the river every day, and each of them has a dredging permit extending for the full year.
While the entire span of the Kinabantangan River is not protected, 26,000 hectares of the river are currently preserved as a Wildlife Sanctuary in eleven fragments. Not only is the Kinabatangan river an important ecological site, it also attracts large numbers of wildlife tourists and birders who are vital to the local and state economy.
"The villagers who operate homestays and bed & breakfast have also asked us to investigate these barges following complaints from guest but since they have proper permits neither we nor the Sabah Wildlife Department is able to act," says Azri.
Tourist, Sophia Bay, from America told HUTAN: "I came to see the orangutans and Borneo Pygmy elephants of the Kinabatangan and its wonders, but I am absolutely shocked with all this sand dredging. Why is this being allowed here within this environmentally sensitive area? I am not sure I would recommend others to visit this place now."
Last year the Kinabatangan River became an important site for discussions related to orangutan survival in Sabah given increasingly fragmented forests from industrial logging and palm oil plantations. At the time, the government stated that it would provide wildlife corridors, including the acquisition of land, along the river to support orangutans and other species.
"If you love Sabah, parting with 500 meters of palm oil from the riverbank is not too much to ask," Minister of Sabah Tourism, Culture and Environment, Datuk Masidi Manjun, told a recent workshop on saving Sabah's most iconic species: the orangutan, the pygmy elephant, and the Bornean rhino.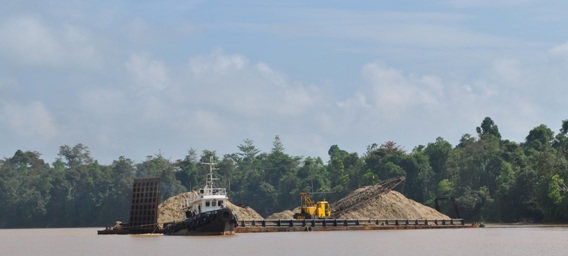 Sand dredging on the Kinabatangan River. Photo courtesy of HUTAN.
Related articles
Palm oil industry pledges wildlife corridors to save orangutans

(10/03/2009) In an unlikely—and perhaps tenuous—alliance, conservationists and the palm oil industry met this week to draw up plans to save Asia's last great ape, the orangutan. As if to underscore the colloquium's importance, delegates on arriving in the Malaysian State of Sabah found the capital covered in a thick and strange fog caused by the burning of rainforests and peat lands in neighboring Kalimantan. After two days of intensive meetings the colloquium adopted a resolution which included the acquisition of land for creating wildlife buffer zones of at least 100 meters along all major rivers, in addition to corridors for connecting forests. Researchers said such corridors were essential if orangutans were to have a future in Sabah.
Hope for survival as isolated orangutans joined by rope bridge

(04/11/2010) Researchers in the Malaysian state of Sabah in Borneo are joyful after receiving confirmation that a young male orangutan used a rope bridge to cross a river, which has separated one orangutan population from another. Due to logging and clearing forests for oil palm plantations, which cover 18 percent of land in Sabah, orangutans on the Kinabantangan River have been cut into fragmented populations.
Orangutans vs palm oil in Malaysia: setting the record straight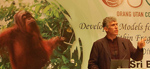 (01/16/2010) The Malaysian palm oil industry has been broadly accused of contributing to the dramatic decline in orangutan populations in Sabah, a state in northern Borneo, over the past 30 years. The industry has staunchly denied these charges and responded with marketing campaigns claiming the opposite: that oil palm plantations can support and nourish the great red apes. The issue came to a head last October at the Orangutan Colloquium held in Kota Kinabalu. There, confronted by orangutan biologists, the palm oil industry pledged to support restoring forest corridors along rivers in order to help facilitate movement of orangutans between remaining forest reserves across seas of oil palm plantations. Attending NGOs agreed that they would need to work with industry to find a balance that would allow the ongoing survival of orangutans in the wild. Nevertheless the conference was still marked by much of the same rhetoric that has characterized most of these meetings — chief palm oil industry officials again made dubious claims about the environmental stewardship of the industry. However this time there was at least acknowledgment that palm oil needs to play an active role in conservation.