The government of Indonesia has named four forests which could serve as pilot projects for its conservation deal with Norway, according to the Jakarta Post. The deal, including a billion US dollar donation from Norway, is meant to help Indonesia stem rampant deforestation throughout the nation, which has pushed Indonesia to become the world's third highest greenhouse gas emitter.
The proposal sites are spread about the nation's many islands: one is in Papua province on the island of New Guinea, another lies in Riau province on the island of Sumatra, and the two remaining forests are on the island of Borneo in West Kalimantan and East Kalimantan. A fifth proposed site is expected to be named on Sumatra.
"The final decision on the pilot project will be made by a joint team from Indonesia and Norway this year," Forestry Minister Zulkifli told The Jakarta Post.
Indonesia's conservation deal with Norway has also led to a two year moratorium on new plantation concessions in natural forest; however, the moratorium has spread confusion over whether or not existing concessions will be halted by the government. Palm oil and paper plantations have spread across Indonesia in the past few decades.
Only Brazil has a higher deforestation rate than Indonesia. Between 1990 and 2005, Indonesia lost more than 28 million hectares of forest over three-fourths of which was virgin rainforest.
Related articles
Confusion in Indonesia over forestry licenses and conservation deal with Norway
(06/03/2010) Indonesia's chief economic minister said on Wednesday that the government will not revoke existing forestry licenses to develop natural forests under a billion dollar conservation deal signed last week with Norway.
Norway's billion dollar contribution to Indonesian forests excludes national reforestation scheme
(06/01/2010) Norway's billion dollar contribution to forest and peatlands conservation in Indonesia will not fund reforestation of deforested areas, a government minister told The Jakarta Post.
Indonesia announces moratorium on granting new forest concessions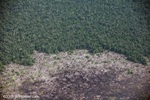 (05/28/2010) With one of the highest rates of deforestation in the world, the world's third largest greenhouse gas emissions due mostly to forest loss, and with a rich biodiversity that is fighting to survive amid large-scale habitat loss, Indonesia today announced a deal that may be the beginning of stopping forest loss in the Southeast Asian country. Indonesia announced a two year moratorium on granting new concessions of rainforest and peat forest for clearing in Oslo, Norway, however concessions already granted to companies will not be stopped. The announcement came as Indonesia received 1 billion US dollars from Norway to help the country stop deforestation.