Local fishermen in the Malaysian state of Sabah are uncertain of their future, if the government pushes ahead to build a 300 megawatt coal power plant. They have been told they will be moved from their current seaside village to one deeper inland, and while the coal plant will provide manual labor work in its building stages, the fishermen express doubt about the impacts over the long-term effects of the coal plant on their livelihood.
"Someone mentioned that maybe we have to move to Sungai Merah, which is quite far from our village. We are also worried because Sungai Merah is not next to the sea like [our village] is," local fishermen, Ali Hia, told Green SURF and Save Sandakan members—two local organizations opposed to the coal plant—who recently visited the seaside village of Kampung Sinakut, site of the proposed coal plant.
Ali said he was not sure who the officials were but that they may have been from Sabah Electricity Sdn Bhd (SESB) or representatives of the Chinese company that is set to build the plant.
| | |
| --- | --- |
| | Kampung Sinakut fisherman, Ali Hia. Photo courtesy of Green SURF. |
"We are not sure about compensation," Ali, father of three, added. "There was no proper answer when we asked them. Most of us do not want the plant but we are helpless. We just believe what our village leader tells us."
The coal plant has faced fierce criticism from environmentalists who contend that though renewable energy options exist, the government is still moving ahead with a project that threatens both nearby tropical forests and the Coral Triangle, one of the world's most biodiverse marine regions. Opposition to the coal plant has been so fierce that the project has moved twice before settling on the southern end of the bay of Lahad Datu.
Transmission lines would likely cut through nearby rainforest, and sulfate emissions could spread acid rain to a nearby tropical forest reserve housing numerous endangered species, according to critics. In addition, the coal plant would discharge chlorine and sulfates directly into the ocean and thermal pollution would damage nearby coral reefs. However, officials had not warned fishermen of the impacts of the coal plant on marine life.
"No one ever told us that coal will have an impact on our health and resources," Ali said.
"Our lives have always been hard," 51-year-old Mohd Jainal Musa told Green Surf and Save Sandakan. "I wonder what will happen next, or if these promises of compensation will be met because no one seems to be sure."
Both men have been promised jobs helping to build the coal plant, yet the prospect of brief manual labor jobs does not outweigh their life as fishermen.
| | |
| --- | --- |
| | Kampung Sinakut fisherman, Mohd Jainal Musa. Photo courtesy of Green SURF. |
"Maybe we will be asked to carry cement bags," they said according to a press release. "Once the plant is built, there will be nothing for us. All we know is how to fish, and we would like it to remain that way."
Despite these fishermen's concerns others in the area sounded more optimistic about the coal plant. Resort worker Gasali Djunaidi, 23, told the New Strait Times that the power plant will bring dependable electricity and therefore more business to the resort he works at.
"I haven't really thought about the environmental effects, but I'm not so worried. The modern technology will take care of things like that," he said. "If there are any side effects, I'm sure the department concerned will look into it."
Critics contend that the few tourists will want to holiday on a seaside beach overlooking a massive coal plant. In addition, the coal plant will tarnish Sabah's green image, which attracts many eco-tourists.
"As far as I know, there hasn't been any bad things coming from coal-fired power plants. Having consistent electricity is more important," Rukiza Abdul, 34, also told the New Strait Times.
Datuk Hassan Alban Sandukong, former Sabah State Legislative Assembly Speaker, recently met with village elders in Kampung Sinakut and warned them of how their lives will change if the coal plant goes ahead.
"We are here to help you understand the real issue. Coal plants are dangerous to health due to gases they emit, and fish in the sea will be poisoned," Hassan said. "I know that some of you were told that fish are thriving in places like Manjung, but toxins are collected in the fish and over time, it won't be safe for you. At least think of your children and grand children."
Along with a host of environmental issues, coal accounts for approximately 20 percent of the world's greenhouse gas emissions. Many climatologists have said that unless coal is phased out, the world won't will suffer from drastic climate change.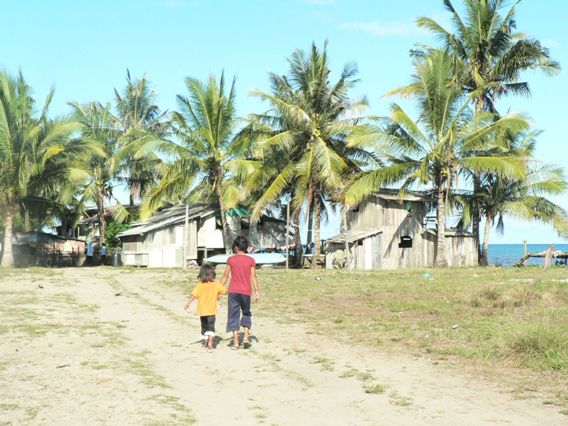 Children walking home to Kampung Sinakut village: the site for the proposed coal fired power plant. Photo courtesy of Green SURF.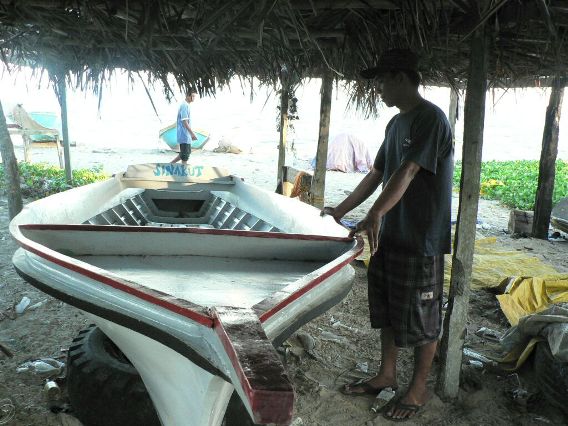 A fisherman with his boat at Kampung Sinakut, Lahad Datu. Photo courtesy of Green SURF.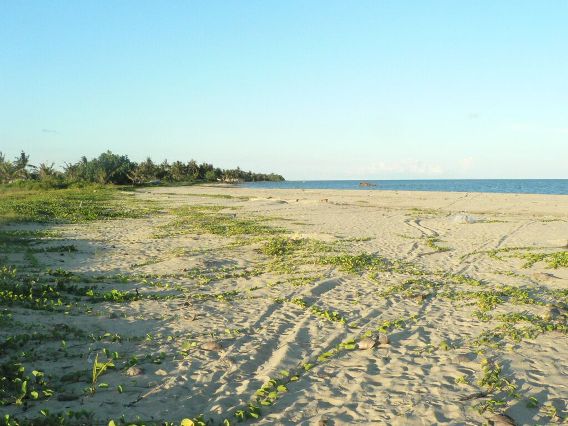 The site of the coal fired power plant. Photo courtesy of Green SURF.
Related articles
Photos reveal paradise-like site for coal plant in Borneo

(05/21/2010) With the world's eyes on the environmental catastrophe in the Gulf of Mexico, many are beginning to ponder the rightness of not just America's, but the world's dependence on fossil fuels. Yet large-scale fossil-fuel energy projects continue to march ahead, including one in the Malaysian state of Sabah on Borneo to build a 300 MW coal plant, which has come under fierce opposition from locals (already the project has been forced to move locations twice). The newest proposal will build the coal plant, as photos below reveal, on an undeveloped beach overlooking the Coral Triangle, one of the world's most biodiverse marine environments, with transmission lines likely running through nearby pristine rainforest that are home to several endangered species, including orangutans and Bornean rhinos.
Analysis shows Borneo can say 'no' to coal power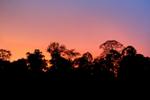 (03/17/2010) Plans for a coal power plant in the Malaysian state of Sabah in northern Borneo have run into stiff opposition. Environmentalists say the coal plant could damage extensive coral reef systems, pollute water supplies, open rainforests to mining, and contribute to global climate change, undercutting Sabah's image as a 'green' destination. The federal government contends that the coal plant is necessary to fix Sabah's energy problems. However, a recent energy audit by the Renewable and Appropriate Energy Laboratory (RAEL) at the University of California Berkeley shows that pollution-intensive coal doesn't have to be in Sabah's future.
Coal plant could damage rainforest reserves, coral reefs, palm oil plantations in Malaysian Borneo
(12/20/2009) A proposed coal-fired power plant in Malaysian Borneo could damage the region's world-renowned coral reefs, pollute air and water supplies, open Sabah's biodiverse rainforests to mining, and undermine the state's effort to promote itself as a destination for "green" investment and ecotourism, warn environmentalists leading an effort to block the project. The scheme, which is backed by the federal Tenaga Nasional Berhad and state energy company, Sabah Electricity Sdn. Bhd, has faced strong opposition and already been forced to re-locate twice since it was conceived more than two years ago. The 300-MW plant is now planned for a coastal area that is situated in the middle of the Coral Triangle/Sulu Sulawesi Marine Ecoregion, an area renowned for astounding levels of biodiversity.