Nestle to work to rid products of "deforestation footprint".
After a two month campaign against Nestle for its use of palm oil linked to rainforest destruction spearheaded by Greenpeace, the food giant has given in to activists' demands. The Swiss-based company announced today in Malaysia that it will partner with the Forest Trust, an international non-profit organization, to rid its supply chain of any sources involved in the destruction of rainforests.
"Nestle's actions will focus on the systematic identification and exclusion of companies owning or managing high risk plantations or farms linked to deforestation," a press release from the company reads, adding that "Nestle wants to ensure that its products have no deforestation footprint."
Nestle stated that under new sourcing guidelines it will only use palm oil suppliers that do not break local laws, protect high conservation forests and any forests with 'high carbon' value, protect carbon-important peatlands, and support free prior and informed consent for indigenous and local communities. These guidelines are to be enforced immediately.
| | |
| --- | --- |
| | The orangutan has become the symbol of the protest against unsustainable palm oil. The Sumatran orangutan, pictured here, is Critically Endangered, largely due to habitat loss. Photo by: Rhett A. Butler. |
"To get one end of the supply chain to take responsibility for what happens at the other end is a game changer," says Scott Poynton executive director of the Forest Trust and an Australian forester. "If Nestle's decision inspires other companies to engage in the same process, we can stop wringing our hands about carbon baselines and forest carbon markets. Demand for sustainable products can work its magic without them."
Auditors with the Forest Trust will begin inspecting palm oil plantations at the end of May in Indonesia. The Forest Trust, previously known as Tropical Forest Trust, has worked with companies for decades on sustainable and responsible use of forests.
"We are delighted that Nestlé plans to give orang-utans a break and we call on other international retailers, such as Carrefour and Wal-mart, to do the same," said Pat Venditti, Greenpeace International Forest Campaign Head in a press release. "Since the beginning of our campaign, hundreds of thousands of people have contacted Nestle to say that they will not buy products linked to rainforest destruction."
The campaign against Nestle proved to be anything but conventional. Action against Nestle began with Greenpeace releasing a clever video highlighting Nestle's role in deforestation through palm oil, yet the protest took on a life of its own only after Nestle removed the video from YouTube citing copyright violations. Many deemed Nestle's action as draconian censorship and the video went viral. Fuel was added to the fire when statements made Nestle on their Facebook fan page were seen by many as rude and arrogant. For a few days the campaign became as much about Nestle's perceived ambivalence and arrogance as its palm oil sourcing. Yet, today Nestle may have gone a long way in repairing a battered reputation.
| | |
| --- | --- |
| | Oil palm plantation near Gunung Leuser National Park on the island of Sumatra in Indonesia. Photo by: Rhett A. Butler. |
"Nestle's new policy sends a very clear message to companies that are destroying forests and peatlands for new plantations," said Andy Tait, Senior Campaign Advisor for Greenpeace. "If you don't stop deforestation and protect peatlands, your days of supplying to global brands such as Nestle are over. This is a very positive step forward by Nestle, but delivery is critical, and we will be monitoring progress carefully."
Nestle's capitulation may also impact how activist-organizations like Greenpeace conduct protests in the future. Social media sites—such as Facebook, Twitter, and YouTube—have proven instrumental in the activists' campaign against the food giant. For weeks, Nestle's Facebook fan page was taken over by an angry public demanding that Nestle discontinue any relations with companies involved in deforestation. In addition, the debate over palm oil and deforestation appears to have moved beyond simply environmental circles to the broader public.
For its part, Nestle has pledged that 100 percent of its palm oil will come from sustainable sources by 2015. Currently 18 percent of Nestle's palm oil is from sustainably certified sources, but the company hopes to reach 50 percent by the end of 2011. Still the company added today that it will purchase from anyone who proves themselves capable of complying with its new regulations.
"If Sinar Mas, or anybody else, does a proper job on quality, on traceability, on having a transparent supply chain, of course we will buy from them," Jose Lopez, executive vice president of Nestle, said as reported by Bloomsberg.
Indonesian company Sinar Mas has been at the center of the protests against palm oil companies and deforestation. The supplier was recently dropped by both Nestle and Unilever due to continuing allegations of rainforest destruction, but the company still supplies agricultural-giant Cargill who also supplies Nestle. This became a sticking point with activists who demanded Nestle rid its entire supply-chain, direct or indirect, of links to deforestation.
| | |
| --- | --- |
| | Figure 1: Extent of Deforestation in Borneo 1950-2005, Projection to 2020. The island of Borneo is split between Malaysia, Indonesia, and Brunei. |
"As part of the agreement, [the Forest Trust] will audit Nestlé's suppliers and will help identify and exclude those that are not doing the right thing," explains Poynton "And if there are suppliers that want to change the way they operate, our team on the ground will help them to improve their practices in order to comply with Nestlé's purchasing requirements."
At the crux of the debate is the importance of the world's rainforests for mitigating climate change and preserving biodiversity, as well as providing a host of other 'environmental services' such as clean water sources and pollination.
Indonesia is the third largest emitter of greenhouse gases in the world due largely to deforestation. Between 1990 and 2005, Indonesia lost more than 28 million hectares of forest, including 21.7 hectares of virgin forest. The country's forest cover has declined from 82 percent in the 1960s to less than fifty percent today.
In addition Indonesia and Malaysia—the world's largest palm oil producers—are some of the world's most biodiverse countries. While orangutans have become the symbol of activists, thousands of species are threatened by deforestation in the region including the Asian elephant, the Sumatran and Javan rhinos, clouded leopard, sun bears, and the Sumatran tiger. Some 30,000 species have been recorded in Indonesia alone with many more discovered each year.
Nestle also pledged today that ridding its supply chains of any link to deforestation will not end with palm oil, but the company, one of the 50 biggest in the world, plans to move on to its pulp and paper sources next.
"For the first time ever, a global company is saying that it doesn't want its products to have a deforestation footprint, and it is taking action to live up to its word," Poynton concludes. "This is the whole push behind [the Forest Trust's] model—to get one end of the supply chain to take responsibility for what happens at the other end."
Related articles
A new world?: Social media protest against Nestle may have longstanding ramifications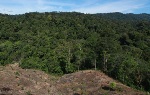 (03/20/2010) The online protest over Nestle's use of palm oil linked to deforestation in Indonesia continues unabated over the weekend. One only needed to check-in on the Nestle's Facebook fan page to see that anger and frustration over the company's palm oil sourcing policies, as well as its attempts to censor a Greenpeace video (and comments online), has sparked a social media protest that is noteworthy for its vehemence, its length, and its bringing to light the issue of palm oil and deforestation to a broader public.
Activists lock themselves in Cargill headquarters as new report alleges illegal deforestation
(05/05/2010) Following a damning report from the Rainforest Action Network (RAN) alleging illegal clearing of rainforest in Indonesia by agriculture-giant Cargill, activists have infiltrated Cargill headquarters in Wayzata, Minnesota and refuse to come out until the CEO agrees to meet with them. According to local reports, five activists are locked inside a staircase, while others are protesting outside the building.
Nestle shareholder meeting interrupted by Greenpeace orangutans
(04/15/2010) Nestle's shareholder meeting turned raucous today, as Greenpeace protesters were arrested in full-orangutan outfits outside the meeting and inside Greenpeace activists—in a scene out of a spy movie—propelled down from the ceiling and dropped a giant banner and a shower of leaflets above the shareholders' heads. "Nestlé's chair, Peter Brabeck-Letmathe, was explaining how well the company had performed over the last fiscal year when noises were heard up in the roof and leaflets began raining down, not at all unlike a shower of cash," describes a Greenpeace blog entry today.
Nestle's palm oil debacle highlights current limitations of certification scheme
(03/26/2010) Last week Nestle, the world's largest food processor, was caught in a firestorm when it attempted to censor a Greenpeace campaign that targeted its use of palm oil sourced from a supplier accused of environmentally-damaging practices. The incident brought the increasingly raucous debate over palm oil into the spotlight and renewed questions over an industry-backed certification scheme that aims to improve the crop's environmental performance.
Nestle fiasco continues: Indonesian oil palm planters threaten boycott too
(03/23/2010) Candy and food giant Nestle is finding itself between a rock and a hard place. The online campaign against Nestle continues: today protesters once again posted thousands of negative messages on the company's Facebook page, most demanding that Nestle cut out palm oil linked to deforestation from its products. At the same time, a new problem has cropped up for Nestle: Indonesian oil palm planters are threatening to boycott Nestle products. Proving that the issues surrounding oil palm and deforestation are nothing if not complex: Facebook protestors say they will boycott Nestle if it doesn't cut out all links to Sinar Mas, a company that Greenpeace has linked to deforestation, whereas the Indonesia Palm Oil Growers Association are preparing a boycott if Nestle stops buying from Sinar Mas, according to the Jakarta Post.
Video: Nestle's attempt to censor Greenpeace palm oil ad backfires
(03/19/2010) In a bold online video, the environmental group Greenpeace cleverly links candy-giant Nestle to oil palm-related deforestation and the deaths of orangutans. Clearly angered over the video, Nestle struck back by having it banned from YouTube and replaced with this statement: "This video is no longer available due to a copyright claim by Société des Produits Nestlé S.A." However Nestle's reaction to the video only spread it far and wide (see the ad below): social network sites like Twitter, Facebook, and Reddit were all flooded with the ad as well as rising criticism against Nestle—one of the world's largest food producers—including calls for boycotts.
Commodity trade and urbanization, rather than rural poverty, drive deforestation
(02/07/2010) Deforestation is increasingly correlated to urban population growth and trade rather than rural poverty, suggesting that measures proposed to reduce deforestation will be ineffective if they fail to address demand for commodities produced on forest lands, argues a new paper published in Nature GeoScience.