Peruvian oil abandons plan to drill in uncontacted indigenous zone, but opens up new areas.
Perupetro, the Peruvian government's oil and gas corporate leasing body, announced last week that it will open an additional 25 lots for oil and gas exploration in the Amazon covering an area of 10 million hectares (nearly 25 million acres).
Peru's national Amazon indigenous group, AIDESEP, criticized the move calling it a 'new threat' to Peru's indigenous group. According to Amazon Watch these new lots mean that 75 percent of the Peruvian Amazon is now open to oil and gas exploration and drilling.
"Peru is opening some of the most remote regions of the Amazon to oil drilling, threatening some of the most biodiverse forests on the planet and the lives of the indigenous peoples who depend on this forest for their livelihoods," said Atossa Soltani, Amazon Watch Executive Director in a press release. "The current disaster in the Gulf of Mexico is a clear demonstration of the risks involved. An oil spill in the Amazon would create an ecological disaster."
| | |
| --- | --- |
| | Oil and gas blocks in the western Amazon as of February 2010. Solid yellow indicates blocks already leased out to companies. Hashed yellow indicates proposed blocks or blocks still in the negotiation phase. Protected areas shown are those considered strictly protected by the IUCN (categories I to III). Image modified from Finer M, Jenkins CN, Pimm SL, Keane B, Ross C, 2008 Oil and Gas Projects in the Western Amazon: Threats to Wilderness, Biodiversity, and Indigenous Peoples. PLoS ONE 3(8): e2932. doi:10.1371/journal.pone.0002932 |
Indigenous groups have long been fighting big oil in the South American country. Last year the conflict turned violent: a standoff between indigenous protestors and government police ended with 23 police officers and at least 10 protestors dead.
Perupetro also made the announcement that it will abandon plans for oil exploration in an area with uncontacted tribal peoples. Lot 110, which was previously open to Brazilian company, Petrobras, will now be made off-limits.
According to Survival International, the uncontacted tribe is known either as Murunahua or Chitonahua. When some members of the tribe where contacted in the mid-1990s it is estimated that half of them died. Having had little exposure to many diseases, uncontacted natives are in grave danger when contacted by outsiders.
"It's good news that the Murunahua Reserve has been made off-limits to oil and gas companies because it would have been extremely dangerous to the tribes, and the companies would have had no consent to operate there. But Perupetro must now extend that precedent to other areas in Peru: it must not allow companies to work anywhere where they don't have the consent of local people—uncontacted or not," Survival International director, Stephen Corry, said in a press release.
A study earlier in the year found that 41 percent of the Peruvian Amazon was already covered by 52 active oil and gas concessions. The space under concession had grown six times in seven years. The study also found that many of the concessions infringed on protected areas and indigenous territory, exacerbating the conflict between indigenous groups and the Peruvian government, led by President Alan Garcia who is known for his inflammatory rhetoric against indigenous groups, labeling them "confused savages" among other derogatory terms.
Related articles
Under siege: oil and gas concessions cover 41 percent of the Peruvian Amazon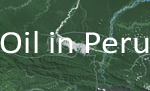 (02/16/2010) A new study in the Environmental Research Letter finds that the Peruvian Amazon is being overrun by the oil and gas industries. According to the study 41 percent of the Peruvian Amazon is currently covered by 52 separate oil and gas concessions, nearly six times as much land as was covered in 2003. "We found that more of the Peruvian Amazon has recently been leased to oil and gas companies than at any other time on record," explained co-author Dr. Matt Finer of the Washington DC-based Save America's Forests in a press release. The concessions even surpass the oil boom in the region during the 1970s and 80s, which resulted in extensive environmental damage.
Oil company to cut 454 kilometers of seismic lines in uncontacted tribe territory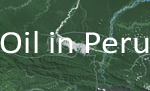 (04/21/2010) Repsol YPF, a Spanish-Argentine oil company, plans to cut 454 kilometers (282 miles) of seismic lines in a territory of the Peruvian rainforest known to be home to uncontacted indigenous peoples, according to a press release from Survival International. To construct seismic lines paths will be cleared in the forest and explosives set-off regularly. Seismic lines allow energy companies to locate oil deposits by creating a cross sectional view of the subsurface.
Spanish oil company develops own rules for contacting uncontacted Amazon tribes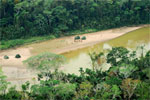 (03/26/2010) Imagine you're in one of the remotest parts of the Amazon rainforest and suddenly you come across members of an uncontacted tribe. What should you do? The experts say, "Turn around. At all costs, make no attempt at contact." Repsol YPF, exploring for oil in northern Peru, has taken a different approach. Despite the extreme vulnerability of the tribes to any form of contact, the company suggests that its workers talk to them in certain instances, and even provides specific phrases to use and conversation topics to address.
The real Avatar story: indigenous people fight to save their forest homes from corporate exploitation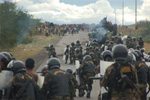 (12/22/2009) In James Cameron's newest film Avatar an alien tribe on a distant planet fights to save their forest home from human invaders bent on mining the planet. The mining company has brought in ex-marines for 'security' and will stop at nothing, not even genocide, to secure profits for its shareholders. While Cameron's film takes place on a planet sporting six-legged rhinos and massive flying lizards, the struggle between corporations and indigenous people is hardly science fiction.
Heavy oil pollution remains in Amazon, despite company claiming clean-up is finished

(09/17/2009) A new report shows that the Corrientes region of the Peruvian Amazon, which suffered decades of toxic contamination by Occidental Petroleum (OXY), is far from being cleaned-up. The survey, conducted by US non-profit E-Tech International, found that heavy metals, volatile organic compounds, and hydrocarbons still exist at levels above the safety limits set by Peru and continue to threaten the Achuar indigenous community, who have long fought against the oil companies.
Peru to proceed with oil and gas auctions in the Amazon despite indigenous protests
(08/07/2009) Despite violent protests by indigenous groups over plans to expand oil and gas exploration in the Peru's Amazon rainforest, energy investments in the South American country are expected to increase to $1.5 billion in both 2009 and 2010, reports Reuters.
Peru to raise payment to indigenous communities for Amazon forest conservation
(08/03/2009) Peru's environment minister now says the government will pay indigenous communities 10 sols ($3.30) for every hectare of rainforest they help to preserve, reports the Latin American Herald. Previously Antonio Brack said that communities would see about half that amount. The $3.30-per-hectare figure is low by international standards. Under a proposed mechanism that compensates countries for reducing deforestation (REDD), forest land could be worth $800 or more per hectare for its carbon (225 tons of carbon/ha), depending on its level of threat. Forests in areas of high deforestation would be compensated at a higher rate than inaccessible forests at low-risk of development. But Brack left open the possibility that communities could receive higher payment if parties agree to include REDD compensation in a future climate framework.
Weeks after bloodshed, American oil moves into Peruvian Amazon, putting rainforest, possible archeological site at risk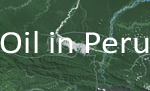 (08/03/2009) Barely six weeks after a dozen Amazon natives were gunned down by the Peruvian Army in the oil town of Bagua for protesting the cozy relationship between Big Oil and the government of President Alan Garcia, I find myself on the banks of the Mother of God River in Salvacion, Peru, wondering if all those folks died in vain. Any day now, the bulldozers will be moving in as Texas-based Hunt Oil Company – with the full go-ahead of the Peruvian government — fires its first salvo in its assault against the million-acre pristine rainforest wilderness of the little-known and largely unexplored Amarakaeri Communal Reserve.
Peru revokes decrees that sparked Amazon Indian uprising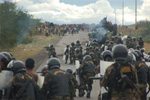 (06/19/2009) Peru's Congress revoked two controversial land laws that sparked violent conflicts between indigenous protesters and police in the country's Amazon region. The move temporarily defuses a two-week crisis, with protesters agreeing to stand down by removing blockades from roads and rivers. Congress voted 82-14 Thursday to overturn legislative decrees 1090 and 1064, which would have facilitated foreign development of Amazon land. Indigenous groups said the decrees threatened millions of hectares of Amazon rainforest and undermined their traditional land use rights.
Peru suspends decree that triggered bloody conflict between Indians and police
(06/11/2009) Peruvian lawmakers yesterday suspended a controversial decree that contributed to a bloody conflict between police and indigenous protesters in the country's Amazon region, reports the AFP.
(06/06/2009) More than 70% of the Peruvian Amazon has been allocated for oil and gas extraction, and the current government of Alan Garcia has been pushing for more. Unfortunately, as usual, these policies are promoted by and only benefit a handful of people, but negatively impact the lives of many. However, Garcia's government did not foresee the potential consequences of their actions.
Peruvian police kill 10 Indians in battle over Amazon oil drilling
(06/06/2009) At least 30 are dead following a clash between police and Indians protesting oil development in Peru's Amazon region.