In what is being heralded as the 'world's largest conservation agreement' 20 Canadian forestry companies and nine environmental organizations have announced an agreement covering 72 million hectares of the Canadian boreal forest (an area bigger than France). Reaching a major compromise, the agreement essentially ends a long battle between several environmental groups and the companies signing on, all members of the Forest Products Association of Canada (FPAC).
The companies will suspend any new logging in 29 million hectares of forest—about the size of Montana and approximately 40 percent of the land agreement—that is considered prime habitat for caribou. The logging suspension will last for three years during what is being called a 'planning period'. The woodland caribou are seen as a flagship species that, if protected, will aid other threatened species.
In return for the logging three-year moratorium, the nine environmental groups have vowed to stop protesting the companies involved, including 'Do Not Buy' campaigns headed by ForestEthics, Greenpeace, and Canopy.
| | |
| --- | --- |
| | Scenery in the Canadian Boreal. Photo by: Richard Brooks/Greenpeace. |
"This is our best chance to save woodland caribou, permanently protect vast areas of the Boreal Forest and put in place responsible forestry practices," says Forest Campaign Coordinator of Greenpeace Canada, Richard Brooks, highlighting what the environmental groups gain. "Concerns from the public and the marketplace about wilderness conservation and species loss have been critical drivers in arriving at this agreement."
The agreement also includes higher environmental standards for the logging areas in the remaining 43 million hectares. In total the agreement covers two-thirds of Canada's logging concessions.
The compromise comes at a time when companies logging in the boreal have been increasingly concerned about their 'green' image; they hope that the new initiative will give them a market advantage among increasingly environmentally-minded consumers.
"The importance of this Agreement cannot be overstated," said Avrim Lazar, President and CEO of FPAC in a press release. "FPAC member companies and their ENGO counterparts have turned the old paradigm on its head. Together we have identified a more intelligent, productive way to manage economic and environmental challenges in the Boreal that will reassure global buyers of our products' sustainability"
Lazar adds that the agreement will set a forestry standard, which will be "the envy of the world."
The Pew Environment Group and the Ivey Foundation acted as mediators to the negotiations, bringing together long time enemies to find common ground.
| | |
| --- | --- |
| | Caribou bull. Photo by: Wayne Sawchuck/Canadian Boreal Initiative. |
"For years we have helped bring opposing parties together to conserve this global treasure, Canada's boreal forest," said Steve Kallick, director of the Pew Environment Group's International Boreal Conservation Campaign. "We're thrilled that this effort has led to the largest commercial forest conservation plan in history, which could not have happened without both sides looking beyond their differences."
Both the companies and the environmental groups are now meeting with local communities, provincial governments, and Canada's First Nations to bring them into the agreement. The agreement must be approved by these disparate groups before it becomes formal policy. For indigenous groups the agreement recognizes that their aboriginal and treaty rights must be respected.
Not every green group sees the agreement as a step in the right direction. Head of Ecological Internet, Glen Barry, labeled it "disgraceful", saying that it "traded temporary protections for business as usual industrial forestry across huge expanses of primary and old growth forests."
"Greenpeace's commitment to 'sustainable' and 'ecosystem based' forest management—for consumer items including toilet paper and lawn furniture from old forests—is an ecological crime, as we know we have already lost more primary forests than necessary to maintain global ecosystems and the biosphere. This will not stand," Barry added. Ecological Internet advocates a global moratorium on industrial-scale logging in primary forests both in temperate and tropical forests.
| | |
| --- | --- |
| | Boreal flora. Photo by: Wayne Sawchuck/Canadian Boreal Initiative. |
Appearing to anticipate that not all environmentalists would be happy with the agreement, Greenpeace stated in a question-and-answer form that while some may wonder if Greenpeace is getting 'too close' to long-targeted companies, the organization "strongly believes that this agreement is the best chance to save woodland caribou and to protect the most important and very large areas of intact wilderness in the Boreal Forest."
"We also believe the Agreement will lead to sustainable management of the Boreal Forest. The Agreement is a roadmap to get there; we realize that those who manage and log in the forest must be part of the solution," Greenpeace wrote.
A 2009 study in Trends in Ecology and Evolution found that the Boreal forest, which spreads across Canada, Alaska, Russia, and Scandinavia, was facing rapid destruction with 60 percent of the forest fragmented or degraded due to fires, mining, a recent pine-beetle infestation, climate change, and, of course, logging. Fire was found to be the number one destroyer. In turn less than 10 percent of the Boreal was protected from exploitation. According to the authors, the findings have significant implications for global carbon emissions and biodiversity. A quarter of the boreal forest is in Canada.
Environmental organization that signed to the agreement include: Canadian Boreal Initiative, Canadian Parks and Wilderness Society, Canopy (formerly Markets Initiative), the David Suzuki Foundation, ForestEthics, Greenpeace, Ivey Foundation, The Nature Conservancy, and the Pew Environment Group's International Boreal Conservation Campaign.
The companies that signed the agreement include: AbitibiBowater, Alberta Pacific Forest Industries, AV Group, Canfor, Cariboo Pulp & Paper Company, Cascades Inc., DMI, F.F. Soucy, Inc., Howe Sound Pulp and Paper, Kruger Inc., LP Canada, Mercer International, Mill & Timber Products Ltd, NewPage Port Hawkesbury Ltd, Paper Masson Ltee, SFK Pulp, Tembec Inc., Tolko Industries, West Fraser Timber Co. Ltd, Weyerhauser Compnay Limited−all represented by the Forest Products Association of Canada.
Related articles
Boreal forests in wealthy countries being rapidly destroyed
(08/12/2009) Boreal forests in some of the world's wealthiest countries are being rapidly destroyed by human activities — including mining, logging, and purposely-set fires — report researchers writing in Trends in Ecology and Evolution.
United States has higher percentage of forest loss than Brazil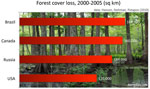 (04/26/2010) Forests continue to decline worldwide, according to a new study in the Proceedings of the National Academy of Science (PNAS). Employing satellite imagery researchers found that over a million square kilometers of forest were lost around the world between 2000 and 2005. This represents a 3.1 percent loss of total forest as estimated from 2000. Yet the study reveals some surprises: including the fact that from 2000 to 2005 both the United States and Canada had higher percentages of forest loss than even Brazil.
Canada creates massive new park in the boreal
(02/09/2010) Last Friday, the government of Canada and the governments of the provinces of Newfoundland and Labrador signed a memorandum of understanding to create a the new Mealy Mountains National Park. Larger than Yellowstone National Park, the new Canadian park will span 11,000 square kilometers making it the largest protected area in Eastern Canada.
New report: boreal forests contain more carbon than tropical forest per hectare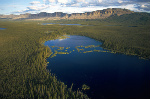 (11/12/2009) A new report states that boreal forests store nearly twice as much carbon as tropical forests per hectare: a fact which researchers say should make the conservation of boreal forests as important as tropical in climate change negotiations. The report from the Canadian Boreal Initiative and the Boreal Songbird Initiative, entitled "The Carbon the World Forgot", estimates that the boreal forest—which survives in massive swathes across Alaska, Canada, Northern Europe, and Russia—stores 22 percent of all carbon on the earth's land surface. According to the study the boreal contains 703 gigatons of carbon, while the world's tropical forests contain 375 gigatons.
500 scientists call on Quebec to keep its promise to conserve half of its boreal forest
(09/13/2009) This March, the Canadian province of Quebec pledged to conserve 50 percent of its boreal forest lying north of the 49th parallel, protecting the region from industrial, mining, and energy development. On Thursday 500 scientists and conservation professionals—65 percent of whom have PhDs—sent a letter to Quebec's Premier Jean Charest calling on him to make good on his promise.
Retailers Costco and Amazon.com flunk sustainable paper use, WalMart and Target fare little better
(08/27/2009) Every year forests are destroyed for the production of paper: habitat is lost, greenhouse gases are released, species are impacted, and fresh water sources damaged. Some companies have begun to move towards more sustainable paper production, seeking paper sources stamped by the Forest Stewardship Council (FSC) and increasing the use of recycled paper, however other companies in the industry have yet to change their way.
The 3rd annual report card conducted by Dogwood Alliance and Forest Ethics focuses both on the companies who continue to make progress toward sustainable paper production—and those who don't.
Sears catalogue continues to harm boreal forest and caribou
(08/17/2009) Sears Holding Company, most known for their ubiquitous catalogues, continues to stall on releasing a more environmental paper policy, according to the nonprofit environmental organization ForestEthics. Sears' long delay to implement a more forest-friendly policy is adding pressure to already threatened caribou populations and deforesting forests in Canada, where the company sources much of its paper.
Caribou and reindeer population plunges 60 percent in three decades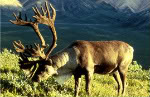 (06/14/2009) The first ever comprehensive survey of caribou worldwide (known as reindeer in Europe) has found that the species has suffered a staggering decline. Researchers from the University of Alberta discovered that the caribou population has fallen 60 percent in half as many years. The study published in Global Change Biology points to global warming and industrial development as the reasons behind the decline.