Niall O'Connor from the World Wildlife Fund warns in a Carte Blanche production that if the ecological destruction of Madagascar continues, the poor island country could become "Haiti-like", where he says, "most of the biodiversity, most of the forests are gone".
Carte Blanche, an African investigative journalism show, went to Madagascar to look into the current environmental crisis where rosewood is being logged in National Parks threatening Madagascar's unique biodiversity.
The program catches up with local tour guides who are fighting the illegal rosewood trade and lemur-research Erik Patel, who is studying one of Madagascar's most endangered lemurs: the Critically Endangered, silky sifaka. The segment is available below in two parts.
Part One: Madagascar, courtesy of Carte Blanche
Part Two: Madagascar, courtesy of Carte Blanche
Related articles
Madagascar passes decree banning rainforest timber trade
(04/27/2010) Madagascar's transitional government has finally signed a decree banning the logging and trade of precious hardwoods, a month after announcing the moratorium.
New timber ban failing to stop illegal logging in Madagascar
(04/04/2010) Rainforest timber continues to be cut illegally from Madagascar's national parks despite a recently announced moratorium on precious wood exports and logging, reports a source from the Indian Ocean island nation.
Madagascar bans rainforest timber exports following global outcry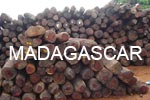 (03/25/2010) Under mounting pressure over illegal logging of its national parks, Madagascar's transitional government on Wednesday reinstated a ban on rosewood logging and exports. The decree (no. 2010-141), which prohibits all exports of rosewood and precious timber for two to five years, was announced during a council meeting held yesterday at Ambohitsorohitra Palace in Antananarivo, Madagascar's capital city.