Nestle calls for global moratorium on rainforest destruction.
Nestle's shareholder meeting turned raucous today, as Greenpeace protesters were arrested in full-orangutan outfits outside the meeting and inside Greenpeace activists—in a scene out of a spy movie—propelled down from the ceiling and dropped a giant banner and a shower of leaflets above the shareholders' heads.
"Nestlé's chair, Peter Brabeck-Letmathe, was explaining how well the company had performed over the last fiscal year when noises were heard up in the roof and leaflets began raining down, not at all unlike a shower of cash," describes a Greenpeace blog entry today.
The protest also took on new life online today with Nestle's Facebook page still being bombarded by frustrated customers, while thousands of Twitter messages were sent to Nestle in a coordinated move by Greenpeace.
The troubles for Nestle began last month when Greenpeace unleashed a campaign linking Nestle to rainforest destruction in Indonesia through one of their palm oil supplier's, the Indonesian-company Sinar Mas. After Nestle succeeded in taking down one of Greenpeace's videos from YouTube on the issue, the video spread virally all over the Internet. Online social media protests began on both Twitter and Facebook. A dismissive attitude from Nestle only threw fuel on the flames. According to Greenpeace, over 200,000 emails have been sent to Nestle regarding the issue while the banned video has been watched over 1.3 million times.
Nestle, after being convinced that Greenpeace was right about Sinar Mas' forest destruction, has dropped the company from its supply line. However, it has refused to stop purchasing palm oil from Cargill, which also supplies from Sinar Mas. Greenpeace is demanding that Nestle cut all ties with Sinar Mas, whether directly or through another supplier.
After a couple weeks, the online protest appeared to have died down, but today's shareholder meeting seems to have sparked the fire again.
"Help us bring about a moratorium when it comes to the destruction of rainforest."
At the meeting, Nestlé Chairman Peter Brabeck-Letmathe said that the source of deforestation "is not with Nestle", adding that the company was working to lower the amount of palm oil it purchases. Brabeck-Letmathe blamed deforestation in Indonesia not on Nestle's actions, but on political decisions made in Europe regarding biofuel requirements. Palm oil is sold for a wide-variety of products including foods, cosmetics, and bio-fuels.
Brabeck-Letmathe also stated that Nestle was "very active" against deforestation in Brazil, though he didn't give specifics, but added that "we are taking exactly the same approach as [Greenpeace is]."
| | |
| --- | --- |
| | Peat forest conversion in Kalimantan, Indonesian Borneo. |
At the meeting Brabeck-Lemathe did call for a full moratorium on deforestation of the world's tropical forests. A position that was brought up in a letter to Greenpeace earlier this week where Nestle proposes "the creation of a global coalition to stop the destruction of rainforests, that includes not only palm oil growers and buyers, but all major interests that impact deforestation, including lumber, paper, biofuel, animal production, and financial interests as well as governments".
"Help us bring about a moratorium when it comes to the destruction of rainforest," Brabeck-Lemathe said at the meeting. Yet the Chairman did not bend to Greenpeace's and activists' demands to drop Cargill as a palm oil supplier.
In 2008 Greenpeace called for a moratorium on rainforest destruction in Indonesia, but there has been little movement from the government or industry on the issue.
Nestle has pledged that it will source only sustainable palm oil by 2015. The Swiss company remains the world's largest food processor with a net profit of nearly 10 billion US dollars last year.
Deforestation in Indonesia has led to the nation becoming the world's third highest emitter of greenhouse gases (after industrial-behemoths China and the United States). Between 1990 and 2005, Indonesia lost more than 28 million hectares of forest, including 21.7 hectares of virgin forest. The country has declined from 82 percent forest cover in the 1960s to less than half today.
In addition, habitat loss has placed many of Indonesia iconic species, including orangutans, clouded leopards, tigers, and rhinos, on the endangered species list. Tens-of-thousands of lesser known species—many not even known to science—are just as threatened.
Related articles
Nestle's palm oil debacle highlights current limitations of certification scheme
(03/26/2010) Last week Nestle, the world's largest food processor, was caught in a firestorm when it attempted to censor a Greenpeace campaign that targeted its use of palm oil sourced from a supplier accused of environmentally-damaging practices. The incident brought the increasingly raucous debate over palm oil into the spotlight and renewed questions over an industry-backed certification scheme that aims to improve the crop's environmental performance.
Nestle fiasco continues: Indonesian oil palm planters threaten boycott too
(03/23/2010) Candy and food giant Nestle is finding itself between a rock and a hard place. The online campaign against Nestle continues: today protesters once again posted thousands of negative messages on the company's Facebook page, most demanding that Nestle cut out palm oil linked to deforestation from its products. At the same time, a new problem has cropped up for Nestle: Indonesian oil palm planters are threatening to boycott Nestle products. Proving that the issues surrounding oil palm and deforestation are nothing if not complex: Facebook protestors say they will boycott Nestle if it doesn't cut out all links to Sinar Mas, a company that Greenpeace has linked to deforestation, whereas the Indonesia Palm Oil Growers Association are preparing a boycott if Nestle stops buying from Sinar Mas, according to the Jakarta Post.
A new world?: Social media protest against Nestle may have longstanding ramifications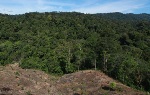 (03/20/2010) The online protest over Nestle's use of palm oil linked to deforestation in Indonesia continues unabated over the weekend. One only needed to check-in on the Nestle's Facebook fan page to see that anger and frustration over the company's palm oil sourcing policies, as well as its attempts to censor a Greenpeace video (and comments online), has sparked a social media protest that is noteworthy for its vehemence, its length, and its bringing to light the issue of palm oil and deforestation to a broader public.