The Tongass temperate rainforest in Alaska is a record-holder: while the oldest and largest National Forest in the United States (spanning nearly 17 million acres), it is even more notably the world's largest temperate rainforest. Yet since the 1960s this unique ecosystem has suffered large-scale clearcutting through US government grants to logging corporations. While the clearcutting has slowed to a trickle since its heyday, a new bill put forward by Senator Lisa Murkowski (Rep.) gives 85,000 acres to Native-owned corporation Sealaska, raising hackles among environmentalists and locals who are dependent on the forests for resources and tourism.
Complicating the issue is that Sealaska is owned by 20,000 members of Native communities, from the Tlingit, Haida and Tsimshian tribes. Government officials are acutely sensitive to the demands from these tribes, since they lost their lands from the federal government when the Tongass was appointed a National Forest in 1907 by then president, Teddy Roosevelt. Yet, Sealaska has a long-time reputation for clearcutting forests and selling the logs to Asia—to fetch a higher price—versus employing local mills and using sustainable logging practices.
| | |
| --- | --- |
| | Aerial view of the Tongass Forest. Photo by Rhett A. Butler. |
"Sealaska has already stated that they will, as they have done with forest lands in the past, clear-cut the majority of these lands and export the 'round logs' to Asia where they will fetch the highest price," Roger DiPaolo, a local activist from Edna Bay, Alaska, an area surrounded by the bill in question, told mongabay.com.
However Sealaska vice president and general counsel, Jaeleen Araujo, recently told the Los Angeles Times: "It's true that in the past we harvested at very large levels, and that was not sustainable […] But we're not harvesting at those levels now. We have the ability to manage a sustainable timber program."
Despite Sealaska's assurances, locals, like DiPaolo, are skeptical.
"Since the 1970s, [Sealaska] clear-cut over 80 percent of the forest lands that were given to them by the federal government under the Alaska Native Claims Settlement Act of 1972. Now that they have very little loggable forest land left they are proposing to go outside of those lands set aside for them in 1972," he said.
Sealaska is already the largest landowner in Southeast Alaska, owning over 290,000 acres of land. This new bill would give them 85,000 acres more. The area in question is also ecologically unique, even among Tongass landscapes, which often contains tree stands over 800 years old.
"The underlying topography is Karst, a large-scale system of limestone caves and passages. Karstlands are extremely rare and ecologically sensitive—only a few places in the world have Karst topography, and in no other place on earth does Karst underlie a temperate rainforest," says DiPaolo, who adds that, "the largest as-of-yet unexplored and unmapped cave system in all of North America is the Karst system underlying the very exact lands under threat."
| | |
| --- | --- |
| | Clear-cut logging in Alaska. Photo by Rhett A. Butler. |
The area in question is not just ecologically unique, but is also vital to the region's new economy. While Tongass towns used to be economically supported by clear-cut logging, it has since made a transition to tourism, and few things dampen eco-tourism and adventure travel more than wholesale loss of surrounding forests.
"If these bills pass and the land is given away the fragile economic web in our communities will be broken. Small family businesses, Forest Service employees, and those who live off the land will be the first to be go. After that it would not be long before our communities would become ghost towns. Our very existence is at stake," says DiPaolo, adding that "our communities are extremely remote and inaccessible, therefore we are 'subsistence communities' that depend on the National Forest surrounding us for our game, wild edibles, fresh water, firewood and gravel."
DiPaolo warns that the bill is likely being attached to an Omnibus Land Bill by Senator Murkowski, who he says "doesn't seem to care" about the "tremendous opposition". DiPaolo adds that the only wait to stop the bill is to contact the Chairman of the US Senate Committee on Energy and Natural Resource: New Mexico Senator Bingaman (Dem.).
"Please demand that Senator Bingaman save our communities and the Public National Forest surrounding them by NOT allowing S.881 to be included in an Omnibus Lands bill and that he allow S.881 to die in committee," DiPaolo told mongabay.com. "Fresh action is being taken at this very moment by the Alaskan Congressional delegation to get these bills pushed through—we need the public's immediate help to thwart these efforts."
In addition, the organization Alaska Wilderness League has an Action Alert on the issue.
Logging is big business both in Alaska and across the continental US. According to the EPA, the US remains the world's largest producer of forestry products and its largest consumer. Currently, two-thirds of US forests are classified as timber-lands, in other words open for production.
This has an environmental impact a recent study showed that from 2000-2005 the US lost 6 percent of its forests (though the study did not look at how much forest regenerated during that time) to weather-events, beetle-infestation, fire, and industrial logging. The percentage was higher than the world's six other big-forest nations: Brazil, Canada, Russia, Indonesia, China, and the Democratic Republic of Congo. Clearcutting of forests, even old-growth forests, and then waiting for decades for regeneration before clearcutting again remains the industry-norm in the US.
Video shows clear-cuts by Sealaska near Tlingit indigenous community.
Related articles
United States has higher percentage of forest loss than Brazil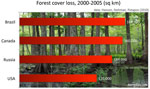 (04/26/2010) Forests continue to decline worldwide, according to a new study in the Proceedings of the National Academy of Science (PNAS). Employing satellite imagery researchers found that over a million square kilometers of forest were lost around the world between 2000 and 2005. This represents a 3.1 percent loss of total forest as estimated from 2000. Yet the study reveals some surprises: including the fact that from 2000 to 2005 both the United States and Canada had higher percentages of forest loss than even Brazil.
U.S. approves logging of 381 acres of primary rainforest in Alaska
(07/17/2009) The Obama administration moved this week to allow clear-cutting of 381 acres (154 ha) of primary temperate rainforest in Alaska's Tongass National Forest, reports the Environmental News Service (ENS).
Developed countries plan to hide emissions from logging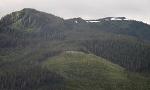 (12/09/2009) While developing countries in the tropics have received a lot of attention for their deforestation emissions (one thinks of Brazil, Indonesia, and Malaysia), emissions from logging—considered forest cover change—in wealthy northern countries has been largely overlooked by the media. It seems industrialized countries prefer it this way: a new study reveals just how these countries are planning to hide forestry-related emissions, allowing nations such as Canada, Russia, and the EU to contribute to climate change without penalty.