Sales of palm oil certified under the green criteria set by the Roundtable on Sustainable Palm Oil (RSPO) reached a record high in March, climbing nearly 8 percent over February 2010 to 136,000 metric tons, reports the RSPO in its monthly bulletin.
RSPO says that 95 percent of certified sustainable palm oil (CSPO) produced during the first quarter of 2010 was purchased. Overall about 700,000 tons of the 1.8 million tons CSPO produced since 2008 have been purchased.
RSPO criteria include measures to reduce the use of fertilizers and pesticides, cut air and water pollution from palm oil production, establish "no burn" policies, and spare lands of high conservation value from development. The scheme counts more than 200 palm oil growers, processors and traders as members, as well as NGOs. Unilever, the world's largest single consumer of palm oil, has recently launched an advertising touting its use of certified palm oil.
But RSPO has not been without controversy. Some critics say the scheme lacks oversight, sets a low bar for compliance, and is underfunded. Supporters argue that RSPO is still a relatively new initiative that needs more time to prove itself.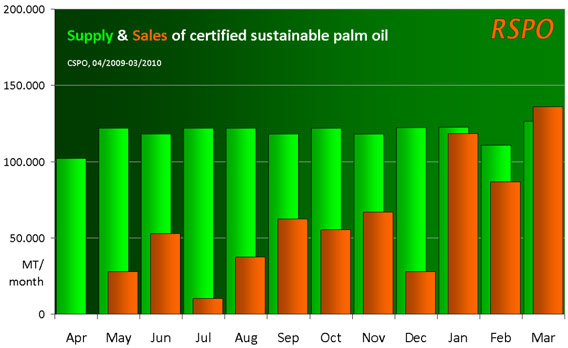 Sales can exceed production in a particular month if buyers purchased volumes of oil or certificates that reflected earlier production. For example, March 2010 marked the last opportunity for growers to sell certificates covering oil produced in 2009. Chart and caption courtesy of RSPO.
Related articles
Nestle's palm oil debacle highlights current limitations of certification scheme
(03/26/2010) Last week Nestle, the world's largest food processor, was caught in a firestorm when it attempted to censor a Greenpeace campaign that targeted its use of palm oil sourced from a supplier accused of environmentally-damaging practices. The incident brought the increasingly raucous debate over palm oil into the spotlight and renewed questions over an industry-backed certification scheme that aims to improve the crop's environmental performance.
Consumers should help pay the bill for 'greener' palm oil
(01/12/2010) Palm oil is one of the world's most traded and versatile agricultural commodities. It can be used as edible vegetable oil, industrial lubricant, raw material in cosmetic and skincare products and feedstock for biofuel production. Growing global demand for palm oil and the ensuing cropland expansion has been blamed for a wide range of environmental ills, including tropical deforestation, peatland degradation, biodiversity loss and CO2 emissions. In response to these concerns, a group of stakeholders—including activists, investors, producers and retailers—formed the Roundtable on Sustainable Palm Oil (RSPO) to develop a certification scheme for palm oil produced through environmentally- and socially-responsible ways. It is widely anticipated that the creation of a premium market for RSPO-certified sustainable palm oil (CSPO) would incentivize palm oil producers to improve their management practices.