The United Nation declared 2010 as the International Year of Biodiversity (IYB). One of the goals of the IYB is to celebrate the achievements of the Convention of Biological Diversity signed by 192 countries since 1992. But what have we accomplished since 1992? Did we put an end to biodiversity loss? The truth is that there is not much to celebrate at all. Asia is a perfect example where the animal crisis and the loss of biodiversity have worsened over decades.
The first question that should come to mind is: how many species have vanished in Asia because of human activities? Records of recently extinct species in Asia show 71 species that have disappeared in the wild. Examples include the Yunnan lake newt (Cynops wolterstorffi) from China, the Bonin thrush (Zoothera terrestris) from Japan, or the redtailed black shark (Epalzeorhynchos bicolor) from Thailand. The figures may look actually small, considering the colossal number of existing species. However, the inventory of wildlife in Asia and around the world is still at its infantile stage, and therefore, the number of extinct species is probably greatly underestimated.
| | |
| --- | --- |
| | The Critically Endangered Gigante island frog (Platymantis insulatus) is endemic to two small islands in the Philippines. Photo by: Pierre Fidenci. |
Many large animals, like mammals and fishes, are in clear and constant danger of imminent extinction. The 2010 IUCN Red List assessment for Asia includes 2,380 animal species threatened to vanish forever. Most of the world's threatened mammal species are found in Asia. For example, Asian elephants are endangered due to habitat loss and poaching. Between 30,000 and 50,000 subsist in 13 Asian countries.
Eleven primate species are on the brink of extinction in Asia. Amongst them is the Siau Island Tarsier (Tarsius tumpara) which lives on a small volcanic island in North Sulawesi, Indonesia. The Siau Island Tarsier will soon vanish in the blink of an eye because of the habit of locals to eat them as snack food, coupled with habitat destruction.
In the Philippines, the wild-cattle Tamaraw (Bubalus mindorensis), endemic to the Mindoro Island, has a population size of only 250 individuals, putting it on the brink of extinction (there were 10,000 Tamaraws in the year 1945).
Southeast Asia is incredibly rich in its biodiversity, with a considerable number of endemic species, but under unsustainable and constant threats. For example, the Philippines flourishes with native species, but, for how long? My recent visit at the small Gigante Islands in the Philippines where the endangered endemic Gigante island frog (Platymantis insulatus) is found, illustrates perfectly the urgency to stop species extinction—for good! Many species are left on a tiny range of habitat which is not ideal for them thrive on. The Gigante island frog is now confined on a small space that can be roamed in a full day, within remaining forest outcrops and undisturbed caves.
| | |
| --- | --- |
| | Siamese crocodile. Photo by: Rhett A. Butler. |
The world's most diverse country for mammals is Indonesia (670 species), but at the same time, it holds a worrisome number of endangered mammals (184 species). China is also on the top of the endangered species list, with 551 species of mammals threatened to become extinct in the near future. Many endangered animals that we are about to lose have fewer than 500 living individuals in the wild and have an extremely limited distribution range of less than 100 square kilometers. The Siamese crocodile (Crocodylus siamensis) is a good example with fewer than 250 adults surviving in Cambodia.
There is simply an urgent need to save these creatures, just as we are the Earth's very own stewards. If we don't act now, then, no one will, and our future generations will only see them in the glossy pages of a Science magazine.
The large animal crisis is just one side of the story. The small animal crisis is also rampant in Asia, but less studied and exposed to media. Everybody is curious how the endangered panda from China is doing, or how the Javan rhinoceros survives with fewer than 60 individuals living in the wild. What about Alycaeus balingensis, a critically endangered small terrestrial gastropod found in the leaf-litter on the forest floor in Malaysia? It may well be that this unknown gastropod will vanish before the panda if no conservation program is conducted. In 2009 alone, 12 threatened species of mollusk from Malaysia were added to the IUCN Red List of threatened species, highlighting the decline of small animals. All of them lived in a fragile and very specialized habitat within vegetation occurring in rocky expanses of limestone with little surface water. Habitat destruction via limestone quarrying is driving them to extinction.
| | |
| --- | --- |
| | Bamboo rats and mouse deer in the Luang Prabang morning market in Laos. Photo by: Rhett A. Butler. |
The Asian animal crisis is primarily fueled by continuous habitat loss and the exploitation of species for human use (e.g., food, medicine, ornamental). Global warming will play a greater role into increasing the risk of extinction in the near future, especially if we continue to lose suitable natural habitats like primary rain forests and wetlands. There will be no more room for these species to live and adapt to rapid changes in their surroundings. In addition, illegal poaching and trading of endangered animals is also rampant in Asia. In Indonesia nearly all 230 species on the country's endangered species list can be found at the capital's black market!
Southeast Asia's deforestation has also been playing a crucial role in species decline and extinction. In the Philippines alone, it is sad to observe that old growth forest composed of dipterocarps is now confined to small pocked areas covering less than five percent of the country. In some regions, like in Mindanao in Southern Philippines, large coconut plantations have replaced beautiful natural forest and most small islands like Busuanga or the larger one like Panay have no primeval forests at all. If present level of deforestation is not halted, Southeast Asia will lose three-quarters of its original forest cover by the end of the century, resulting in colossal species declines and extinctions.
We need to take action NOW! There is an urgent call for us to stop massive species extinction and we can do our part today. By far, protecting and restoring natural forests, wetlands and marine ecosystems, including coral reefs, will be one of the major conservation urgency of the 21st century. A massive plan, like the Marshall Plan, should be put in place for Asia. The lack of resources to set up a multi-billion dollar plan is not lacking, the missing part is the understanding of the urgency for such action.
On-the-ground local communities should be the ones to set some of the conservation agenda, not distant institutions, and successfully protect threatened animals and wild places with the support of scientists. We need to spread conservation awareness and benefits. In Asia, most communities require donor support to build their conservation capacity; however, many conservation programs like preserving the forest can be done effectively at low costs, as long as the local communities understand the invaluable benefits of doing so. The high levels of corruption limit the success of conservation projects, including the creation of an Asian plan to protect and restore life, therefore, the fight against such atrocities should be a quintessential part of any conservation agenda.
Pierre Fidenci is the founder and president of Endangered Species International, a conservation organization supporting projects worldwide, including the Democratic Republic of Congo, India, the Philippines, Borneo, and Colombia. The group works with many species largely unknown to the public and ignored by other conservation organizations.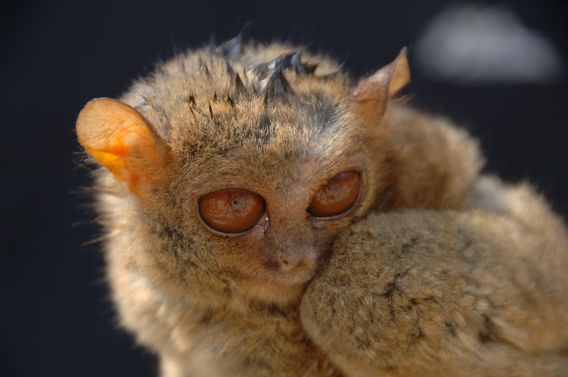 Tarsiers are threatened by habitat destruction and in some cases captured for food. Photo by: Pierre Fidenci.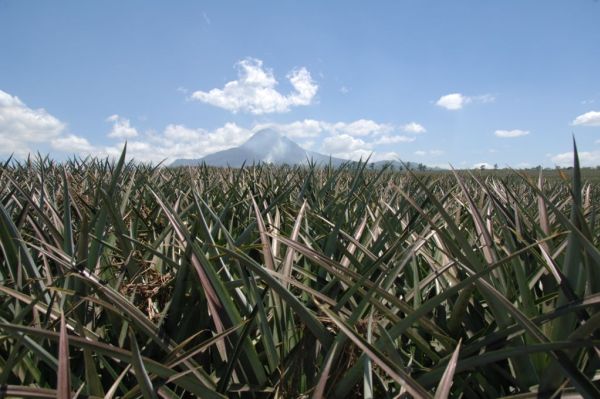 The Asian animal crisis is primarily fueled by continuous habitat loss. In this photo, rainforest was replaced by vast plantations of pineapples by Dole corporation in the Philippines. Photo by: Pierre Fidenci.
Related articles
South Korea's frogs have avoided amphibian crisis so far, an interview with Pierre Fidenci

(09/09/2009) Frogs are on the edge. Blasted by habitat loss, pollution, and a terrible disease, the chytrid fungus, species are vanishing worldwide and those that remain are clinging to existence, rather than thriving. However, an interview with Pierre Fidenci, President of Endangered Species International (ESI), proves that there are still areas of the world where amphibians remain in abundance. South Korea is not a country that is talked about frequently in conservation circles. Other nations in the region attract far more attention, such as Malaysia and Indonesia. But it was just this neglect that drove Pierre Fidenci to visit the nation and survey the amphibians there.
Indonesia opens protected rainforests to mining and other developments
(03/16/2010) Indonesian President Susilo Bambang Yudhoyono has issued new regulations, which will allow underground mining in protected areas, according to the Jakarta Post. The new rules will also allow power plants, renewable energy, and transportation such as toll roads in protected forests.
Vietnam implements project to save one of the world's rarest mammals, the shy soala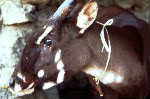 (02/24/2010) Vietnam's central province of Thua Thien-Hue has approved a project to save the enigmatic saola. Listed as Critically Endangered, the saola (Pseudoryx nghetinhensis)—a type of forest antelope—is so rare and secretive that it was only discovered in 1992. It is considered by many to be one of the world's rarest mammals.
Extinct animals are quickly forgotten: the baiji and shifting baselines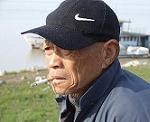 (02/23/2010) In 2006 a survey in China to locate the endangered Yangtze River dolphin, known as the baiji, found no evidence of its survival. Despondent, researchers declared that the baiji was likely extinct. Four years later and the large charismatic marine mammal is not only 'likely extinct', but in danger of being forgotten, according to a surprising new study 'Rapidly Shifting Baselines in Yangtze Fishing Communities and Local Memory of Extinct Species' in Conservation Biology. Lead author of the study, Dr. Samuel Turvey, was a member of the original expedition in 2006. He returned to the Yangtze in 2008 to interview locals about their knowledge of the baiji and other vanishing megafauna in the river, including the Chinese paddlefish, one of the world's largest freshwater fish. In these interviews Turvey and his team found clear evidence of 'shifting baselines': where humans lose track of even large changes to their environment, such as the loss of a top predator like the baiji.
Humans push half of the world's primates toward extinction, lemurs in particular trouble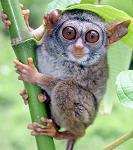 (02/18/2010) Of the known 634 primate species in the world 48 percent are currently threatened with extinction, making mankind's closes relatives one of the most endangered animal groups in the world. In order to bring awareness to the desperate state of primates, a new report by the International Union for the Conservation of Nature highlights twenty-five primates in the most need of rapid conservation action. Compiled by 85 experts the report, entitled Primates in Peril: The World's 25 Most Endangered Primates, 2008–2010, includes six primates from Africa, eleven from Asia, three from Central and South America, and five from the island of Madagascar.
Half of Indonesia's species remain unknown
(02/02/2010) Incorporating 17,000 tropical islands, Indonesia is one of the world's richest areas of biodiversity. However, according to the Jakarta Post, over half of this biodiversity remains unrecorded with only 20 of the more than 400 regencies in the country recording species.
40% of lowland forests in Sumatra and Indonesian Borneo cleared in 15 years
(11/10/2009) Forty percent of lowland forests in Sumatra and Kalimantan (Indonesian Borneo) were cleared from 1990 to 2005, reports a new high resolution assessment of land cover change in Indonesia.
Saving the last megafauna of Malaysia, an interview with Reuben Clements

(09/15/2009) Reuben Clements has achieved one success after another since graduating from the National University of Singapore. Currently working in peninsular Malaysia, he manages conservation programs for the Endangered Malayan tiger and the Critically Endangered Sumatran Rhino with World Wildlife Fund. At the same time he has discovered three new species of microsnails, one of which was named in the top ten new species of 2008 (a BIG achievement for a snail) due to its peculiar shell which has four different coiling axes. ie7uhig
20,000 orangutans killed or poached in 10 years without a single prosecution
(08/24/2009) At least 20,000 orangutans have been killed or captured for the illegal pet trade in the past ten years in Indonesia without a single prosecution, according to a report published by Nature Alert and the Centre for Orangutan Protection, groups that campaign on behalf of orangutans.
50 of the world's most endangered crocodiles released into the wild in the Philippines
(08/18/2009) The wild population of the Critically Endangered Philippine crocodile Crocodylus mindorensis has just received a very welcome boost. Fifty crocodiles have been released into Dicatian Lake, Isabela Province on Luzon Island.
War and conservation in Cambodia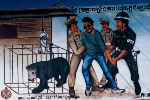 (06/21/2009) The decades-long conflict in Cambodia devastated not only the human population of the Southeast Asian country but its biodiversity as well. The conflict led to widespread declines of species in the once wildlife-rich nation while steering traditional society towards unsustainable hunting practices, resulting in a situation where wildlife is still in decline in Cambodia, according to a new study from researchers with the World Wildlife Fund (WWF).
Malaysian palm oil firms seek 100,000 ha in the Philippines
(06/08/2009) Malaysian oil palm developers are looking to establish a a 100,000-hectare palm oil plantation and extraction facility on the island of Mindanao in the Philippines, reports Business Mirror, a Philippine business publication.
Tropical East Asian forests under great threat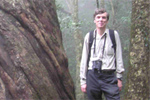 (06/02/2009) Tropical East Asia's rapid population growth and dramatic economic expansion over the past half century have taken a heavy toll on its natural resources. More than two-thirds of the region's original forest cover has been cleared or converted for agriculture and plantations, while its flora and fauna have suffered dearly from a burgeoning trade in wildlife products—several charismatic species have gone extinct as a direct consequence of human exploitation. Nevertheless tropical East Asia remains a top global priority for conservation, supporting up to a quarter of the world's terrestrial species.
Vietnam's commercial wildlife farms threaten Asia's species

(05/22/2009) Commercial wildlife farms are not alleviating pressure on wild populations as claimed by proponents, but exacerbating the problem according to a new report by the Wildlife Conservation Society (WCS) and Vietnam's Forest Protection Department. Such farms, which rear snakes, turtles, crocodiles, tigers, monkeys, and other—often rare—species, are meant to provide customers throughout Southeast Asia with legally produced 'wild' meats and other products.
Will the illegal trade of the critically endangered Philippine forest turtle lead to its extinction?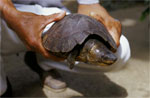 (05/04/2009) Endangered Species International (ESI) conducted ongoing monitoring at markets known to sell pets and wild animals in Manila, Philippines, to monitor the status of the trade of one of the most endangered turtle in the world: the Philippine forest turtle Siebenrockiella (Panayenemys) leytensis,. The critically endangered Philippine forest turtle is endemic to the Philippines, occurring only on one major island, Palawan, and its small satellite island, Dumaran.
Illegal hunting in Laos takes toll on wildlife
(04/20/2009) Deep in the rugged mountains of Nam Et-Phou Louey National Protected Area (NEPL) on the Laos–Vietnam border, men smoke cigarettes and talk in hushed voices as they tramp through the forest. Approaching a baited trap, they hear the frantic snarls of an ensnared tiger. The tiger hangs by its front foot, suspended by a cable attached to a tree. The men shoot and make quick work of the tiger, removing its bones but leaving some of its carcass, including parts of its pelt, behind. The real money is no longer in tiger skins, but bones: the 10 to 12 kilograms of bone harvested from the adult tiger will yield $12,000-$15,000 in a region where per capita income is around $400 a year. Though the authorities are able to trace the weapon shells back to their village and locals know of the hunters' haul, two years later the evidence has not been enough to hold the men accountable for their crimes.