'Hello, my name is Repsol YPF'
Imagine you're in one of the remotest parts of the Amazon rainforest and suddenly you come across members of an uncontacted tribe. What should you do? The experts say, "Turn around. At all costs, make no attempt at contact."
Repsol YPF, exploring for oil in northern Peru, has taken a different approach. Despite the extreme vulnerability of the tribes to any form of contact, the company suggests that its workers talk to them in certain instances, and even provides specific phrases to use and conversation topics to address.
Some of these are farcical. If violence looks likely, Repsol recommends: "Use a megaphone to inform the natives in the local languages why we are there and that it is not the company's intention to interfere with their activities."
| | |
| --- | --- |
| | Crossed arrows belonging to an uncontacted tribe in the region where Repsol YPF is working. © Marek Wolodzko/Survival |
Another: "Explain to them the reason for Repsol's presence in the region and the work they're carrying out… Explain to them their vulnerability to Western diseases and the risk they run of getting ill and infecting others in their group which could kill them."
And if violence does happen? Reach for the megaphone again. "If peaceful contact and understanding can't be reached and the attack continues, try to establish communication using a megaphone," Repsol says.
Other suggestions are equally farcical, if not downright rude. "Try to persuade the person or group to return to their settlements. If it is known they are on their seasonal migration, you should persuade them to continue on their way."
| | |
| --- | --- |
| | Members of an uncontacted tribe spotted in south-east Peru. © Heinz Plenge Pardo/Frankfurt Zoological Society |
Another: "In any situation, it is important to indicate to the uncontacted person or group that they should return to their settlements until Repsol's work in that particular area has finished. This is in order to avoid accidents."
Repsol seems to be forgetting that the uncontacted tribes are the owners of this land, and that their ownership rights are recognized by both the UN Declaration on Indigenous Rights and the International Labour Organization's Convention 169.
The company also seems not to realize that uncontacted tribes will have no idea what oil exploration is or why unknown diseases might kill them, no matter how carefully it thinks it can explain it to them – megaphone or no megaphone.
All these phrases come from a "contingency plan" presented by Repsol to Peru's Energy Ministry in 2007. The company is now waiting on a decision from the Ministry to hear if it can do more exploration in the region, which could be made any day, and is preparing a new plan.
| | |
| --- | --- |
| | Some of the Mastanahua, in south-east Peru, remain uncontacted. © Dave Mountain/Survival |
Is shouting at people through a megaphone what Repsol means by "free, prior and informed consent obtained in good faith", which it claims is part of its "community relations" strategy when working with indigenous peoples? It would seem so.
Survival's recommendation to Repsol is this: scrap the plan and abort exploration in the region altogether. Not doing so violates international law and threatens two of the world's last uncontacted tribes – some of the world's most vulnerable people – with extinction.
For more information on Peru's uncontacted tribes: www.survivalinternational.org/tribes/isolatedperu
Related articles
Under siege: oil and gas concessions cover 41 percent of the Peruvian Amazon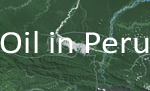 (02/16/2010) A new study in the Environmental Research Letter finds that the Peruvian Amazon is being overrun by the oil and gas industries. According to the study 41 percent of the Peruvian Amazon is currently covered by 52 separate oil and gas concessions, nearly six times as much land as was covered in 2003. "We found that more of the Peruvian Amazon has recently been leased to oil and gas companies than at any other time on record," explained co-author Dr. Matt Finer of the Washington DC-based Save America's Forests in a press release. The concessions even surpass the oil boom in the region during the 1970s and 80s, which resulted in extensive environmental damage.
The real Avatar story: indigenous people fight to save their forest homes from corporate exploitation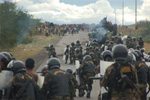 (12/22/2009) In James Cameron's newest film Avatar an alien tribe on a distant planet fights to save their forest home from human invaders bent on mining the planet. The mining company has brought in ex-marines for 'security' and will stop at nothing, not even genocide, to secure profits for its shareholders. While Cameron's film takes place on a planet sporting six-legged rhinos and massive flying lizards, the struggle between corporations and indigenous people is hardly science fiction.
Brazilian tribe owns carbon rights to Amazon rainforest land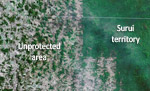 (12/09/2009) A rainforest tribe fighting to save their territory from loggers owns the carbon-trading rights to their land, according to a legal opinion released today by Baker & McKenzie, one of the world's largest law firms. The opinion, which was commissioned by Forest Trends, a Washington, D.C.-based forest conservation group, could boost the efforts of indigenous groups seeking compensation for preserving forest on their lands, effectively paving the way for large-scale indigenous-led conservation of the Amazon rainforest. Indigenous people control more than a quarter of the Brazilian Amazon.
Amazonian natives say they will defend tribal lands from Hunt Oil with "their lives"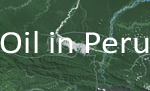 (10/25/2009) Indigenous natives in the Amazon are headed to the town of Salvacion in Peru with a plan to forcibly remove the Texas-based Hunt Oil company from their land as early as today. Peruvian police forces, numbering in the hundreds, are said to be waiting in the town. The crisis has risen over an area known as Lot 76, or the Amarakaeri Communal Reserve. The 400,000 hectare reserve was created in 2002 to protect the flora and fauna of the area, as well as to safeguard watersheds of particular importance to indigenous groups in the region.
Oil road transforms indigenous nomadic hunters into commercial poachers in the Ecuadorian Amazon

(09/13/2009) The documentary Crude opened this weekend in New York, while the film shows the direct impact of the oil industry on indigenous groups a new study proves that the presence of oil companies can have subtler, but still major impacts, on indigenous groups and the ecosystems in which they live. In Ecuador's Yasuni National Park—comprising 982,000 hectares of what the researchers call "one of the most species diverse forests in the world"—the presence of an oil company has disrupted the lives of the Waorani and the Kichwa peoples, and the rich abundance of wildlife living within the forest.
Photos reveal illegal logging near uncontacted natives in Peru
(08/17/2009) Ariel photos show proof of illegal logging for mahogany occurring in a Peruvian reserve set aside for uncontacted natives. The photos, taken by Chris Fagan from Round River Conservation Studies, show logging camps set-up inside the Murunahua Reserve, meant to protect the uncontacted indigenous group, known as the Murunahua Indians, in the Peruvian Amazon.
Peru to proceed with oil and gas auctions in the Amazon despite indigenous protests
(08/07/2009) Despite violent protests by indigenous groups over plans to expand oil and gas exploration in the Peru's Amazon rainforest, energy investments in the South American country are expected to increase to $1.5 billion in both 2009 and 2010, reports Reuters.
Weeks after bloodshed, American oil moves into Peruvian Amazon, putting rainforest, possible archeological site at risk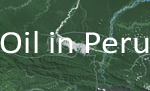 (08/03/2009) Barely six weeks after a dozen Amazon natives were gunned down by the Peruvian Army in the oil town of Bagua for protesting the cozy relationship between Big Oil and the government of President Alan Garcia, I find myself on the banks of the Mother of God River in Salvacion, Peru, wondering if all those folks died in vain. Any day now, the bulldozers will be moving in as Texas-based Hunt Oil Company – with the full go-ahead of the Peruvian government — fires its first salvo in its assault against the million-acre pristine rainforest wilderness of the little-known and largely unexplored Amarakaeri Communal Reserve.
(06/06/2009) More than 70% of the Peruvian Amazon has been allocated for oil and gas extraction, and the current government of Alan Garcia has been pushing for more. Unfortunately, as usual, these policies are promoted by and only benefit a handful of people, but negatively impact the lives of many. However, Garcia's government did not foresee the potential consequences of their actions.