One of the most well-known animals, the polar bear, is a newcomer on the world stage, according to research published in the Proceedings of the National Academy of Sciences. By studying the DNA of an ancient polar bear jawbone uncovered in 2004 in Norway scientists have for the first time pinpointed the time when the polar bear split from its closest relative, the brown bear.
"Our results confirm that the polar bear is an evolutionarily young species that split off from brown bears some 150,000 years ago and evolved extremely rapidly during the late Pleistocene, perhaps adapting to the opening of new habitats and food sources in response to climate changes just before the last interglacial period," says Charlotte Lindqvist, PhD, research assistant professor in the UB Department of Biological Sciences and lead author on the paper.
| | |
| --- | --- |
| | Polar bear with carcass. Photo courtesy of the USGS. |
By comparing the DNA of the 110,000 to 130,000-year-old ancient polar bear fossil to DNA of modern polar bears and brown bears, researchers were able to sequence the mitochondrial genome of the fossil. The work resulted in the oldest mammal mitochondrial genome yet sequenced.
"The fact that our ancient polar bear lies almost directly at the splitting point between this unique group of brown bears and polar bears, that is, close to their most recent common ancestor of the two species, was very intriguing. It provided an ideal opportunity to ultimately settle the time of polar bear origin," Lindqvist says.
The timing of the appearance of the polar bear reveals some interesting points about the world's biggest land carnivore's history. For instance, the polar bear survived past climatic changes. However, researchers caution not to assume past adaptability will save the polar bear in today's warming world.
"We have found that polar bears actually survived the interglacial warming period, which was generally warmer than the current one," Lindqvist explains, "but it's possible that Svalbard might have served as a refugium for bears, providing them with a habitat where they could survive. However, climate change may now be occurring at such an accelerated pace that we do not know if polar bears will be able to keep up. The polar bear may be more evolutionarily constrained because it is today very specialized; morphologically, physiologically and behaviorally well-adapted to living on the edge of the Arctic ice, subsisting on a few species of seals."
Øystein Wiig, polar bear expert and co-author at the University of Oslo's Natural History Museum, says that the fossil jawbone was a particularly lucky find.
"Very few polar bear fossils have been found, leading to widely varying estimates of exactly when and how polar bears evolved," he explains. "Because polar bears live on the ice, their dead remains fall to the bottom of the ocean or get scavenged. They don't get deposited in the sediments like other mammals."
Citation: Charlotte Lindqvist, Stephan Schuster, Yazhou Sun, Sandra Talbot, Ji Qi, Aakrosh Ratan, Lynn Tomsho, Lindsay Kasson, Eve Zeyl, Jon Aars, Webb Miller, Ólafur Ingólfsson, Lutz Bachmann, and Øystein Wiigd. Complete mitochondrial genome of a Pleistocene jawbone unveils the origin of polar bear. PNAS.
Related articles
Grizzly bears move into polar bear territory, threatening polar cubs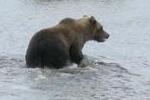 (02/24/2010) Two of the world's largest land carnivores are converging on the same territory, according to data recently published in Canadian Field Naturalist. Grizzly bears ( Ursus arctos horribilis) are moving into an area that has long been considered prime polar bear habitat in Manitoba, Canada. Although polar bears (Ursus maritimus) are bigger than their grizzly relatives—they are the world's largest land carnivores—biologists are concerned that grizzlies will kill polar cubs, further threatening the polar bear, which is already thought to be imperiled by ice loss in the Arctic.
U.S. to ban oil drilling in new Arctic reserves for polar bears
(10/07/2008) The U.S. Department of the Interior will designate two Arctic reserves in areas considered critical habitat for polar bears as part of a legal settlement with environmental groups, reports Reuters. The reserves will be off-limits of oil development and must be established by June 30, 2010.
U.S. lists the polar bear as threatened, but decision won't affect emissions rules
(05/14/2008) The U.S. Interior Department has decided to list the polar bear as a threatened species due to declining sea ice cover in the Arctic, according to the The Associated Press. Interior Secretary Dirk Kempthorne has scheduled a news conference Wednesday to announce the action.
Two-thirds of polar bears at risk of extinction by 2050
(09/07/2007) Two-thirds the world's polar bears could be threatened with extinction by 2050 due to melting sea ice, said U.S. government scientists Friday. U.S. Geological Survey scientists said that the United States (the north coast of Alaska) and Russian would likely lose all of their polar bear populations. The only bears expected to survive would be those in the northern Canadian Arctic islands and the west coast of Greenland. Overall, bears are forecast to lose 42 percent of the Arctic range they need to hunt and breed during summer months.
Polar bears avoiding sea ice for cub dens
(07/15/2007) Polar bears in Alaska are increasingly setting up dens on sea on land because sea ice is thinning, reports a new study by U.S. Geological Survey (UCGS) researchers.
Global warming reduces polar bear survival rate
(11/16/2006) Polar bear survival rates have dropped significantly in the past 20 years, probably due to melting sea ice caused by higher temperatures, according to a study released this week.
Is Global Warming Killing Polar Bears? — WSJ
(12/14/2005) Today The Wall Street Journal ran an article asking "Is Global Warming Killing the Polar Bears?" The article cited several recent studies that suggest polar bears are increasingly under threat from receding ice and warming temperatures.