Between 1970 and 2004 species populations in the high Arctic have declined by 26 percent, according to the first report by the Arctic Species Trend Index (ASTI). While this may be a natural cycle, scientists are concerned that environmental impacts such as climate change are worsening natural population fluctuations in the high Arctic. Declining species include lemmings, red knot, and caribou.
"Rapid changes to the Arctic's ecosystems will have consequences for the Arctic that will be felt globally. The Arctic is host to abundant and diverse wildlife populations, many of which migrate annually from all regions of the globe. This region acts as a critical component in the Earth's physical, chemical, and biological regulatory system," lead-author Louise McRae from the Zoological Society of London (ZSL) said in a press release.
| | |
| --- | --- |
| | A caribou fawn. Researchers are concerned about a significant drop in the caribou population (known as reindeer when domesticated) worldwide. It may be a natural cycle or due to human actions, such as climate change. Photo by Joelle Taillon. |
Some migratory species are also on the decline, such as Arctic shorebirds. However, researchers are uncertain whether this is due to changes in the Arctic or to migration stops in the south.
"Migratory Arctic species such as brent goose, dunlin and turnstone are regular visitors to the UK's shores. We need to sit up and take notice of what's happening in other parts of the world if we want to continue to experience a diversity of wildlife on our own doorstep," Louise McRae adds.
Loss of sea ice is also a concern for a number of high Arctic species, such as polar bears, narwhales, and ringed seals, all of employ sea ice in one way or another to survive. Studies have shown declines in polar bear populations in some areas.
However, the news is not all gloomy. When all the Arctic biomes are included—high Arctic (most northerly), low Arctic (between high and sub), and sub Arctic (most southern)—species populations have actually risen by 16 percent in the past 34 years.
| | |
| --- | --- |
| | Canada goose gosling: some migrating geese are on the rise due to a decline in hunting and increased agricultural waste in their wintering grounds. Photo by Donna Dewhurst/USFWS. |
Marine animals in the low Arctic, such as bowheads and sea otters, have rebounded after regulations have successfully protected them from overharvesting and overfishing. Marine fish biomass has also increased in the North Pacific, which researchers speculate is due to warming waters. However, in the sub Arctic species peaked in the 1980s and then began to decline.
"The establishment of these results comes at a crucial time for finding accurate indicators to monitor global biodiversity as governments strive to meet their targets of reducing biodiversity loss," says co-author Christoph Zöckler from the UNEP-World Conservation Monitoring Centre.
The Arctic Species Trend Index measured populations of nearly a 1,000 Arctic vertebrates, approximately 35 percent of the regions' vertebrates.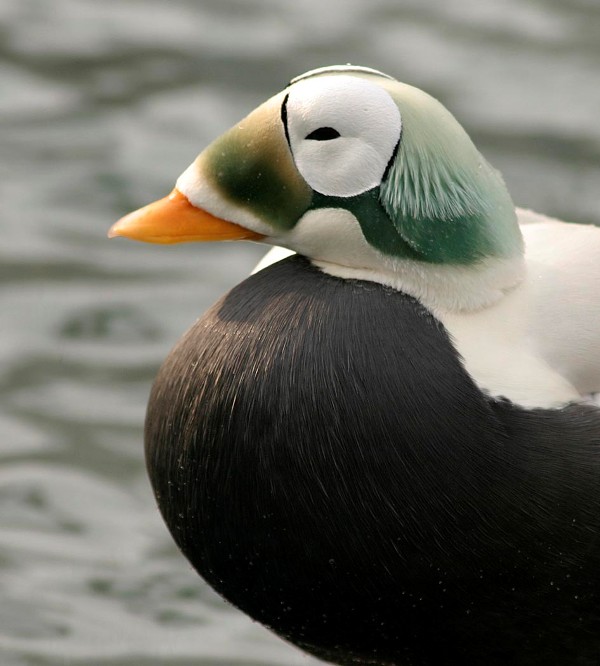 The beautiful spectacled eider. Photo by: USFWS.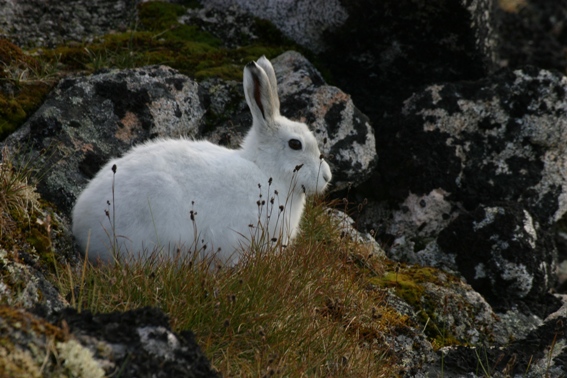 The Arctic hare. Photo by: Carsten Egevang.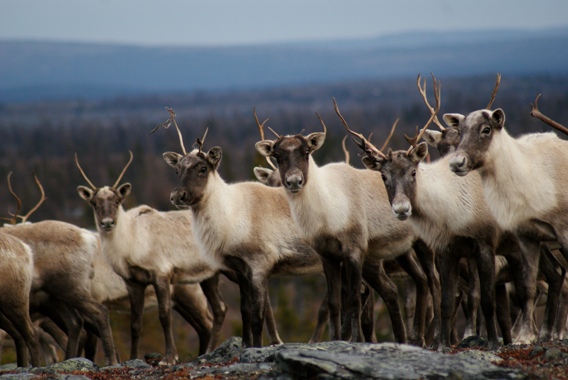 Caribou herd. Photo by: Joelle Taillon.
Related articles
Grizzly bears move into polar bear territory, threatening polar cubs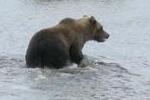 (02/24/2010) Two of the world's largest land carnivores are converging on the same territory, according to data recently published in Canadian Field Naturalist. Grizzly bears ( Ursus arctos horribilis) are moving into an area that has long been considered prime polar bear habitat in Manitoba, Canada. Although polar bears (Ursus maritimus) are bigger than their grizzly relatives—they are the world's largest land carnivores—biologists are concerned that grizzlies will kill polar cubs, further threatening the polar bear, which is already thought to be imperiled by ice loss in the Arctic.
NASA: Arctic melt season lengthening
(02/03/2010) Newly released images from NASA and the National Snow and Ice Data Center show that the Arctic's melt season has lengthened significantly over the past few decades.
Summer sea ice likely to disappear in the Arctic by 2015
(08/31/2009) If current melting trends continue, the Arctic Ocean is likely to be free of summer sea ice by 2015, according to research presented at a conference organized by the National Space Institute at Technical University of Denmark, the Danish Meteorological Institute and the Greenland Climate Center.
NASA reveals dramatic thinning of Arctic sea ice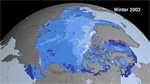 (07/07/2009) Arctic sea ice thinned dramatically between the winters of 2004 and 2008, with thin seasonal ice replacing thick older ice as the dominant type of sea ice for the first time on record, report NASA researchers. Scientists from NASA and the University of Washington used observations from NASA's Ice, Cloud and land Elevation Satellite (ICESat) to make the first Arctic Ocean basin-wide estimate of the thickness and volume of sea ice cover. The researchers found that overall Arctic sea ice thinned about 17.8 centimeters (7 inches) a year, for a total of 67 cm (2.2 feet) over the four winters from 2004 to 2008. The total area covered by thick older ice that survives one or more summers ("multi-year ice") shrank 42 percent or 1.54 million square kilometers (595,000 square miles), leaving thinner first-year ice ("seasonal ice") as the dominant type of ice in the region.
Caribou and reindeer population plunges 60 percent in three decades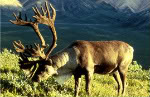 (06/14/2009) The first ever comprehensive survey of caribou worldwide (known as reindeer in Europe) has found that the species has suffered a staggering decline. Researchers from the University of Alberta discovered that the caribou population has fallen 60 percent in half as many years. The study published in Global Change Biology points to global warming and industrial development as the reasons behind the decline.
Study refutes criticism of polar bear listing under the Endangered Species Act

(05/20/2009) In May 2008 the Bush Administration listed the polar bear under the Endangered Species Act (ESA). The listing immediately received allegations of being politically biased and not based on sound science. However, a new paper addresses the allegations point by point and concludes that the decision to add the polar bear under the ESA was not only scientifically sound, but right.
Arctic ecosystem in danger as ice thins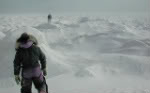 (04/07/2009) Recent dramatic news points to both poles undergoing transformation due to climate change. This weekend an ice bridge disintegrated on the Wilkins Ice Shelf in Antarctica, leaving the whole shelf vulnerable to melting, and then yesterday new evidence was released of the impact of warming in the Arctic. Younger thinner ice has become the dominant type in the Arctic over the past five years, reports a new study led by Research Associate Charles Fowler of the Colorado Center for Astrodynamics Research. The thinner ice does not bode well for the Arctic ecosystem, as the ice is more prone to summer melting.
Black carbon linked to half of Arctic warming
(04/05/2009) Black carbon is responsible for 50 percent of the total temperature increases in the Arctic from 1890 to 2007 according to a study published in Nature Geoscience. Since 1890 the temperature in the Arctic has risen 1.9 degrees Celsius, linking black carbon to nearly an entire degree rise in Celsius or almost two degrees Fahrenheit.
Photos: 13,000 species found in Arctic, Antarctic Oceans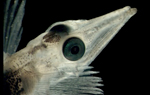 (02/16/2009) A marine census has documented more than 13,000 species in the Arctic and Antarctic Oceans, including several hundred that may be new to science. Conducted over a two-year period under often perilous conditions — including monster waves and dangerous polar bears — the series of 18 surveys turned up a wealth of information on the diversity, distribution and abundance of marine life. The research will also help establish a baseline for measure changes in polar ecosystems.
Reindeer, a symbol of the holidays, is under increasing threat
(12/26/2008) Reindeer are beloved in the holiday season for the mystical role they play in guiding Santa from the North Pole to the world's chimneys. However, according to a new book, reindeer, more commonly referred to as caribou, face increasing pressures from a variety of sources. The new book entitled, Caribou and the North: A Shared Future, draws an intimate portrait of the only deer species where both male and females sport horns, while outlining the dangers which may lead these unique animal to become globally endangered.
Arctic sea ice fell to the lowest volume on record in 2008
(12/17/2008) Arctic sea ice fell to the lowest volume — and second lowest extent — on record, according to the annual World Meteorological Organization (WMO) Statement on the Status of the Global Climate.