Heavily polluted and shrinking, Lake Naivasha is in dire trouble. Environmentalists say the cause is clear: flower farms. Some 60 flower farms line the entire lakeside, growing cut flowers for export largely to the EU. While the flowers industry is Kenya's largest horticultural export (405.5 million last year) it may have also produced an environmental nightmare.
Environmentalists say that flower farms have taken water from the lake for irrigation and then dumped pesticide-waste back into the lake. Long-ignored by policymakers, the situation has recently reached a head due to thousands of fish and other freshwater organisms perishing in the lake. Fishing, once common in the lake, has since been banned.
Samples of the water, fish, and sediments have been taken by government agencies for testing. If it turns out that the flower farms are responsible for the lake's pollution problems, the government could revoke farm licenses. A preliminary inquiry has already linked the flower farms to the lake's troubles stating that the fish mortality was likely caused by low levels of dissolved oxygen.
The lake is also shrinking due to a variety of factors: over-irrigation from the farms, water requirements for nearby Naviasha town, and climate change.
Lake Naivasha is also a major tourism spot in Kenya.
Related articles
Prime Minister of Kenya urged to ban lion-killing pesticide after child dies from ingestion
(11/10/2009) On Monday October 26th a three-year-old girl mistakenly ate the pesticide Furadan (also known as carbofuran) in western Kenya. Her father, a teacher at a primary school, said that he had no knowledge of how dangerous the pesticide was, which he had purchased to kill pests in his vegetable garden.
Kenya's pain, part two: decades of wildlife decline exacerbated by drought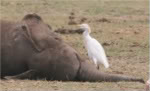 (10/20/2009) Not many years ago if you were planning a trip to Africa to see wildlife, Kenya would be near the top of the list, if not number one. Then violent riots in late 2007 and early 2008 leaving a thousand dead tarnished the country's image abroad. When calm and stability returned, Kenya was again open for tourism, and it's true that most travelers were quick to forget: articles earlier this year announced that even with the global economic crisis Kenya was expecting tourism growth. However, a new disaster may not be so quickly overcome.
Kenya's pain: famine, drought, government ambivalence cripples once stable nation
(09/17/2009) Kenya was once considered one of Sub-Saharan Africa's success stories: the country possessed a relatively stable government, a good economy, a thriving tourist industry due to a beautiful landscape and abundant wildlife. But violent protests following a disputed election in 2007 hurt the country's reputation, and then—even worse—drought and famine struck the country this year. The government response has been lackluster, the international community has been distracted by the economic crisis, and suddenly Kenya seems no longer to be the light of East Africa, but a warning to the world about the perils of ignoring climate change, government corruption, and the global food and water shortages.