Pressure is building on the French shipping company Delmas to cancel large shipments of rosewood, which was illegally logged in Madagascar during the nation's recent coup. Today two environmental groups, Global Witness and the Environmental Investigation Agency (EIA) called on Delmas to cancel the shipment, which is currently being loaded onto the Delmas operated ship named 'Kiara' in the Madagascar port of Vohemar.
Global Witness and EIA have composed an open letter to Delmas' CEO, Jean-Francois Mahe, urging him to suspend all shipments of the wood, much of which was logged from Madagascar's world-renowned national parks. The environmental organizations have obtained photos of 'Kirara' being loaded with rosewood containers by Delmas, a division of shipping group CMA-CCA.
| | |
| --- | --- |
| | Allegedly illegally logged rosewood is being loaded on the 'Kiara' at Vohemar. |
"Madagascar's cash-strapped transitional government lacks both the political will and the resources to effectively control the trade in illegal wood," said Reiner Tegtmeyer of Global Witness in a press release. "If companies like Delmas collude with illegal loggers, the forests of Madagascar will be irrevocably damaged, causing huge damage to endangered species and dramatically affecting people's livelihoods."
Already suffering from vast deforestation, Madagascar suffered a logging crisis last spring. Taking advantage of political instability following a government coup, loggers spurred on by foreign traders entered national parks and cut tens of thousands hectares of the nation's most biodiverse rainforests. The logging boom also saw a sudden uptick in the killing of lemurs for the bushmeat trade.
Global Witness and EIA reported last November that the logging of rosewood and ebony was worth 460,000 US dollars per day, yet little of the profit will stay in Madagascar or serve the nation's impoverished citizens.
It is expected that most of the illegally logged wood will end up in China. But US and European consumers have been known to purchase these highly-sought tropical woods in the past. Global Witness and EIA, however, warn that any US citizen who purchases illegally obtained wood could face criminal and civil charges due to a recent extension in the Lacey Act, which prohibits trade in illegally-sourced wood or wood products.
"Recent U.S. enforcement actions show that companies involved in the trafficking of illegal timber can no longer act with impunity," said Andrea Johnson, Director of Forest Campaigns at EIA said in a press release. "We urge Delmas to adopt and implement policies to avoid shipping illegal products, beginning with timber taken from Madagascar's national parks."
Last November, Gibson Guitars came under investigation for allegedly possessing illegally logged rosewood from Madagascar.
| | |
| --- | --- |
| | Allegedly containers holding illegally logged rosewood are being loaded on the ship 'Kiara'. |
Despite recent statement by French President, Nicholas Sarkozy about the need to protect tropical forests as a means to mitigate climate change and preserve global biodiversity, the French government has tacitly allowed Delmas to go forward with the shipment which conservationists worry could ignite another logging boom.
According to Derek Schuurman, who has published papers on the crisis for the Madagascar Conservation Journal and TRAFFIC, The French government "shows an obvious willingness to help the current Malagasy government export the rosewood […] officially, France wants to appear as 'green' as possible, or even as a green leader or responsible country in the face of climate change."
Many environmental groups and NGOs in Madagascar have been temporarily shutdown, since donor nations cut aid to the beleaguered country following the coup. Some contend that these actions have left the poor of Madagascar as well as its unique wildlife with few advocates.
UPDATE: Forests.org launches protest campaign at French President Sarkozy's Dangerous Deforestation Doublespeak
Related articles
Thousands of tons of illegal timber in Madagascar readied for export

(03/13/2010) As the President of France, Nicholas Sarkozy, argues in Paris that more funding is needed to stop deforestation and mitigate climate change, a shipment of illegal rosewood is being readied for export in Madagascar by a French company with the tacit approval of the French government.
Madagascar traders ready $50m shipment of illegally logged rainforest timber
(03/02/2010) Traders in Vohemar, a port in northeastern Madagascar, are preparing for to ship $54 million worth of timber illegally logged from the Indian Ocean island nation's rainforest parks, report local sources.
French company prepares to ship illegally logged rainforest wood from Madagascar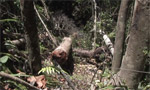 (02/25/2010) Delmas, a French shipping company that has been under pressure for facilitating the destruction of Madagascar's rainforest parks, has been cleared to begin picking up contraband rosewood as soon as Monday, report local sources in the Indian Ocean island nation. Leaders behind last year's military coup — which displaced the autocratic, but democratically elected President Marc Ravalomanana — have signed off on the shipment.