Protest could change the palm oil industry and wake the world up to the power of 'social media'.
The online protest over Nestle's use of palm oil linked to deforestation in Indonesia continues unabated over the weekend. One only needed to check-in on the Nestle's Facebook fan page to see that anger and frustration over the company's palm oil sourcing policies, as well as its attempts to censor a Greenpeace video (and comments online), has sparked a social media protest that is noteworthy for its vehemence, its length, and its bringing to light the issue of palm oil and deforestation to a broader public.
While, the ramifications of this protest—and Nestle's inability to handle the situation—will not be completely known for awhile, it could have widespread implications for the palm oil industry (and companies sourcing them). But on a bigger scale, the protest being undertaken on so-called 'social media' sites such as Facebook, Twitter, Reddit, and Care2, is an indication of the changing way organizations and individuals are showing their displeasure to giant multi-billion dollar corporations.
The palm oil debate widens and intensifies
| | |
| --- | --- |
| | Deforestation for a new oil palm plantation at the edge of Gunung Leuser National Park on the island of Sumatra in Indonesia. Photo by: Rhett A. Butler. |
While the protest is targeting Nestle, it may have ramification far behind the candy-giant. After this week any company sourcing palm oil from areas of the world—such as Malaysia and Indonesia—where deforestation is still rampant and species like orangutans are on the edge of extinction, may want to double-check (and triple-check) the reputation of their suppliers. Better yet, they may want to shell-out a bit more for sustainable palm oil, since it may actually save them money (and face) in the long run.
Already, a number of western companies have been dropping suppliers of palm oil that have links to illegal deforestation. Following a BBC documentary on palm oil, giant food and cosmetics-manufacturer Unilever dropped Duta Palma and PT Smart; prior to this Unilever dropped Sinar Mas (the supplier that got Nestle in hot water). Last year, the World Bank suspended lending to all oil palm plantation projects, after one of its recipients, the Wilmar Group, was found to be environmentally irresponsible. Cadbury New Zealand dumped palm oil altogether after consumer complaints.
While these actions show that some companies are sensitive to the palm oil-debate, this new protest is bringing the issue to a far wider audience, likely putting additional pressure on corporations still sourcing palm oil from environmentally-suspect sources, such as General Mills which was recently the target of a protest by the Rainforest Action Network (RAN). It may also spike demand for sustainable palm oil.
At first, sustainable palm oil, overseen by the Roundtable on Sustainable Palm Oil (RSPO) had difficulty finding a market since it is more expensive than unsustainable palm oil and companies (as well as consumers) didn't want to foot the bill. But by February of this year the market for sustainable palm and its production were nearly evenly matched.
| | |
| --- | --- |
| | The orangutan has become the symbol of the protest against unsustainable palm oil. The Sumatran orangutan, pictured here, is Critically Endangered, largely due to habitat loss. Photo by: Rhett A. Butler. |
Now, though the outlook for sustainable palm oil from a business-angle may be far brighter. The continuing negative press may push more companies than ever to decide that it is very much in their interest to pay a little extra for sustainable sources rather than face the prospect of becoming another Nestle. Sustainable palm oil may suddenly see its demand far outshoot its production, at least in the near term.
Yet even sustainable palm oil, courtesy of the RSPO, has many detractors, especially as some RSPO members allegedly continue to clear high conservation value forests for monoculture plantations. For its part, RSPO says it continues to work on its certification process.
Social Media and Big Business
Another possible outcome of this protest: social media protests may have come of age. Even five years ago a protest of this scale on 'social media' sites—mostly on Facebook and Twitter, but also appearing on Care2 and Reddit—would not have been possible, but this protest proves that these sites can have a big impact. Where else can individuals instantly criticize multi-billion dollar corporations to their collective face, and then invite hundreds (maybe even thousands) of their acquaintances to take up the cause?
| | |
| --- | --- |
| | Figure 1: Extent of Deforestation in Borneo 1950-2005, Projection to 2020. The island of Borneo is split between Malaysia, Indonesia, and Brunei. |
There is no question that social media sites have taken a big chunk out of mainstream media sources in providing news and conversation-topics to an increasingly plugged-in public. Places like Reddit and Digg are becoming the new front-page for many news-junkies who thrive on variety. Especially for younger generations, social media—not Fox News or CNN or the NY Times—is becoming the place where one catches-up on news, spreads information, and sounds their opinions. In this case, however, the opinions aren't between friends, but between thousands of individuals and one big corporation.
While it's clear that Nestle has been taken aback by the scale and vehemence of the protest, it's just as clear that there are plenty of individuals out there who are simply fed-up with the actions of many multinational corporations, which they view as spoiling the environment for profit, stomping on human rights, exploiting the poor, and turning a deaf ear to any criticism.
In fact, while the protest has focused on Nestle's impact on rainforests in Indonesia, it has also tacked on a list of other abuses by the food-giant. Social-media users have unearthed a multitude of skeletons in Nestle's closest: aggressive marketing of baby formula to mothers in the developing world causing malnutrition and mortality; illegal extraction of groundwater in Brazil for Nestle company, Perrier; child labor abuses in Ghana for the production of chocolate; aggressive labor busting, including in Colombia where eight unionizing Nestle employees were assassinated, though there is no link to the company for the killings; and continuing to promote unhealthy foods around the world.
| | |
| --- | --- |
| | Indonesia has some of the world's most biodiverse rainforests, sporting well-known species like orangutans, tigers, elephants, komodo dragons, and rhinos. But most of Indonesia's species are tiny like this red grasshawk dragonfly. Photo by: Rhett A. Butler. |
The online protest against Nestle didn't really take off until after the company pushed YouTube to remove a clever video from Greenpeace criticizing the company, citing copyright infringement. While the protest may owe much of its beginning to Nestle's own draconian measures, including callous comments from a moderator on its Facebook page, it will be doubly interesting to see what Greenpeace, and other activist organization, learn from the uproar. While Greenpeace, one of the savviest and most effective activist organizations out there, has long used social media to spread information about its campaigns, it is not always easy to get people physically involved in an issue. Social media, however, allows for little long-term commitment and a chance to reach companies directly. I bet that Greenpeace and others will increasingly view online media as the most important tool to reach long ambivalent and distant corporations.
But as one commentator said on Nestle's Facebook page today, this protest has gone beyond Greenpeace to become 'grassroots'. That begs the questions: could social media be the new face of effective grassroots activism in an increasingly interconnected and information-heavy world?
Maybe—if this protest works. Of course, much depends on the next few days. Will the campaign against Nestle continue across the social-media sphere, which is nothing if not fickle? Will the story have legs with news sources? Will consumers threatening to boycott follow-through? Will Nestle cave in or continue its statement that it will switch over to sustainable sources…in 2015?
But, for individual protestors the question is really something far deeper: does our voice matter? Collectively, on the Internet, can we make the world a better place?
Whatever happens next, there is no doubt that we are in uncharted territory.
Related articles
Video: Nestle's attempt to censor Greenpeace palm oil ad backfires
(03/19/2010) In a bold online video, the environmental group Greenpeace cleverly links candy-giant Nestle to oil palm-related deforestation and the deaths of orangutans. Cleary angered over the video, Nestle struck back by having it banned from YouTube and replaced with this statement: "This video is no longer available due to a copyright claim by Société des Produits Nestlé S.A." However Nestle's reaction to the video only spread it far and wide (see the ad below): social network sites like Twitter, Facebook, and Reddit were all flooded with the ad as well as rising criticism against Nestle—one of the world's largest food producers—including calls for boycotts.

(03/01/2010) It is no secret that orangutans are threatened with extinction because their rain forests are being destroyed at an alarming rate. Ten years ago, Shawn Thompson, a writer, former journalist and university professor, set out to chronicle the threat to orangutans in a book released in March 2010. The book is called The Intimate Ape: Orangutans and the Secret Life of a Vanishing Species. The book spends most of the time talking about the nature of orangutans and the relationships between orangutans and people. But the ultimate underlying message is there about the source of the peril to orangutans and the solution. Thompson says that the problem of saving orangutans has to do with communications and human nature.
Cargill sells palm oil business in Papua New Guinea
(02/26/2010) Cargill will sell off its palm oil holdings in Papua New Guinea (PNG) to focus on operations in Indonesia, reports the Star Tribune. The $175 million sale involves 62,000 ha of oil palm across three plantations and several mills.
BBC documentary leads Unilever to blacklist Indonesian palm oil company
(02/24/2010) Unilever has told Indonesian suppliers to stop sourcing palm oil from Duta Palma due to concerns over deforestation, reports Reuters.
Conflicting signals out of Indonesia on whether palm oil plantations will be classified as forests
(02/23/2010) Indonesia will not allow the conversion of natural forest for oil palm plantations, claimed the country's Forestry Minister Zulkifli Hasan in comments reported by the Jakarta Post.
Indonesia to target New Guinea for agricultural expansion
(02/22/2010) Indonesia will target its last frontier — its territory on New Guinea — as it seeks to become a major agricultural exporter, reports the AFP.
Where two worlds collide: visiting Tabin Wildlife Reserve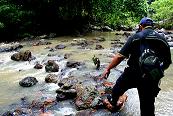 (02/21/2010) The vehicle stopped on the way into Tabin Wildlife Reserve as a troupe of pig-tailed macaques began making their way across the road. In a flash a domestic dog, which may or may not have been 'ownerless', ambushed the group. Chaos erupted as the big predator fell upon the community. As quickly as it began it was all over and the dog was rushing over with an infant monkey in its mouth, leaving the macaques' screeching out their helplessness. As my uncustomary welcome to Tabin Wildlife Reserve shows: the park is a meeting of two worlds. On the left side of the road leading into the reserve is a massive oil palm plantation, on the right is the rainforest and the many species the reserve protects. Tabin, therefore, gives the visitor a unique up-close view of the debate raging in Borneo and throughout much of Southeast Asia over conservation and environment versus oil palm plantations.
Commodity trade and urbanization, rather than rural poverty, drive deforestation
(02/07/2010) Deforestation is increasingly correlated to urban population growth and trade rather than rural poverty, suggesting that measures proposed to reduce deforestation will be ineffective if they fail to address demand for commodities produced on forest lands, argues a new paper published in Nature GeoScience.
Certified palm oil sales accelerate
(02/05/2010) For the first time, sales of certified sustainable palm oil have nearly met production, reports the Roundtable on Sustainable Palm Oil (RSPO), a group that has developed the leading environmental certification standard for palm oil.
EU: rainforests can be converted to palm oil plantations for biofuel production
(02/04/2010) The European Union may be planning to classify oil palm plantations as forests, raising fears among environmental groups of expanded conversion of tropical rainforests for biofuel production, reports the EUobserver, which cites a leaked document from the European Commission. The draft document shows that policymakers are considering language that would specifically allow use of biofuels produced via conversion of rainforests to oil palm plantations.
Half of Indonesia's species remain unknown
(02/02/2010) Incorporating 17,000 tropical islands, Indonesia is one of the world's richest areas of biodiversity. However, according to the Jakarta Post, over half of this biodiversity remains unrecorded with only 20 of the more than 400 regencies in the country recording species.
Cheerios maker linked to rainforest destruction
(01/19/2010) An activist group linked General Mills to destruction of rainforests in Southeast Asia in dramatic fashion on Tuesday, when it unfurled a giant banner, reading "Warning: General Mills Destroys Rainforests", outside the company's Minneapolis headquarters building.
Orangutans vs palm oil in Malaysia: setting the record straight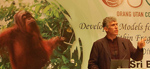 (01/16/2010) The Malaysian palm oil industry has been broadly accused of contributing to the dramatic decline in orangutan populations in Sabah, a state in northern Borneo, over the past 30 years. The industry has staunchly denied these charges and responded with marketing campaigns claiming the opposite: that oil palm plantations can support and nourish the great red apes. The issue came to a head last October at the Orangutan Colloquium held in Kota Kinabalu. There, confronted by orangutan biologists, the palm oil industry pledged to support restoring forest corridors along rivers in order to help facilitate movement of orangutans between remaining forest reserves across seas of oil palm plantations. Attending NGOs agreed that they would need to work with industry to find a balance that would allow the ongoing survival of orangutans in the wild. Nevertheless the conference was still marked by much of the same rhetoric that has characterized most of these meetings — chief palm oil industry officials again made dubious claims about the environmental stewardship of the industry. However this time there was at least acknowledgment that palm oil needs to play an active role in conservation.
Company seeks to log forest reserve for palm oil in Uganda
(01/15/2010) A company in Uganda is pressuring the environment ministry to allow it to log a protected forest reserve to establish a palm oil plantation, reports The New Vision.
India becomes largest buyer of palm oil
(01/14/2010) India surpassed China as the world's largest buyer of palm oil in 2009, reports Bloomberg.
Consumers should help pay the bill for 'greener' palm oil
(01/12/2010) Palm oil is one of the world's most traded and versatile agricultural commodities. It can be used as edible vegetable oil, industrial lubricant, raw material in cosmetic and skincare products and feedstock for biofuel production. Growing global demand for palm oil and the ensuing cropland expansion has been blamed for a wide range of environmental ills, including tropical deforestation, peatland degradation, biodiversity loss and CO2 emissions. In response to these concerns, a group of stakeholders—including activists, investors, producers and retailers—formed the Roundtable on Sustainable Palm Oil (RSPO) to develop a certification scheme for palm oil produced through environmentally- and socially-responsible ways. It is widely anticipated that the creation of a premium market for RSPO-certified sustainable palm oil (CSPO) would incentivize palm oil producers to improve their management practices.
Indonesia to plant and restore vast area of forest to reach emissions target
(01/07/2010) Indonesia will rehabilitate degraded forests and plant millions of hectares of new forests to meet its target of reducing greenhouse gas emissions 26 percent from projected levels by 2020, reports Reuters.
Forest destruction by Sinar Mas undermines efforts to develop and promote greener palm oil
(12/14/2009) An investigation commissioned by Unilever, the world's largest buyer of palm oil, confirms that Indonesian group Sinar Mas, the world's second largest producer of palm oil, has been destroying forests and peatlands despite committing to "greener" palm oil production as a member of the Roundtable on Sustainable Palm Oil (RSPO). Unilever has now suspended its $32.6 million contract with Sinar Mas.
Unilever suspends palm oil contract after supplier found to be destroying rainforests
(12/12/2009) The world's largest user of palm oil, Unilever, has suspended its $32.6 million contract with the Indonesian group Sinar Mas after an independent audit proved that Sinar Mas is involved in the destruction of rainforest, reports Reuters. The audit was conducted early this year after a report by Greenpeace alleged that Sinar Mas was engaged in deforestation and the draining of peatlands, both of which release significant amounts of greenhouse gases into the atmosphere. Deforestation across Indonesia and Malaysia, in part for oil palm plantations, has also added pressure on many many endangered species, including orangutans, tigers, elephants, and rhinos.
Indonesia could double oil palm plantation area
(12/02/2009) Indonesia has 18 million hectares of land suitable for oil palm cultivation, nearly twice the 9.7 million hectares that have already been allocated for plantations, said Agriculture Minister Suswono said at the opening of the 5th Indonesian Palm Oil Conference in Bali.
Face-to-face with what may be the last of the world's smallest rhino, the Bornean rhinoceros

(12/01/2009) Nothing can really prepare a person for coming face-to-face with what may be the last of a species. I had known for a week that I would be fortunate enough to meet Tam. I'd heard stories of his gentle demeanor, discussed his current situation with experts, and read everything I could find about this surprising individual. But still, walking up to the pen where Tam stood contentedly pulling leaves from the hands of a local ranger, hearing him snort and whistle, watching as he rattled the bars with his blunted horn, I felt like I was walking into a place I wasn't meant to be. As though I was treading on his, Tam's space: entering into a cool deep forest where mud wallows and shadows still linger. This was Tam's world; or at least it should be.
Oil palm workers still below poverty line, despite Minister's statements
(11/19/2009) On October 19th, Plantation Industries and Commodities Minister Tan Sri Bernard Dompok told parliament that oil palm harvesters and rubber tappers are living above Malaysia's national poverty line, according to a story in the Malaysian Insider. But now representatives of the workers are saying Dompok lied.
"Responsible" palm oil producers pledge not to develop endangered Sumatra rainforest
(11/13/2009) Members of the Roundtable on Sustainable Palm Oil (RSPO), an initiative developing criteria to improve the environmental performance of palm oil, agreed to declare the Bukit Tigapuluh Ecosystem in Sumatra a 'high conservation value area'. The decision, voted on by RSPO General Assembly members at the group's annual meeting earlier this month in Kuala Lumpur, effectively bans oil palm development of the endangered forest ecosystem by RSPO members.
Blackwashing by NGOs, greenwashing by corporations, threatens environmental progress
(11/12/2009) Misinformation campaigns by both corporations and environmental groups threaten to undermine efforts to conserve biodiversity and reduce environmental degradation, argues a new paper published in the journal Biotropica. Growing concerns over climate change and unsustainable resource extraction have put companies that exploit the environment in the spotlight. Some firms have responded by taking measures to reduce their environmental impact. Others have alternatively engaged in sophisticated marketing campaigns intended to mislead consumers on their environmental performance, maintaining that environmentally-destructive practices are instead benign. At the same time some activist groups have been guilty of exaggerating claims of environmental misconduct in order to boost support for their campaigns and therefore their fundraising efforts.
Palm oil developers push into Indonesia's last frontier: Papua
(11/10/2009) Oil palm developers in the Indonesian half of New Guinea are signing questionable deals that exploit local communities and put important forest ecosystems at risk, alleges a new report from Environmental Investigation Agency (EIA) and Telapak.
40% of lowland forests in Sumatra and Indonesian Borneo cleared in 15 years
(11/10/2009) Forty percent of lowland forests in Sumatra and Kalimantan (Indonesian Borneo) were cleared from 1990 to 2005, reports a new high resolution assessment of land cover change in Indonesia.
Photos: Palm oil threatens Borneo's rarest cats

(11/04/2009) Oil palm expansion is threatening Borneo's rarest wild cats, reports a new study based on three years of fieldwork and more than 17,000 camera trap nights. Studying cats in five locations—each with different environments—in Sabah, Malaysian Borneo, researchers found that four of five cat species are threatened by habitat loss due to palm oil plantations. "No other place has a higher percentage of threatened wild cats!" Jim Sanderson, an expert on the world's small cats, told Mongabay.com. Pointing out that 80 percent of Borneo's cats face extinction, Sanderson said that "not one of these wild cats poses a direct threat to humans."