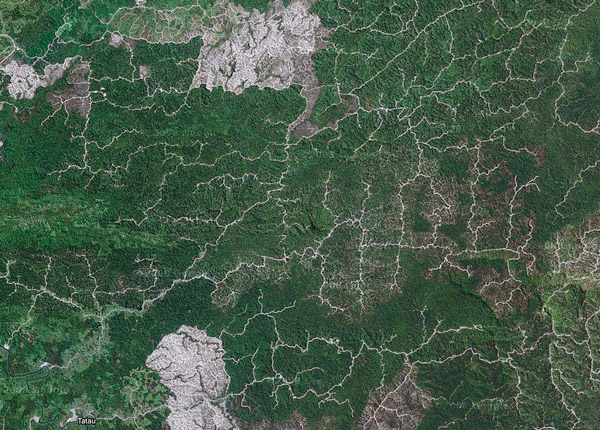 Satellite image from Google Earth showing an interior region of Sarawak near Rumah Nor. This area was spectacular rainforest in the 1970s and 1980s; today it is scarred by logging roads, clear-cutting, and plantations.
On January 19, 2010 bulldozers backed by Sarawak state government agents demolished 39 houses in the Iban village of Rumah Nor in Sarawak, Malaysia. The demolition crew smashed the houses and all belongings in them, including stored food, leaving families without shelter in Malaysia's rainy season. As dismayed residents confronted the demolition crew, state Land and Survey Department enforcement agents threatened to return and destroy remaining homes.
Villagers had no warning of the demolition, which state agents ordered despite Rumah Nor's pending legal appeal of a local judge's ruling in favor of a company that wants the village's land for development.
Residents of nearby communities and NGO supporters joined the people of Rumah Nor to form a "human wall" blockade to confront state demolition crews. Malaysian civil society organizations decried the unannounced destruction of village homes as heartless, barbaric, and illegal.
On January 25, the community obtained a temporary injunction until February 9, 2010, blocking resumed demolition. On February 9 the village and its lawyers will present arguments in court to compel the state government to recognize their customary land rights, nullify the company's provisional lease, and compensate villagers for destruction of their homes and property.
The company, Tatau Land Sendirian Berhad, is a subsidiary of the ASSAR Group, a state-controlled investment holding corporation. Tatau Land holds a "provisional lease" for the village's customary rights land at Sungai Sekabai. It intends to bulldoze existing homes, farms, forests and orchards to build a "new township".
Write to Malaysian authorities today to stop further destruction