Amid questions over the Amazon forests' capacity to survive climate change, a renowned tropical biologist says that in fact the fears are real, reports Tierramerica.
Speaking at the Biodiversity Science Policy Conference in Paris, Thomas Lovejoy, biodiversity chair at the Washington DC-based Heinz Center for Science, Economics and the Environment, and chief biodiversity adviser to the president of the World Bank, described the Amazon rainforest as "very close to a tipping point".
The triple combination of rampant deforestation, fires, and rising temperatures could devastate the rainforest ecosystem within 65 years, explained Lovejoy, shrinking the Amazon rainforest to one-third of its original size. Such a contraction would result in countless extinctions, losses in vital freshwater sources, a decline in regional rainfall, and the weakening of one of the world's most important carbon sinks.
| | |
| --- | --- |
| | Patchwork of legal forest reserves, pasture, and soy farms in the Brazilian Amazon. Photo by Rhett A Butler. |
Lovejoy's assessment is in line with the Intergovernmental Panel on Climate Change's (IPCC), which warned that climate change could produce a drier Amazon, resulting in a 40 percent loss of the ecosystem. The IPCC has recently come under criticism for this assessment, yet despite sloppy citations (the IPCC cited a WWF report rather than scientific studies) the organization's statement is in line with a number of tropical ecology studies.
Lovejoy told Tierramerica that the "tipping point for the Amazon is 20 percent deforestation" based on a report by the World Bank entitled, Assessment of the Risk of Amazon Dieback. At this point deforestation combined with spreading fires and overall warming of 2 degrees Celsius would cause parts of the Amazon's hydrogeologic system to break down.
Since the Amazon rainforest creates at least half the rainfall needed to sustain itself, the loss of forest cover and general drying would create a feedback cycle whereby large areas of the forest would revert to savannah. This process would release tens of billions of additional carbon into the atmosphere.
The threshold of 20 percent is close: already 17 to 18 percent of the Amazon has been lost. However, other studies have found that 'die-off' point for the Amazon rainforest would occur only after 40-60 percent of the forest was lost. The differences in such findings displays the complicated nature of climate science, however the studies all agree that the Amazon faces unparalleled pressures that if unchecked will result in massive forest loss.
| | |
| --- | --- |
| | Deforestation in the Brazilian Amazon. Photo by Rhett A Butler. |
The strength of the World Bank report is that it does not focus solely on deforestation or climate change, but on the synergistic effects of deforestation, warmer temperatures, and fires.
Another tropical forest expert, Simon Lewis of Leeds University, told the BBC that while the IPCC citation of WWF was bizarre, the IPCC findings were hardly incorrect.
"It is very well known that in Amazonia, tropical forests exist when there is more than about 1.5 meters of rain a year, below that the system tends to 'flip' to savannah," he explained. "Indeed, some leading models of future climate change impacts show a die-off of more than 40 percent Amazon forests, due to projected decreases in rainfall."
Related articles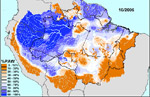 The Amazongate fiasco

(02/03/2010) A claim published in the Sunday Times over the veracity of a statement published in an Intergovernmental Panel on Climate Change (IPCC) report may land the British newspaper in hot water. On Sunday, Jonathan Leake, Science & Environment Editor of the Sunday Times, accused the IPCC of making a "bogus rainforest claim" when it cited a report warning that up to 40 percent of the Amazon could be "drastically" affected by climate change. Climate change skeptics immediately seized on "Amazongate" as further evidence to discredit the IPCC just two weeks after it was found to be using shoddy glacier data in its 2007 climate assessment.
Amazon could lose 60% of forest without triggering catastrophic die-off, claims new study
(06/16/2009) Brazil's setting aside of more than 500,000 square miles (1.25 million square kilometers) of rainforest in protected areas over the past decade may effectively buffer the Amazon from the effects of climate change, preventing Earth's largest rainforest from tipping towards arid savanna in the face of ongoing deforestation and rising temperatures, argues a new paper published in Proceedings of the National Academy of Sciences.
Amazonian region likely to become savannah due to burning, deforestation
(03/31/2009) A new analysis shows that the heavily-deforested Amazonian region of Mato Grosso is particularly susceptible to 'savannization' due to repeated burning that has likely depleted the region's soils of precious nutrients. According to the study, published in the Journal of Geophyscial Research, savannization, or the process of tropical ecosystems shifting to savannah, is likely in northern Mato Grosso even if no further deforestation occurs.
85% of the Amazon rainforest may be lost due to global warming
(03/14/2009) Warming climate could decimate up to 85 percent of the Amazon rainforest by 2150, according to a new computer model.
Drought threatens the Amazon rainforest as a carbon sink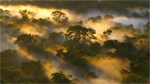 (03/05/2009) Drought in the Amazon is imperiling the rainforest ecosystem and global climate, reports new research published in Science. Analyzing the impact of the severe Amazon drought of 2005, a team of 68 researchers across 13 countries found evidence that rainfall-starved tropical forests lose massive amounts of carbon due to reduced plant growth and dying trees. The 2005 drought — triggered by warming in the tropical North Atlantic rather than el Niño — resulted in a net flux of 5 billion tons of carbon dioxide (CO2) into the atmosphere — more than the combined annual emissions of Japan and Europe — relative to normal years when the Amazon is a net sink for 2 billion tons of CO2.
Amazon rainforest in big trouble, says UN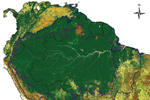 (02/19/2009) Economic development could doom the Amazon warns a comprehensive new report from the United Nations Environment Programme (UNEP). The report — titled GEO Amazonia [PDF-21.3MB] — is largely a synthesis of previously published research, drawing upon studies by more than 150 experts in the eight countries that share the Amazon.
Global warming may drive the Amazon rainforest toward seasonal forests rather than savanna
(02/11/2009) Changes in rainfall resulting from climate change may drive the parts of Amazon rainforest toward seasonal forests rather than savanna, argue researchers writing in the Proceedings of the National Academy of Sciences
Independent of climate, forest cover in southern Amazon may fall to 20% by 2016
(09/03/2008) Forest cover in the "Arc of Deforestation" of southern Amazonia will decline to around 20 percent 2016 due to continued logging and conversion of forests for cattle pasture and soy farms, report researchers writing in the journal Environmental Conservation. Analyzing high resolution satellite data from 1984 through 2004 for the Alta Floresta region in northern Mato Grosso, Fernanda Michalski, Carlos Peres and Iain Lake of the University of East Anglia found that forest cover declined from from 91.1 percent to 41.7 percent between 1984 and 2004. They note that while the deforestation rate has slowed to around 2 percent per year since peaking at more than 8 percent annually in late 1980s to mid-1990s, renewed expansion of road networks will enable loggers to increasingly exploit remaining forests, leading to degradation and likely eventual conversion for agricultural use. Overall Michalski and colleagues forecast that forest cover in Alta Floresta will fall to 21 percent by 2016, a decline of 77 percent since 1984.
Smoke from Amazon fires reduces local rainfall
(08/14/2008) Smoke released by fires set to clear the Amazon rainforest inhibit the formation of clouds, thereby reducing rainfall, report researchers writing in the journal Science. The study provides clues on how aerosols from human activity influence cloud cover and ultimately affect climate.