Illegal loggers are targeting community-managed forests in South Sumatra, renewing questions over forestry governance and law enforcement as the Indonesia prepares to capitalize on payments for conservation and reforestation under a proposed climate change mitigation mechanism known as REDD, reports the Jakarta Press.
According to the Jakarta Press, loggers have been illegally cutting timber from forests managed by local communities. These areas, which were previously barren or heavily degraded, have been rehabilitated and reforested over the past ten years under a remarkably successful forest management program which generated sustainable income for 6,537 farming families living around protected (Bukit Barisan Selatan and Way Kambas national parks) and production forests in West Lampung, Sumatra. The effort turned some 12,000 hectares into "dense forests."
But the newly verdant forests apparently attracted the attention of illegal loggers, who operate with seeming impunity due to apathy from local law enforcement and fear among local residents.
Coffee farmer Jamaludin, whose land borders the Bukit Rigis forested area, told the Jakarta Press he had often seen illegal loggers at work in the forest.
"I recognize them, but I'm afraid to stop them because they carry sharp weapons," said Jamaludin, a coffee grower who has often seen illegal loggers. "I've told the authorities about it repeatedly, but they only followed up last week in a raid led by the Way Tenong district chief."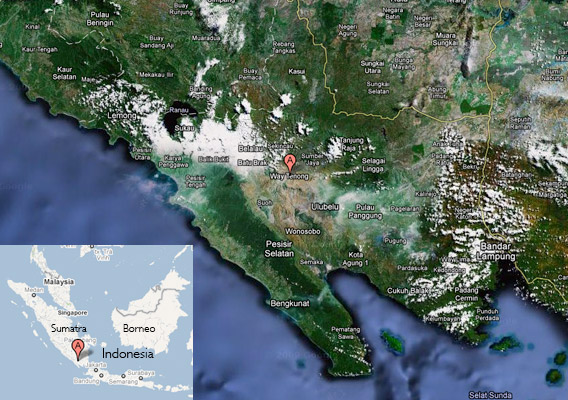 Way Tenong in West Lampung, Sumatra, near Bukit Rigis forested area. Image courtesy of Google Earth
Satori M. Baki, West Lampung secretary of the Indonesia Crisis Center, an NGO, told the Jakarta Press that authorities have arrested "many" illegal loggers but have released them in short order due to lack of evidence.
"Some are punished, but they only get light sentences because they're charged with theft, and that doesn't serve as a deterrent," Satori M. Baki, secretary of the Indonesia Crisis Center, an NGO, told the Jakarta Press. "They should face the more severe charges as stipulated in the forestry law."
The report comes amid rising concerns that corruption and mismanagement in Indonesia's forestry sector will doom conservation and reforestation efforts under the proposed REDD (Reducing Emissions from Deforestation and Degradation) mechanism. Critics note that billions of dollars in reforestation funds have been squandered to date and fear that REDD money would only exacerbate a system rife with corruption and cronyism. But optimists argue that a properly design REDD program could spur meaningful reform in the forestry sector and arrest Indonesia's rapid forest loss while providing sustainable livelihoods for some of the country's poorest residents.
Illegal loggers target community forests The Jakata Post, February 19, 2010
Related articles