On Christmas Eve, the Wildlife Trust of India (WTI) and the International Fund for Animal Welfare (IFAW) completed a transaction to purchase an important wildlie corridor used by over a thousand Asian elephants (Elephas maximus). The 25.4 acre Kollegal Elephant Corridor was under private ownership, but may now be incorporated into adjacent Biligiri Ranganswamy Temple Wildlife Sanctuary.
"Purchasing corridor land for securement is a very good initiative to reestablish the habitat and remove impediments to elephant movement. Generally, these kind of initiatives are easier with involvement of NGOs rather than government doing it alone. This was a very noble work by WTI and I hope that more elephant corridors are secured similarly to ensure long-term conservation of elephants," said Biswajit Misra, Deputy Conservator of Forests in Chamrajnagar.
Misra added that the corridor will require substantial change to become elephant-friendly, including filling elephant-proof trenches (already partially completed) and reforestation with native species.
The Kollegal Elephant Corridor was identified in WTI's publication, Right of Passage: Elephant Corridors of India as one of 88 critical spaces for elephants on the moves.
Head of WTI's National Elephant Corridor project, Dr. Sandeep Kumar Tiwari, said in a press release that "WTI along with its supporters have been working with state Forest Departments and local communities to secure these corridors to facilitate long-term conservation of the threatened Asian elephant in India […] This corridor provides a safe passage for more than a thousand elephants among other wild animals in this landscape, and will undoubtedly help minimize human-elephant conflicts."
The Asian elephant is listed as Endangered by the IUCN Red List. The population of Asian elephants is estimated to have plummeted by 50 percent in 75 years. The species is threatened by habitat loss, deforestation, poaching, and increasing human-elephant conflict.
Related articles
Hunting across Southeast Asia weakens forests' survival, An interview with Richard Corlett

(11/08/2009) A large flying fox eats a fruit ingesting its seeds. Flying over the tropical forests it eventually deposits the seeds at the base of another tree far from the first. One of these seeds takes root, sprouts, and in thirty years time a new tree waits for another flying fox to spread its speed. In the Southeast Asian tropics an astounding 80 percent of seeds are spread not by wind, but by animals: birds, bats, rodents, even elephants. But in a region where animals of all shapes and sizes are being wiped out by uncontrolled hunting and poaching—what will the forests of the future look like? This is the question that has long occupied Richard Corlett, professor of biological science at the National University of Singapore.
Elephants on the rampage in India: 500 homes destroyed, seven people dead
(09/08/2009) A herd of 12-13 elephants has caused havoc in the Kandhamal district of India, reports the BBC. The elephants have completely destroyed 500 homes, left seven dead, and sent another 500 people to camps for shelter.
Vital corridor for Asian elephants to be severed by government development in India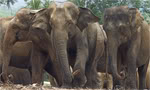 (04/05/2009) The largest wild population of Asian elephants in the world is threatened by development over a 2.5 kilometer wide corridor, according to Rainforest Information Centre which is apart of an international campaign to change the location of the development. The corridor, located in the Western Ghats of India, is the last unbroken forest leading the elephants from wet season to dry season feeding grounds. Unfortunately the corridor also connects two different Indian states: Kerala and Karnataka.