Named in 2007 the 'world's least known bird', the large-billed reed warbler has officially lost that title as researchers with the Wildlife Conservation Society (WCS) have discovered its breeding ground in the remote Wakham Corridor in the Pamir Mountains of Afghanistan.
"Practically nothing is known about this species, so this discovery of the breeding area represents a flood of new information on the large-billed reed warbler," said Colin Poole, Executive Director of WCS's Asia Program said in a press release. "This new knowledge of the bird also indicates that the Wakhan Corridor still holds biological secrets and is critically important for future conservation efforts in Afghanistan."
First discovered in 1867 in India, over a century would pass before another specimen of the bird was found in Thailand in 2006. Two years later, Robert Timmins heard a strange bird song coming from a small bird in the Wakhan Corridor. Later, a visit to the Natural History Museum in Tring, United Kingdom led Timmins to believe that the species was the almost completely unknown large-billed reed warbler.
| | |
| --- | --- |
| | Large-billed reed warbler caught in a researcher's mist net. Image courtesy of WCS-Afghanistan. |
In June WCS researchers returned to the site: using the Timmins' tape of the bird song they were able to attract more individual large-billed reed warblers than anyone had ever reported seeing before. They examined and performed DNA testing on 20 of the birds, confirming that the flock was indeed the 'world's least known bird'.
The status of the large-billed reed warbler is Data Deficient, according to the IUCN Red List, because scientists simply don't know enough about the species to know if it is threatened with extinction. Hopefully this new information will help them make a determination.
Already home to the Marco Polo sheep, ibex, lynx, wolf, and snow leopard, the Wakhan Corridor can now add a new highlight: the only known breeding population of the long-elusive large-billed reed warbler.
Citation: Robert Timmins, Naqeebullah Mostafawi, Ali Madad Rajabi, Hafizullah Noori, Stephane Ostrowski, Colin Poole, Urban Olsson, Lars Svensson. The discovery of Large-billed Reed Warblers Acrocephalus orinus in north-eastern Afghanistan. BirdingASIA. 12 (2009): 42–45.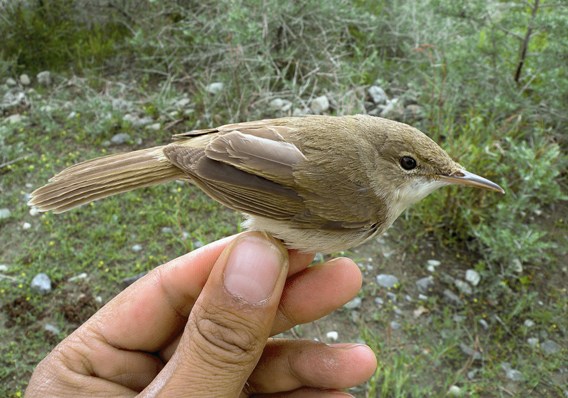 Large-billed reed warbler. Image courtesy of WCS-Afghanistan.
Related articles
Unique call gives away new bird species in Laos and Vietnam

(12/21/2009) A beautiful little warbler inhabiting limestone karsts in Vietnam and Laos has been named a new species. When the limestone leaf warbler ( Phylloscopus calciatilis) was first sighted in 1994 it was thought to be a member of the similar-looking species, the sulphur-breasted warbler, but ornithologists began to question that assumption when the bird produced a call significantly different from the sulphur-breasted's.
Forgotten Species: the haunting whistle of the Anjouan scops-owl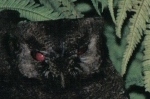 (12/03/2009) I know a two-year-old who is already an owl expert. My friends' daughter, Harper, can identify all of North America's owls by photos or drawings; even more impressive she can identify them by call. There is one owl call, however, that she may never hear. The Anjouan-scops owl, native to Anjouan island apart of the Comoros island chain, is on the verge of extinction. It is so rare that for over a century it was believed to have already vanished.
Vlad the Impaler of the bird world now at Bronx Zoo: skewers prey on thorns and barbed wire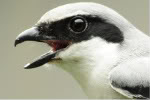 (09/15/2009) The loggerhead shrike, also known as the 'butcher bird', employs a feeding strategy that would have been right at home in 15th Century Transylvania. Like the infamous Vlad the Impaler (the brutal prince which Bram Stoker based Dracula off), the loggerhead shrike is truly skilled at impaling. Using its hooked beak to break the spines of insects, lizards, rodents, and even other birds it then impales them on thorns or barbed wire to hold them while it disembodies them. Now, the Wildlife Conservation Society's (WCS) Bronx Zoo has brought the loggerhead shrike into its collection, but the shrike is there to illustrate more than its unique feeding practices.