Crowned lemur in Ankarana. Photo taken by Rhett A. Butler in October 2009.
Madagascar's rainforests get death notice


In what is being called an "awful" and "horrible" move for for one of the word's top conservation priorities, Madagascar's interim authority, which seized power during a military coup last year, will now allow rosewood illegally logged from national parks to be exported. The move is expected to trigger a spasm in new logging in the country's remaining rainforest reserves, especially in Masoala National Park.
According to local sources, proceeds from the sales of timber will likely be used by Andry Rajoelina's government — which is deemed illegitimate by most of the world's countries — to finance the campaign for upcoming elections.
In the past week Rajoelina's forces have arrested journalists and tear-gassed protesters. Rajoelina has rejected a series of power-sharing agreements and shelved scheduled parliamentary elections.
In response to Rajoelina's power grab, most donor countries have suspended aid to Madagascar's government, which is dependent on foreign money for more than half its budget. The United States also recently terminated trade preferences with Madagascar, a decision that is expected to wipe out the island nation's textile industry, a significant source of employment.
More
Madagascar sanctions logging of national parks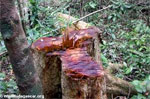 (01/11/2010) Madagascar has legalized the export of rosewood logs, possibly ushering in renewed logging of the country's embattled rainforest parks. The transitional authority led by president Andry Rajoelina, who seized power during a military coup last March, today released a decree that allows the export of rosewood logs harvested from the Indian Ocean island's national parks. The move comes despite international outcry over the destruction of Madagascar's rainforests for the rosewood trade. The acceleration of logging since the March coup has been accompanied by a rise in commercial bushmeat trafficking of endangered lemurs.
World Bank, European governments finance illegal timber exports from Madagascar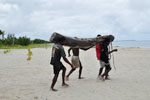 (01/11/2010) While Madagascar's current government has drawn sharp criticism from the international community for its failure to prevent the environmental destruction of recent months, France, Holland, Morocco, and the World Bank have all been implicated in financing illegal logging operations in Madagascar's national parks over the past year. Even as foreign governments condemned the surge in illegal logging last year, many–either directly or through institutions they support–are shareholders in the very banks that have financed the export of illegal lumber from Madagascar's SAVA region. The Bank of Africa Madagascar, for instance, is part owned by Proparco, a subsidiary of the Agence Française du Développement, as well as the World Bank's International Finance Corporation, Dutch development bank FMO, and the Banque Marocaine du Commerce Extérieur. Société Générale and Crédit Lyonnais, both part-owned by the French government, have also provided loans to illegal timber traders.
Facing cash crunch, will Madagascar's politicians sanction rainforest plunder?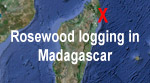 (01/07/2010) Facing a severe cash crunch in the aftermath of a March military coup which triggered donor governments to suspend aid and crippled its economy, Madagascar's top politicians are reportedly mulling the export of tens of millions of dollars' worth of precious hardwoods illegally logged from the country's rainforest parks, according to high-placed sources in the Indian Ocean island nation.