Highly-intelligent, octopuses have been observed opening containers, navigating mazes, and escaping from cages. Now, researchers have discovered a new intellectual feat for the octopus: tool use. Once the province of humans only, over the last 50 years researchers have discovered that many species—including primates, apes, and birds—employ tools, but the octopus is the first invertebrate.
The veined octopus has been observed spreading its body over an upright halved-coconut shell and walking the bowl with its eight legs rigid across the sea floor (video footage below). The octopus use the shell—or sometimes two shells—as shelter.
"There is a fundamental difference between picking up a nearby object and putting it over your head as protection versus collecting, arranging, transporting (awkwardly), and assembling portable armor as required," explains Mark Norman of the Museum Victoria in Australia.
| | |
| --- | --- |
| | An octopus at the National Zoo in Washington DC. Photo by: Tiffany Roufs. |
Divers spent some 500 hours observing the behavior of twenty octopuses. They watched as some individuals would travel up to 20 meters awkwardly carrying stacked coconut shells with them. Researchers say another important fact of the octopuses' unusual behavior was that it was crafting a tool not for food, but for periodic sanctuary.
Julian Finn, also of the Museum of Victoria, explained the behavior: "I could tell that the octopus, busy manipulating coconut shells, was up to something, but I never expected it would pick up the stacked shells and run away. It was an extremely comical sight—I have never laughed so hard underwater."
The researchers conclude in the paper, published in Current Biology that it is likely many species use tools "from insects to primates", redefining once again the gap between humans, and in this case, octopuses.
Veined octopus using coconut shells as tools. Footage shot by Dr Julian Finn of Museum Victoria.
Citation: Finn, J.K., T. Tregenza and M.D. Norman. (2009) Defensive tool use in a coconut-carrying octopus, Current Biology, Volume 19, Issue 23, R1069-R1070, 15 December 2009.
Related articles
Hyenas cooperate more easily than chimpanzees

(12/06/2009) Spotted hyenas (Crocuta crocuta) could show chimpanzees a thing or two about working together, according to a new study. Hyenas, prodigious hunters, pull down prey together. Christine M. Drea, an associate professor in the department of Evolutionary Biology at Duke University, started to ask questions about the cooperative hunting habits of hyenas while she was reading The Spotted Hyena: A Study of Predation and Social Behavior by Hanz Kruuk.
Scientists discover that bats practice oral sex
(10/28/2009) The short-nosed fruit bat Cynopterus sphinx is the first bat species to have been observed engaging in oral sex.
Vlad the Impaler of the bird world now at Bronx Zoo: skewers prey on thorns and barbed wire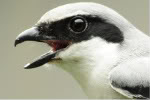 (09/15/2009) The loggerhead shrike, also known as the 'butcher bird', employs a feeding strategy that would have been right at home in 15th Century Transylvania. Like the infamous Vlad the Impaler (the brutal prince which Bram Stoker based Dracula off), the loggerhead shrike is truly skilled at impaling. Using its hooked beak to break the spines of insects, lizards, rodents, and even other birds it then impales them on thorns or barbed wire to hold them while it disembodies them. Now, the Wildlife Conservation Society's (WCS) Bronx Zoo has brought the loggerhead shrike into its collection, but the shrike is there to illustrate more than its unique feeding practices.
Hunger drives great tits to kill and eat bats as they hibernate
(09/09/2009) A common bird in Europe, great tits tend to stick to insects and seeds as a food source with caterpillars as a particular favorite. However, a new paper in Biology Letters found that the song bird employs unique feeding behavior in a cave in Hungary: they kill and eat hibernating pipistrelle bats. This is the first instance ever recorded of a song bir preying on bats.
(08/26/2009) We all know that frightening experiences give us powerful memories. Now, researchers at the University of Calgary have demonstrated that an invertebrate is also capable of learning from fear. They published their findings in The Journal of Experimental Biology earlier this month.
Examining monkey tools: archaeology expands to include non-human primates
(08/17/2009) Archaeology, the study of ancient cultures and their artifacts, has always been confined to the technology of humans and direct human ancestors. However, a new study recently published in the journal Nature examines the benefits of expanding the field of archaeology to include non-human primates.
In the dark, bats identify each other by voice

(06/08/2009) Individual bats have the ability to tell the difference between other bats just by the sound of their voice, according to a study published in PLoS Computational Biology. Researchers from the University of Tuebingen, Germany found that the greater mouse-eared bat could distinguish between their fellows' echolocation calls. A subject bat was tested by having to select between two others depending on their calls. The subject bats chose correctly over 80 percent of the time.
Reed wablers use social learning to defend themselves against cuckoos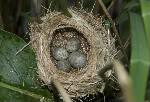 (06/04/2009) The cuckoo bird is famous for its parental strategy: rather than raise its own children it infiltrates the nest of an unsuspecting bird of a different species, replacing that bird's eggs with its own; when the cuckoo babies are born the 'adoptive' parents end up unwittingly rearing young that is not theirs. However, at least one bird species—the reed wabler—has learned to defend itself against such clever incursions.