Poor island nations threatened by rising seas should wait for money through trickle-down economics, according to the founder of the US-based Competitive Enterprise Institute. The free-market think tank believes that curbing greenhouse gas emissions to combat climate change will be too costly to the US and global economies.
"If the focus in this century is on wealth creation, then the islands will be much better prepared for the risks if they materialize," Fred Smith, founder of the Competitive Enterprise Institute, told the AP.
Low-lying islands nations say they are already feeling the effects of rising sea levels that have been going up approximately 3 mm every year since 1993. Estimates range widely for sea level rise by the end of the century, but recent studies predict somewhere between 0.18 and 2 meters. Some island nations are looking at purchasing land abroad to move if their home is submerged.
Mohamed Nasheed, the President of Maldives, the lowest lying islands in the world, has stated that complacency at the Conference on Climate Change inCopenhagen would mean a "global suicide pact". Recently Nasheed held a cabinet meeting at the bottom of the sea to bring world attention to the plight facing island nations. If sea levels rise by one meter, the Maldives will be underwater.
Currently the Copenhagen conference is discussing a fund to help developing nations adapt to climate change impacts such as rising seas, drought, melting glaciers, and extreme weather.
The Competitive Enterprise Institute made other news this week by threatening to sue the Obama Administration over Monday's ruling by the EPA that labeled carbon an endangerment. The ruling gives the EPA regulatory power over emissions. Lisa Jackson, the head of the EPA, received a standing ovation at the Copenhagen conference today for the ruling.
Related articles
Islands and African nations present toughest treaty yet to combat global warming
(12/09/2009) Led by the small island state of Tuvalu, developing nations particularly vulnerable to climate change have put forward the most ambitious plan yet to mitigate climate change. Their move has split them from usual partners, such as China, India, Saudi Arabia, and South Africa, who are concerned about the economic consequences of the proposal.
Bangladesh tops list of most vulnerable countries to climate change
(12/09/2009) According to the Global Climate Risk Index, Bangladesh is the most vulnerable nation to extreme weather events, which many scientists say are being exacerbated by climate change. From 1990 to 2008, Bangladesh has lost 8,241 lives on average every year due to natural disasters. In addition, rising sea levels also threaten millions of Bangladeshis.
Sea levels set to rise as Arctic warming replaces millennia long natural cooling cycle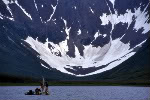 (09/03/2009) According to a new study published in Science the Arctic should be cooling, and in fact has been cooling for millennia. But beginning in 1900 Arctic summer temperatures began rising until the mid-1990s when the cooling trend was completely overcome. Researchers fear that this sudden up-tick in temperatures could lead to rising sea levels threatening coastal cities and islands. "Scientists have known for a while that the current period of warming was preceded by a long-term cooling trend," said lead author Darrell Kaufman of Northern Arizona University. "But our reconstruction quantifies the cooling with greater certainty than ever before."
Maldives president tells world: 'please, don't be stupid' on climate change
(09/01/2009) "Please, don't be stupid," Mohamed Nasheed told the world regarding the need to act decisively against climate change. To underlie his message, Nasheed announced that his country will become carbon neutral in ten years.
Cutting greenhouse gases now would save world from worst global warming scenarios

(04/14/2009) If nations worked together to produce large cuts in greenhouse gases, the world would be saved from global warming's worst-case-scenarios, according to a new study from the National Center for Atmospheric Research (NCAR). The study found that, although temperatures are set to rise this century, cutting greenhouse gases by 70 percent the globe could avoid the most dangerous aspects of climate change, including a drastic rise in sea level, melting of the Arctic sea ice, and large-scale changes in precipitation. In addition such cuts would eventually allow the climate to stabilize by the end of the century rather than a continuous rise in temperatures.
Rise in sea levels due to global warming could imperil New York City
(03/16/2009) A new study shows that sea levels along the United States' northeastern coast will rise nearly twice as fast during this century than previous predictions. By 2100 the waters around New York city could rise as much as 18 inches, leaving Manhattan particularly vulnerable to flooding from hurricanes and winter storm surges.
Gravitational effects may boost sea level rise by 25% along U.S. coast
(02/05/2009) The melting of the West Antarctic Ice Sheet could cause sea level to rise more than previously predicted for some regions, including the U.S. coastline, report researchers writing in the journal Science.
Observed sea level rise, ice melt far outpaces projections
(12/17/2008) Sea levels will rise faster than previously estimated due to rapid melting of glaciers and ice sheets, according to a U.S government report released at the annual meeting of the American Geophysical Union in San Francisco. The report, titled Abrupt Climate Change, incorporates research published since last year's Intergovernmental Panel on Climate Change (IPCC) report, which drew largely from studies dating up to 2006. Most significantly, Abrupt Climate Change suggests that IPCC estimates for future sea level rise (18-58 cm) are conservative, noting that recent observations on sea level rise and loss of sea ice are far outpacing previous projections.
Facing extinction from rising seas, Maldives establishes fund to buy homeland abroad
(11/10/2008) The Maldives will establish a trust fund to buy a homeland abroad once rising sea levels swamp the island nation, says Mohamed Nasheed, president-elect of the Maldives. The funds would come from the country's revenue from tourism.
Sea level rise likely limited to 2-6 feet by 2100
(09/04/2008) Global sea level rise is unlikely to exceed 2 meters (6 1/2 feet) by the end of century argues a new study published in the journal Science.
Sea levels may rise 2-3 times faster than expected
(08/31/2008) Global sea level rise this century from a melting Greenland ice sheet may be two to three times greater than current estimates warn researchers writing in journal Nature Geoscience.