Only eight individual northern white rhinos survive in the world, making it the world's most endangered large mammal. Unfortunately, half of the rhinos are unable to breed. The remaining four—the last hope for the subspecies—will be moved this weekend from Dvur Kralove Zoo in the Czech Republic to conservancy in Kenya.
"They are listed as critically endangered on the IUCN Red List of Threatened Species and are thought to be extinct in the wild. Moving them now is a last bid effort to save them and their gene pool from total extinction," explains Richard Vigne, Chief Executive Officer, at the Ol Pejeta Conservancy in Kenya. "If we are successful, the preservation of their unique locally adapted genetic traits may allow their natural range to be re-stocked in the coming years."
Conservationists hope that by providing the four rhinos—two males and two females—with their natural habitat will provide a better chance for breeding. Rhinos are notoriously difficult to breed in captivity. The northern white rhino has only bred at the Dvur Kralove Zoo, the last one—a female—was born in 2000.
"The cause for the move is to induce normal social and territorial behavior that is essential for the rhinos to breed routinely," said Dana Holečková, Director of Dvur Kralove Zoo.
The northern white rhino was wiped out of its range by poaching and civil war. In 2003 poaching escalated likely exterminating the last 30 wild rhinos known.
The effort is being carried out by a wide ranger of conservation organizations, including Fauna and Flora International, the Ol Pejeta Conservancy, Dvur Kralove Zoo, the Lewa Wildlife Conservancy, Back to Africa, and the Kenya Wildlife Service.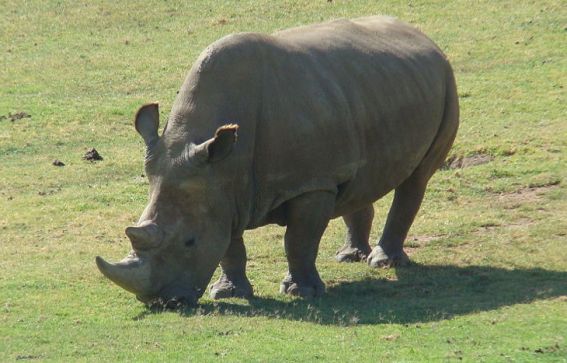 Northern white rhino at San Diego Wild Animal Park.
Related articles
Face-to-face with what may be the last of the world's smallest rhino, the Bornean rhinoceros

(12/01/2009) Nothing can really prepare a person for coming face-to-face with what may be the last of a species. I had known for a week that I would be fortunate enough to meet Tam. I'd heard stories of his gentle demeanor, discussed his current situation with experts, and read everything I could find about this surprising individual. But still, walking up to the pen where Tam stood contentedly pulling leaves from the hands of a local ranger, hearing him snort and whistle, watching as he rattled the bars with his blunted horn, I felt like I was walking into a place I wasn't meant to be. As though I was treading on his, Tam's space: entering into a cool deep forest where mud wallows and shadows still linger. This was Tam's world; or at least it should be.
Rhino poaching rises sharply due to Asian demand for horns
(07/09/2009) Rhino poaching rates have hit a 15-year-high as a consequence of demand for horns for use in traditional medicine, according to new report published by the wildlife trade monitoring network TRAFFIC. Asia-based criminal gangs run the illegal trade.
First captive black rhinos released into the wild in 25 years
(10/03/2008) Fifteen critically-endangered black rhinos have been released at an undisclosed location in Kenya with hopes that this pioneer group will breed naturally, repopulating an area they once roamed abundantly. The release is the first time in 25 years that captive rhinos have been returned to the wild.