Delmas, a subsidiary of French shipping giant CMA-CGM, is facilitating the destruction of Madagascar's endangered rainforests by providing transport services for timber illegally logged from the country's national parks, report multiple sources that have been investigating the illegal rosewood trade on the Indian Ocean island nation. The accusations put Delmas directly in conflict with the French government's push at climate talks in Copenhagen to establish stronger safeguards against illegal logging.
These pictures show Delmas facilitating the destruction of Madagascar's rainforests. Two ships belonging to Delmas, the Consistence and the Lea, have reportedly been shipping rosewood out of Madagascar. A search of the Delmas website reveals no routing information for the Consistence and the Lea. Photos taken in Vohémar port, Madagascar.


Rosewood logs being moved downstream near Antalaviana
Global Witness, the Environmental Investigative Agency (EIA), and a number of other groups and individuals have painstakingly documented the illegal rosewood trade over the past several months. Their work shows that four shipping companies have shipped rosewood from Madagascar this year — United Africa Feeder Line (UAFL), Spanfreight, Safmarine, and Delmas. Three of these have agreed to stop carrying rosewood following criticism, but Delmas continues to transport illegally logged timber despite repeated complaints from conservation groups.
Delmas has brushed off the criticism claiming that it has the authorization of Madagascar's Minister of Environment and Forests. Yet Adam Khedouri of the EIA, who participated in the investigation, told Rowan Moore Gerety of mongabay.com that Delmas has "been given pretty clear evidence that what they're transporting–the merchandise itself is of illegal origin." Further, reports out of northeastern Madagascar indicate that a shipment planned for the 21st or 22nd of December out of Vohemar lacks the approval of the Minister of Environment and Forests. The shipment could include up to 200 containers of rosewood with a retail value of $200 million.
Sources on the ground say Vohemar and other towns are preparing for next week's shipment.
"There is rosewood all over the place in Vohemar, trucks filled with rosewood with drivers paid 150,000 Ariary ($75)," said one source. "This is twice the mean monthly salary for a driver and clearly shows that some export is planned and fairly soon."
"Illegal logging started again in the Masoala peninsula because everybody knows that another boat will arrive around the 22nd of December to take all the containers left in Vohémar," another source told mongabay.com. "Logs are still being stolen by night" out of other protected areas. The source also provided pictures showing logs being moved down rivers on the west coast of the Masoala peninsula in preparation for shipment. Rosewood logging of any sort is illegal following the expiration of a brief period of legalized logging on November 30, 2009.
Other shipping companies may also be involved in the trade. But containers carrying rosewood are transshipped in nearby Reunion or Mauritius, making it difficult to track which firms are transporting timber to its final destination.
More details about the recent surge in illegal logging in Madagascar are available in Major international banks, shipping companies, and consumers play key role in Madagascar's logging crisis.
MADAGASCAR RAINFOREST MASSACRE
Related articles
Major international banks, shipping companies, and consumers play key role in Madagascar's logging crisis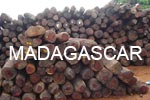 (12/16/2009) In the midst of cyclone season, a 'dead' period for tourism to Madagascar's east coast, Vohémar, a sleepy town dominated by the vanilla trade, is abuzz. Vanilla prices have scarcely been lower, but the hotels are full and the port is busy. "This afternoon, it was like a 4 wheel drive show in front of the Direction Regionale des Eaux & Forets," one source wrote in an email on November 29th: "Many new 4×4, latest model, new plane at the airport, Chinese everywhere."