Canada was the biggest obstructer at the Climate Change conference in Copenhagen, according to the Climate Action Network (CAN) an organization made-up of 450 NGOs. On Friday CAN awarded Canada the 'Colossal Fossil Award' for doing the most to obstruct an ambitious climate change agreement and for doing the least to mitigate climate change.
"Canada's performance here in Copenhagen builds on two years of delay, obstruction and total inaction. This government thinks there's a choice between environment and economy, and for them, tar sands beats climate every time. Canada's emissions are headed nowhere but up," said Ben Wikler of Avaaz, announcing the tongue-in-cheek award for Canada.
In an energy-intensive process, Canada's tar sands industry extracts oil from a mixture of sand, clay, water and bitumen (a heavy thick oil). Two tons of earth and three barrels of water are required to make a single barrel of oil. The process also requires two-to-three times as much energy as refining crude oil. The tar sands are said to be the single largest industrial source of greenhouse gas emissions in the world.
In addition according to Wikler, Canada made no movement on providing financial aid for developing nations to move toward green technology and for vulnerable nations to mitigate the harm done by climate change byway of droughts, rising sea levels, desertification, extreme storms, and flooding.
"Canada has made zero progress here on financing, offering nothing for the short term or the long term beyond vague platitudes," he said, adding that "Canada's environment minister gave a speech so lame that it didn't include a single target, number or reference to the science."
According to CAN the award was given to Canada "for bringing a totally unacceptable position into Copenhagen and refusing to strengthen it one bit. Canada's 2020 target is among the worst in the industrialized world, and leaked cabinet documents revealed that the governments is contemplating a cap-and-trade plan so weak that it would put even that target out of reach," Wilkler announced.
Related articles
Canada's reign of shame in Copenhagen
(12/11/2009) In the first five days of Copenhagen, Canada has won a lot of awards. Only these are not positive awards for good and constructive behavior, but so-called 'fossil awards' given to the countries that most impede progress at Copenhagen by the environmental organization, Climate Action Network (CAN).
Oil sands pollution in Canada worse than industry and government claim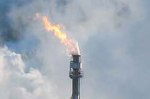 (12/07/2009) Canada's tar sands have been internationally criticized as one of the world's largest industrial sources of greenhouse gases, but the energy-intensive extraction of oil also has a less-noted impact on the local environment. A new study shows that the Alberta's oil sands are likely releasing more PACs (polycyclic aromatic compounds) into nearby Athabasca River and its tributaries than the industry-funded and government-supported Regional Aquatics Monitoring Program (RAMP) has reported.
Has Canada become the new climate villain (yes, that's right, Canada)?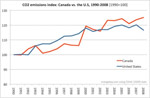 (12/02/2009) In 2007 American delegates to a climate summit in Bali were booed outright for obstructing a global agreement on climate change. Then in a David versus Goliath moment they were famously scolded by a negotiator from Papua New Guinea, Kevin Conrad. "If for some reason you are not willing to lead, leave it to the rest of us. Please get out of the way," Conrad told the American delegates. However, much has changed in two years: the United States, under a new administration, is no longer the climate change pariah. The US has recently announced emissions cuts, negotiated successfully with China on the issue, and will be attending—Obama included—the Climate Change Summit in Copenhagen next week. Obama and his team probably don't need to worry about being booed or remonstrated this time around, but that role may instead go to Canada.