Hippo survived for 5 years in the Australian outback.
Hunters going after pigs in Australia's Northwest Territories got a big surprise when they shot an animal they mistook for a pig, only to find out it was a pygmy hippopotamus, reports the Northwest Territory News.
There is only one problem: pygmy hippos are native to West Africa, 16,000 kilometers (nearly 10,000 miles) from Australia.
It is believed that the individual pygmy hippo was once a resident of an exotic animal park called Tipperary Station, which closed in 2003. The hippo is thought to have escaped. If this proves to be the case, the pygmy hippo had survived in the Australian outback for five years.
Pygmy hippos are classified as Endangered by the IUCN and despite conservation efforts their population is still decreasing. The species is threatened by the bushmeat trade, habitat loss due to intensive logging, and continued instability in the region.
They are found in Liberia, Guinea, Cote d'Ivoire, and Sierra Leone with Liberia containing the most viable populations.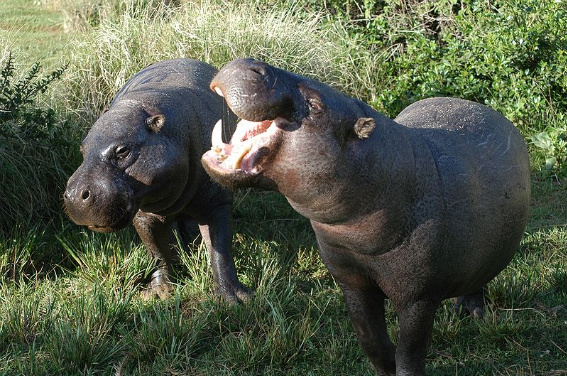 Pygmy hippopotamus pair at the Mount Kenya Wildlife Conservancy. The two were a gift to the people of Kenya.
Related articles
Photos of rare pygmy hippo in Liberia
(03/12/2008) It's almost as though this normally shy mammal were posing for the camera. The black-and-white image of a pygmy hippopotamus half-facing the camera is the first ever of a pygmy hippopotamus in Liberia. Perhaps even more astonishing EDGE, the organization that accomplished the photo, believes the image to be only the second photographic evidence of the animal in the wild (the first was taken in 2006 in Sierra Leone). This incredibly secretive animal is usually known through its prints and dung.
Saving beautiful – and ugly – species from extinction
(08/30/2007) Allow me to wax poetic about the world's newest wildlife organization, EDGE. I must admit I'm a little in love. This singular organization was founded in January as a part of the London Zoological Society. Its basic tenants remain similar to other endangered species programs: survey populations, set up conservation programs, work with local governments and communities to ensure protection. However, what is unique about EDGE is not their approach to saving species, but rather the species they choose to focus their efforts on. This year they have selected ten mammalian species: the Yangztee River Dolphin, Attenborough's Long-Beaked Echidna, Hispaniolan Solenodon, Bactarian Camel, Pygmy Hippopotamus, Slender Loris, Hirola, Golden-rumped Elephant Shrew, Bumblebee Bat, and the Long-eared Jerboa.