Researchers have discovered a new species of chameleon in southern Tanzania.
The species, the Magombera chameleon (Kinyongia magomberae), was discovered by a team of scientists from the Museo Tridentino di Scienze Naturali, the South African National Biodiversity Institute, Anglia Ruskin University, University of York and the University of Stellenbosch. The reptile is described in the African Journal of Herpetology,
Lead author Michele Menegon of the Museo Tridentino di Scienze Naturali told mongabay.com that the Magombera chameleon has been documented in two forest fragments in the southern highlands of Tanzania. One of the fragments is in Udzungwa Mountains National Park, a protected area. The other is in Magombera forest, an area of unprotected forest that is under threat due to deforestation and development by subsistence farmers.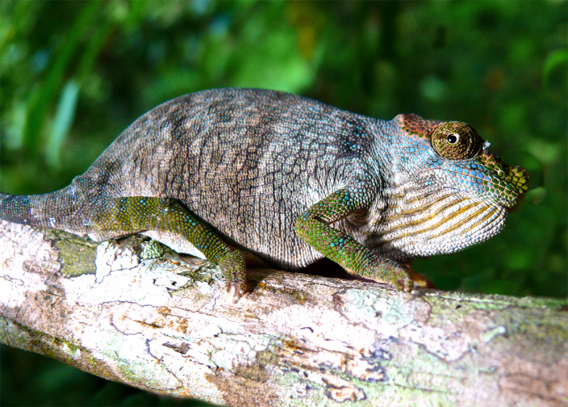 Photo courtesy of Andrew Marshall
A number of previously unknown species have been discovered in the Southern Highlands of Tanzania in recent years. Notable finds include the Grey-faced sengi (Rhynchocyon udzungwensis), a giant elephant-shrew; the Kipunji, a large monkey; and the Udzungwa partridge.
CITATION: Menegon et al. A new species of chameleon (Sauria: Chamaeleonidae: Kinyongia) from the Magombera forest and the Udzungwa Mountains National Park, Tanzania. African Journal of Herpetology volume 58(2).
Related articles