A new image from NASA shows the severity of the drought in East Africa, which impacted Tanzania, Kenya, Ethiopia, and Somalia.
Three failed rains in a row brought the region to its knees: four million people were reported to be going hungry in Kenya alone; lakes and rivers dried up entirely; withered crops drove farmers into slums; wildlife, from elephants to hippos, perished; there were even reports of camels dying.
Northwest Kenya, as shown in the image, was hit the hardest. This area is home largely to pastoralist tribes, such as the Turkana, who lost livestock by the thousands.
"The livestock still hasn't recovered from the 2005 drought. And already we have to confront a new drought. The drought cycle is getting shorter and shorter – every three or four years instead of every 10," a district veterinary official told AFP in August.
Many have said that they believe climate change is causing the more severe and frequent droughts in the region, or in the very least exacerbating the situation.
Last month brought relief for now: rains began to fall in the region and the vegetation is coming back.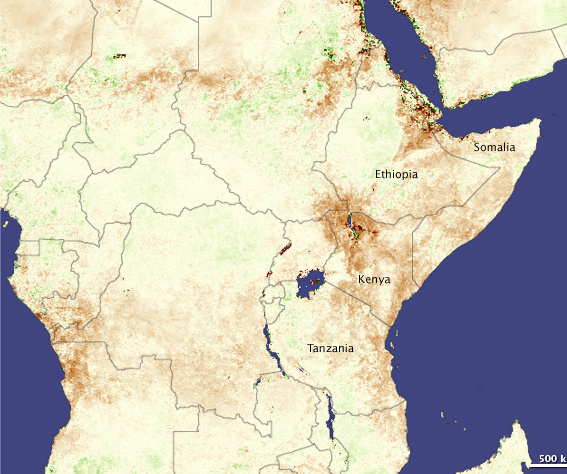 The image compares the growth of vegetation between July 21st and October 10, 2009 to the average growth over the same period from 2002-2008. Green areas show better-than-average growth, tan areas reflect average conditions, and brown areas show poorer-than-average growth. Image courtesy of NASA.
Related articles
Kenya's pain, part two: decades of wildlife decline exacerbated by drought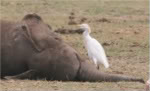 (10/20/2009) Not many years ago if you were planning a trip to Africa to see wildlife, Kenya would be near the top of the list, if not number one. Then violent riots in late 2007 and early 2008 leaving a thousand dead tarnished the country's image abroad. When calm and stability returned, Kenya was again open for tourism, and it's true that most travelers were quick to forget: articles earlier this year announced that even with the global economic crisis Kenya was expecting tourism growth. However, a new disaster may not be so quickly overcome.
Kenya's pain: famine, drought, government ambivalence cripples once stable nation
(09/17/2009) Kenya was once considered one of Sub-Saharan Africa's success stories: the country possessed a relatively stable government, a good economy, a thriving tourist industry due to a beautiful landscape and abundant wildlife. But violent protests following a disputed election in 2007 hurt the country's reputation, and then—even worse—drought and famine struck the country this year. The government response has been lackluster, the international community has been distracted by the economic crisis, and suddenly Kenya seems no longer to be the light of East Africa, but a warning to the world about the perils of ignoring climate change, government corruption, and the global food and water shortages.
NASA study shows global warming will diminish rainfall in East Africa, worsening hunger
(08/06/2008) A new NASA-backed study has found a link between a warming Indian Ocean and reduced rainfall in eastern and southern Africa. The results suggest that rising sea temperatures could exacerbate food problems in some of the continent's most famine-prone regions.