Illegal gold mining involving wildcat miners, the Venezuelan army, and indigenous groups is threatening one of the country's most biodiverse river basins, according to local sources.
Fueled by surging gold prices, miners from Venezuela and Brazil have stepped up operations in the Caura river basin, a watershed that supports 2,600 vascular plant species, 168 mammal species, 475 bird species, 34 amphibian species, 53 reptile species, and more than 440 species of fish. Local sources report that mining is being sanctioned by the Venezuelan army, which took control of a key access point to the area. The army levies an entrance fee to miners and collects a percentage of all gold taken out of the area. Only miners with "heavy" equipment are now allowed access to the area — gold panners are being turned back at the access point.
Mining: before and after

The Caura river basin, still pristine in 2006.



The nearby Caroni river basin, after mining
Local indigenous groups — mostly from the Sanema Ye'kwana tribe — are also involved, providing logistical support for miners including portaging boats, transporting gasoline and other goods, and hunting and fishing to supply mining camps. Their involvement has become a source of conflict with among members of their own tribe as well as other tribes that don't support mining, but the situation is complex according to one observer, who asked not to be identified.
"The powers that be are sanctioning the mining," the observer said. "The Indians would be foolish not to participate."
Indigenous leaders who have opposed the mines have faced death threats, according to another source, who also spoke on the condition of anonymity. The source speculated that the increased activity in the Caura may be an initial move by Venezuelan authorities to open the watershed — which is protected by law — to large-scale gold mining, a development that could lead to increased pollution, sedimentation, and deforestation.
"The situation is certainly getting worse because gold mining is expanding," said the first source. "There is now a major trail by the Paragua river that is like a highway with donkeys ferrying in supplies."
"Conservation is losing the battle for the Caura."
Related articles
Venezuela bans gold-mining in forest reserve, will not issue new open-pit permits
(05/21/2008) Venezuela banned gold mining in its Imataca Forest Reserve and said it will not issue new permits for open-pit mines anywhere in the country, according to Reuters.
Mining in Venezuelan Amazon threatens biodiversity, indigenous people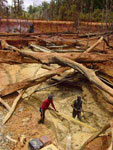 (11/09/2006) Troubles are mounting in one of Earth's most beautiful landscapes. Deep in the Venezuelan Amazon, among ancient forested tabletop mountains known as tepuis, crystalline rivers, and breathtaking waterfalls, illegal gold miners are threatening one of world's largest remaining blocks of wilderness, one that is home to indigenous people and strikingly high levels of biological diversity. As the situation worsens — a series of attacks have counted both miners and indigenous people as victims — a leading scientific organization has called for the Venezuelan government to take action.