Google looks set to play a part in a called-for "new environmental world order" by satellite-monitoring the rates of deforestation of tropical rainforests and pinpointing illegal logging and land misuse, Google's Northern and Central Europe head Philipp Schindler has revealed.


Schindler made the announcement in London on November 19 at a meeting at St James's Palace hosted by the Prince's Rainforests Project about a new climate change reduction mechanism, REDD (Reduced Emissions from Deforestation and Degradation).


An inter-governmental report produced this month by an Informal Working Group (IWG) for Interim Funding of REDD has outlined an initiative to save the CO2 equivalent of the annual emissions of the US over five years by rewarding developing countries for reducing deforestation, with payments on a performance basis.

Landsat image revealing "fishbone" deforestation along roads in the Brazilian Amazon

Google's deforestation monitoring platform

Google will next year launch a program that will allow Internet users to spot and report deforestation to a global forest monitoring agency.

Working with several organizations, Google is also developing cutting-edge tools to help people on the ground assess and monitor forests.

Editor's note

The felling of forests causes almost a sixth of global carbon emissions. By ensuring that forests are "worth more alive than dead", the money is aimed at encouraging rainforest nations to see the carbon stored in their intact forests as a financial asset and to pursue sustainable forms of economic development.


"To do this, what is needed is a system to monitor changes in rainforests across the world," said Schindler. "Our engineers are now designing a global forest open platform for this. We have access to a large database of historic and current satellite images and while this is something that is going to require huge computing power, that is something Google is very good at."


The REDD initiative has involved negotiations with more than 35 countries and the meeting was attended by heads of state, President Jagdeo of Guyana and President Bongo of Gabon, senior ministers from 18 countries, including the UK Secretary of State for Energy and Climate Change Ed Miliband, arctic explorer Pen Hadow, scores of industry leaders and the world's leading environmental NGOs.
Prince Charles was heartened by the findings of the report on REDD. "It does seem that we have arrived at a consensus on how emergency funding might be deployed in the near future," he said.


An example of how the scheme could work is already underway thanks to Norway, which has pledged $250m to Guyana by 2015 to continue to prevent deforestation and up to $1b to Brazil.


Per Frederik Pharo of Norway's Environment Ministry said that REDD was complicated because the world "was basically asking developing countries not to do what they do naturally – use their forests to develop" but the new incentive structure worked for both Guyana and Brazil and for the world.
| | |
| --- | --- |
| | Deforestation for oil palm plantations in Indonesian Borneo (Central Kalimantan). Image courtesy of Google Earth. |
He urged other countries to back REDD: "The difference between starting now and not could make the difference between reaching or not reaching the climate change tipping point," he said. REDD, he added, would give the world the opportunity to make a comprehensive land-use programme and ensure global food security: "By getting control of global deforestation, we can address these issues too."


The cost of launching REDD is estimated at €15b and €25b over the next five years and the money will initially be sought from governments. The US pledged $275m at the meeting towards REDD but where the remainder will come from is not certain. It will be discussed at COP15, the crunch UN climate change talks in Copenhagen in December.


Many speakers at the meeting were frustrated at the pace of progress. President Bongo of Gabon, a Central African country that is more than 80% forested with low deforestation rates, said he was in full support of REDD but that "external pressures, such as agriculture and bio-fuel development" were mounting. "With the remarkable exception of Norway's commitment to kickstarting significant action on the ground… the developed countries have not respected their Bali action plan commitments and are spectators, waiting for the rainforest countries to take the plunge," he said. The world's atmosphere and forests had to be seen as a "common good", he added, and to resolve the world's ecological problems, part of the wealth of developed nations would also have to be a "common good": "This calls for a common vision… a new environmental world order," he said.


It was "time for the world to step up", said President Jagdeo of Guyana: "€25b is about the bonus pool of Goldman Sachs. We have to walk away from Copenhagen with interim funding for REDD. We want a specific commitment."


The urgency was echoed by speaker after speaker. Ken Lay, treasurer of the World Bank, said the investment was now "a challenge of the first order"; John Sauven, executive director of Greenpeace UK said it was "time to put the money on the table"; Graham Wynne, chief executive of the RSPB, said: "Can we just get on and do the deal?" and Ed Miliband vowed that Copenhagen "would not be just another declaration of hot air."


Prince Charles closed the meeting saying: "This is one of those 'what would have happened if?' moments. The path we choose is critical. Let's not make this an 'if only' moment."
Sarah Monaghan is a travel writer and Editor of Gabon Magazine. She was the winner of the British Guild of Travel Writers' 2007 Trade and Tourism Award.
Related articles
How satellites are used in conservation
(04/13/2009) In October 2008 scientists with the Royal Botanical Garden at Kew discovered a host of previously unknown species in a remote highland forest in Mozambique. The find was no accident: three years earlier, conservationist Julian Bayliss identified the site—Mount Mabu—using Google Earth, a tool that's rapidly becoming a critical part of conservation efforts around the world. As the discovery in Mozambique suggests, remote sensing is being used for a bewildering array of applications, from monitoring sea ice to detecting deforestation to tracking wildlife. The number of uses grows as the technology matures and becomes more widely available. Google Earth may represent a critical point, bringing the power of remote sensing to the masses and allowing anyone with an Internet connection to attach data to a geographic representation of Earth.
Development of Google Earth a watershed moment for the environment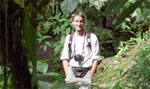 (03/31/2009) Satellites have long been used to detect and monitor environmental change, but capabilities have vastly improved since the early 1970s when Landsat images were first revealed to the public. Today Google Earth has democratized the availability of satellite imagery, putting high resolution images of the planet within reach of anyone with access to the Internet. In the process, Google Earth has emerged as potent tool for conservation, allowing scientists, activists, and even the general public to create compelling presentations that reach and engage the masses. One of the more prolific developers of Google Earth conservation applications is David Tryse. Neither a scientist nor a formal conservationist, Tryse's concern for the welfare of the planet led him develop a KML for the Zoological Society of London's EDGE of Existence program, an initiative to promote awareness of and generating conservation funding for 100 of the world's rarest species. The KML allows people to surf the planet to see photos of endangered species, information about their habitat, and the threats they face. Tryse has since developed a deforestation tracking application, a KML that highlights hydroelectric threats to Borneo's rivers, and oil spills and is working on a new tool that will make it even easier for people to create visualizations on Google Earth. Tryse believes the development of Google Earth is a watershed moment for conservation and the environmental movement.
Amazon Indians use Google Earth, GPS to protect forest home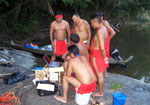 (11/15/2006) Deep in the most remote jungles of South America, Amazon Indians are using Google Earth, Global Positioning System (GPS) mapping, and other technologies to protect their fast-dwindling home. Tribes in Suriname, Brazil, and Colombia are combining their traditional knowledge of the rainforest with Western technology to conserve forests and maintain ties to their history and cultural traditions, which include profound knowledge of the forest ecosystem and medicinal plants. Helping them is the Amazon conservation Team (ACT), a nonprofit organization working with indigenous people to conserve biodiversity, health, and culture in South American rainforests.