Uganda, which suffered a 90 percent decline in large mammals during the 70s and 80s, has now lifted a decades-long ban on big game hunting, reports the AFP.
The Uganda Wildlife Authority (UWA) has stated that it hopes the lifting of the ban will raise additional tourism revenue by targeting wealthy foreigners. But conservationists contest that the large mammal population is not ready yet to sustain sports hunting.
"I would want to ask UWA: Where is your data and your information coming from? Just because some animals have moved out of a wildlife reserve doesn't mean their numbers are strong enough for sport hunting," Samuel Maina from WildlifeDirect, told AFP. He also stated that Uganda's decision may backfire on the country with eco-tourists less likely to visit a country where such hunting is occurring.
The UWA has said that the hunting will not occur in protected lands, and that game hunting will help lower numbers of African buffalo and elephants, which can damage crops when they migrate out of reserves.
Big game hunting currently occurs in other African countries, such as South Africa, Zimbabwe, Namibia, and Tanzania. Many species are targets: elephants, zebras, hippos, lions, cheetahs, giraffes, warthogs, leopards, crocodiles, numerous antelope species, and even the Critically Endangered black rhino.
Proponents of big game hunting say that the sport supports conservation efforts, including providing habitat that may otherwise be converted into agriculture.
Most big game hunters in Africa are from the United States. Killing an elephant can cost upwards of 20,000 dollars, a lion 10,000 dollars, and a cheetah around 4,000 dollars. In some countries one can shoot a baboon for less than 100 dollars.
Related articles
Lion population in Kenya could disappear in 10 to 20 years
(08/20/2009) The Kenyan Wildlife Service recently announced that massive declines in lion population may lead to their disappearence from the region within less than 2 decades. Kenya currently has an estimated 2000 lions, but is losing the large cats at a rate of around 100 each year.
All about giraffes: an interview with a giraffe expert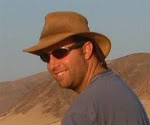 (03/09/2009) Dr. Julian Fennessy probably knows the giraffe better than anyone. Trekking across savannah, forest, and the deserts of Africa, Fennessy is collecting genetic samples of distinct giraffe populations and overturning common wisdom regarding their taxonomies. It had long been accepted knowledge that the giraffe was made up of one species and several subspecies, however with Fennessy's work it now appears that several of the subspecies may in fact be distinct species. Such discoveries could have large conservation impacts, since conservation funds and efforts are largely devoted to species. The giraffe has suffered significant declines in the past decade with the total population dropping some 30 percent across Africa.
Only one out of 91 antelope species is on the rise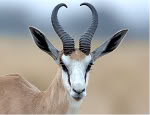 (03/04/2009) The springbok is the only antelope species whose population is on the rise, according to a new review by the Red List for the International Union for Conservation of Nature (IUCN). In addition, over a quarter of the antelopes, 25 species out of 91, are considered threatened with extinction. "Unsustainable harvesting, whether for food or traditional medicine, and human encroachment on their habitat are the main threats facing antelopes," says Dr Philippe Chardonnet, Co-Chair of the IUCN Antelope Specialist Group.
Half of the world's mammal species in decline (update)
(10/06/2008) Half of the world's mammal species are in decline, according to a new assessment of the planet's 5,487 mammals.
First captive black rhinos released into the wild in 25 years
(10/03/2008) Fifteen critically-endangered black rhinos have been released at an undisclosed location in Kenya with hopes that this pioneer group will breed naturally, repopulating an area they once roamed abundantly. The release is the first time in 25 years that captive rhinos have been returned to the wild.
Uganda imports rhinos from Kenya
(07/26/2005) Uganda has imported four rhinos from Kenya according to the Uganda Wildlife Authority (UWA). UWA hopes to develop a captive breeding program in an effort to reintroduce rhinos after their disappearance from the country in the 1960s due to poaching.