There are few places in the world more remote, more dangerous, and more unexplored than underwater caves. Cave diving—exploring these unknown abysses—has yielded many strange species unknown to science. A recent expedition to an underwater cave on Lanzarote, one of the Canary Islands, was no exception. Researchers discovered two species of worm smaller than a grain of rice and a primitive poisonous crustacean.
"The small worms we discovered were found in a large, conical mound of white sand, which had filtered down from a hole in the cave ceiling. We collected several samples of the sand and when we examined it later, we found these new species," said Tom Iliffe one of the world's foremost cave researchers and a professor of marine biology at Texas A&M University at Galveston.
| | |
| --- | --- |
| | Live specimen of the new crustacean species Speleonectes atlantida (size about 1 inch) from the world's longest submarine lava cave in the Canary Islands. Photo credit: Ulrike Streker, March 2008. |
The mile-long cave, known as the Tunnel de la Atlantida is the world's longest submarine lava tube, which Iliffe believes was formed by a volcanic eruption 20,000 years ago.
One of the worms was named after Iliffe: Sphaerosyllis iliffei. "Its tiny body has no eyes or color and is the first cave-adapted species from the worm family Syllidae," Iliffe says of his namesake. Many species that live in total darkness are eyeless.
The new crustacean, dubbed Speleonectes atlantida, also lacks eyes, but sports venomous fangs. These hollow-tip fangs pack enough poison to kill shrimp and other small marine life, but are not dangerous to humans. The new crustacean is about an inch long and almost completely transparent.
Speleonectes atlantida is a member of the class Remipedia, thought to be one of the most primitive of all crustaceans.
| | |
| --- | --- |
| | Detail of Speleonectes atlantida's head. Photo credit: Ulrike Streker, March 2008. |
"It likely had its origins during early stages of the formation of the Atlantic Ocean millions of years ago when the continents of Europe/Africa and North/South America were in close proximity," Iliffe explains. "So it's thought remipedes could be at least 200 million years old, a time when dinosaurs roamed the Earth."
Iliffe may very well be the world's greatest cave diver: having explored at least 1,500 caves in 30 years of diving. In his explorations he has discovered several hundred new species.
Cave diving is a relatively recent endeavor, only made feasible with the invention of the Aqua-lung in 1943, the original scuba diving suit. Before this only a few submerged caves were explored with divers employing umbilical hoses and compressors.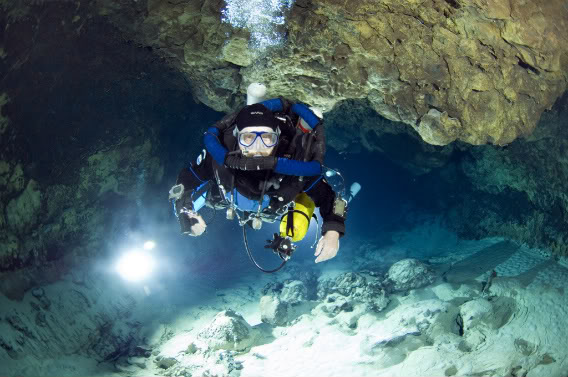 Texas A&M Galveston professor Tom Iliffe diving with a Megalodon closed circuit rebreather in the Atlantida Tunnel, Lanzarote, Canary Islands. Photo credit: Jill Heinerth, March 2008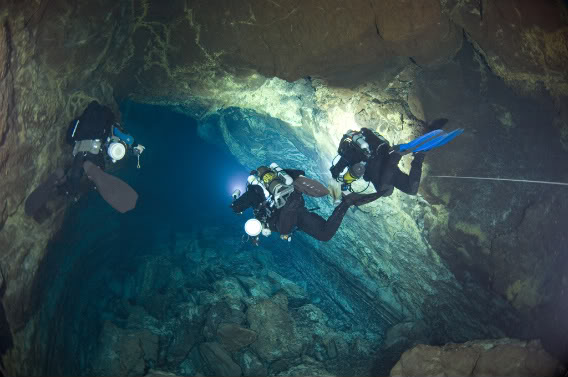 Cave divers Terrence Tysall, Jim Rozzi and Tom Iliffe (left to right) diving in a submarine lava tube cave in the Canary Islands. Photo credit: Jill Heinerth, March 2008
Related articles
Newly discovered deep sea worms throw bioluminescent 'bombs'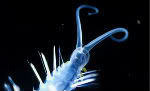 (08/20/2009) Researchers from Scripps Institution of Oceanography at UC San Diego have announced in Science the discovery of seven new species of deep sea worms, five of which drop orb-like parts of their body which cause a brilliant green display of bioluminescence. For this reason researchers have nicknamed them the 'green bombers'. The worms are not just new species, but a clade of animals entirely unknown to science until now.
Extremophiles discovered below Antarctic glacier are remnants of marine life
(04/16/2009) Living in isolation for millions of years, cut off from sunlight and oxygen, surviving by breathing iron beneath an Antarctic glacier—such are the conditions of newly-discovered microbes living under Taylor Glacier in Antarctica's desert-waste, the McMurdo Dry Valleys.
Ebay bidders to decide new shrimp's name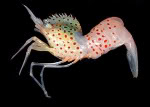 (03/24/2009) A new way to raise conservation funds has captured attention worldwide. The Australian Marine Conservation Society (AMCS) has auctioned the naming rights of a newly discovered species of shimp Ebay. "The shrimp is in the group or genus of shrimps known as Lebbeus, but is awaiting the addition of a unique species name," said Anna McCallum, a Melbourne scientist who discovered the new species in deep waters off the Southwest coast of Australia.