An interview with Tony Juniper, environmentalist, author, and special adviser to the Prince's Rainforest Project
Prince Charles of Great Britain has emerged as one of the world's highest-profile promoters of a scheme that could finally put an end to destruction of tropical rainforests.
The Prince's Rainforest Project, launched in 2007, is promoting awareness of the role deforestation plays in climate change—it accounts for nearly a fifth of greenhouse gas emissions. The project also publicizes the multitude of benefits tropical forests provide, including maintenance of rainfall, biodiversity, and sustainable livelihoods for millions of people. But the initiative goes beyond merely raising awareness. Prince Charles is using his considerable influence to bring political and business leaders together to devise and support a plan to provide emergency funding to save rainforests. The money would provide a financing bridge for tropical countries to begin taking steps necessary to reduce deforestation— a prelude to a broader U.N.-backed mechanism (known as REDD for Reducing Emissions from Deforestation and Degradation), which would compensate developing countries for their progress in protecting their forests.
"If deforestation can be stopped in its tracks, then we will be able to buy ourselves some much-needed time to build the low carbon economies on which our futures depend," Prince Charles states on his web site. "I have endeavored to create a global public, private and NGO partnership to discover an innovative means of halting tropical deforestation. Success would literally transform the situation for our children and grandchildren and for every species on the planet."
| | |
| --- | --- |
| | |
The "emergency package" would provide potentially billions of dollars a year and provide what it is hoped will be a bridge to a fully functioning REDD scheme. Such interim funding would likely come through commitments from developed nations, with money potentially raised through auctioning of carbon emission permits in national cap-and-trade systems, a levy on the catastrophe risk component of insurance premiums, or surcharges on emissions-generating products including commodities and aviation fuel. Additional financing might come in the form of a "rainforest bond," a fixed income security that would provide upfront cash for rainforest conservation initiatives and low-carbon development; in return such bonds would offer investors a fixed rate of return together with the repayment of the principal on maturity some 15-years after issue. Governments of developed country would guarantee the bonds, which would be repaid from a portion of the revenue generated in future carbon markets as well as returns from clean development investments.
The Prince's Rainforest Project, which has pitched the concept to insurers, pension funds, and private equity firms, has found strong institutional interest in the proposal. Political support also appears to be growing—heads of state and other government leaders formed a working group to study the concept after meeting with Prince Charles on the eve of the G20 summit in April. But broader support for the idea of saving rainforests is also critical. Thus the Project has launched a mass market advertising campaign—centered around an animated frog and celebrities—to engage the general public.
| | |
| --- | --- |
| | Tony Juniper |
Tony Juniper is one of Britain's best-known environmentalists and Special Adviser to the project. Trained as an ornithologist, Juniper served as the executive director of Friends of the Earth (England, Wales and Northern Ireland) from 2003-2008 before becoming an independent adviser on sustainability and the environment. In that capacity he works with the Cambridge University Program for Sustainability Leadership to help companies improve their environmental performance. Juniper also writes extensively, publishing several books and numerous articles. He writes a weekly column for the Sunday Times and is editor-in-chief of National Geographic's new Green Magazine.
In a September 2009 interview with mongabay.com, Juniper spoke about the Prince's Rainforest Project.
Mongabay: Why did the Prince take an interest in saving tropical rainforests?
Tony Juniper: The Prince of Wales has long been interested in tropical forests. In a speech at Kew Gardens in 1990, he spoke at a gathering of experts on the potential to use rainforests for sustainable livelihoods rather than for unsustainable clearance. So he's had a long-term and sophisticated interested in this subject.
But in recent years it's become more apparent that rainforests play a critical role in climate change. Their destruction accounts for about a fifth of greenhouse gas emissions. Feeling that deforestation had been neglected as a source of emissions, the Prince decided he should step in with an initiative over a time-limited period to see if it would be feasible to help countries come forward with a consensus on how to solve this problem, which has so far resisted our best efforts and indeed the effects of hundreds of millions of pounds over the years. What would be a different way in which to approach the problem? That was the question we set out to answer.
Mongabay: How much money is needed in this interim period between now and the emergence of a comprehensive mechanism, perhaps U.N.-based, for reducing deforestation?
| | |
| --- | --- |
| | Tropical deforestation rates from 2000-2005, ranked in descending order by the highest amount of average annual forest loss for 25 countries based on data from the U.N. Food and Agriculture Organization (FAO). Click to enlarge |
Tony Juniper: We are using the kinds of numbers that Lord Stern calculated to frame out our thinking, but there are a number of estimates out there in terms of how much money would be needed in the short term period before the implementation of a REDD program, which hopefully will be agreed upon in Copenhagen. There is an intergovernmental group looking at this issue. It has reached the conclusion that 15-25 billion Euros over a 5-year period from 2010 to 2015, which would be a considerable step forward from where we are now because it would signal the world changing its focus to accept the need for performance-based payments for developing countries to reward them for cutting deforestation in a very clear way. It would provide countries with alternative incentives to those presently provided by logging companies, soya bean farms, and oil palm developers, for example. There are very clear economic incentives that come with all those changes, so our logic led us to believe that a similarly powerful incentive is needed reward countries for keeping the forest standing. Countries now seem to be accepting that and putting forward the kinds of numbers in that interim period that could make a substantial difference.
Those numbers I just mentioned are linked to a 25 percent cut in deforestation rates during that period and would be in line to achieve a 50 percent cut by 2020. This would make a very substantial contribution to the world effort to keep climate change emissions to within manageable proportions.
Mongabay: Brazil has already cut deforestation by this amount relative to their 10-year baseline from 1996-2005. How does your proposal address countries that have already made progress in reducing forest loss?
| | |
| --- | --- |
| | Rainforest in Borneo (April 2008). Photos by Rhett A. Butler |
Tony Juniper: The Brazilians are showing what is possible with a combination of political will at the highest levels and some well thought-through mechanisms to attract and channel finance in the form of the Amazon Fund. The logic that underpinned the development of the Amazon Fund is now being used by the international community, through the deliberations of the working group established last April, to help frame the thinking in what will hopefully emerge as an emergency interim measure to curb deforestation before the full implementation of REDD. The Amazon Fund is a good model, we believe, and if Brazil's deforestation rate is anything to go by, what better commendation could you have for that kind of mechanism?
Mongabay: So the Amazon Fund would qualify for payments from this interim funding measure?
Tony Juniper: Yes. What's going on more widely in South America is very interesting in terms of why it's going to be important to quickly spread that kind of mechanism across the tropics. The effect of curbing deforestation in Brazil has been to send commercial interests to neighboring countries like Guyana and Suriname in search of land to grow soya beans or forests to log for timber. So it's going to be important for the international community to establish incentives outside Brazil to combat leakage, as the phenomenon is known. This needs to be a mechanism that's available to countries across tropical regions. The mechanism must provide sufficient incentives to combat the other motivations that countries have to liquidate their forests. The economic signal to keep forests standing has to be more powerful than that for cutting them down.
Mongabay: What about for a country like Costa Rica, which has effectively reversed deforestation? Will a country like that need funds?
Tony Juniper: The calculations of benefits in terms of which countries get what money will need to be a combination of rewarding countries for departing from their historical baseline deforestation rate, offering incentives to stop deforestation from starting, and compensating countries like Costa Rica to continue with their program of forest restoration. One of the ways to do this is to have a two-part incentive: one part would be in relation to a country's historic baseline and their departure from that deforestation rate. Another would be to have part of the incentive linked to the deforestation rate inside a country relative to the global average. For example, Guyana has zero deforestation and the global average is something like 0.47 percent so their incentive will be calculated on them being 0.47 percent below the global average. Brazil would be close to, or above, the global rate but they would get their incentive by departing from their historic baseline. The formulae get quite complex but we think that kind of structure could work for both countries that are deforesting and those that have kept their forests in a stable statelike Gabon and Guyana, or increased it, like Costa Rica, for example.
Mongabay: How do you envision raising the money?
Tony Juniper: There's a difference between funding commitments and fund-raising, I suppose. On the one hand, the funding commitments we believe need to be made by the developed countries should be public finance. This is not a market mechanism we're talking about; it's a public financial commitment to pay for performance inside developing countries stopping deforestation or keeping it from starting based on avoided carbon emissions. We're talking15-25 billion Euros over that 5-year period. It's not a huge amount of money in the overall scheme of things.
| | |
| --- | --- |
| | Pastureland and transition forest in Mato Grosso, Brazil (April 2009). Since 2003 Brazil has set aside 523,592 square kilometers of protected areas, accounting for 74 percent of the total land area protected worldwide during that period. Photo by Rhett Butler. |
Another way would be to take money generated from carbon markets like the cap-and-trade system currently in Europe use it as a source of funds. A tax on aviation fuels could raise the kind of money needed very quickly. Or we could get more ambitious and creative and introduce a Tobin tax on international currency exchanges. This has been talked about for a long time, but never employed. All of these things are going to take some time to get into place so in the interim rainforest countries could issue bonds that would mature in 10-15 years' time. These could be repaid with money from the carbon market or a carbon tax, which is likely to emerge in the next 10 years. That wouldn't put much of a strain on the public over the next 10 years but would also be aligned with some of the things that industrialized have to do anyway which is lower carbon emissions.
There is an important element of environmental justice in transferring money from industrialized countries' carbon markets, which are being used to invest in reductions in industrial emissions in Europe, for example, and paying that money to help reduce emissions elsewhere. The system could give the developing world a jump given that these counties are not historical greenhouse gas emitters and yet will suffering many of the effects of global warming caused by industrial pollution over the past two centuries.
Mongabay: Is the Prince going to commit the crown's funds to this effort?
Tony Juniper: No, I don't think so. What he's doing is committing a lot of his time, energy and passion, which is going to make more of an impact than anything else he could do. The best contribution the Prince of Wales can make is being able to convene countries to create a space whereby a consensus can be formed.
Mongabay: Has there been progress with world leaders since the G20 Summit?
Tony Juniper: Indeed there has been. The Working Group the world leaders established has met several times since April and there has been a process to establish a dialog between a number of countries, especially Rainforest Nations group and the industrialized countries group to see if they can come forward with a mechanism that would fill this gap between now and the full implantation of REDD. We expect the conclusion to be a global level statement well ahead of Copenhagen.
Mongabay: There's talk of the World Bank being the issuer of the rainforest bonds but many environmental groups are suspicious of that institution given its track record. How are you reassuring stakeholders who may be concerned about the Bank's involvement?
| | |
| --- | --- |
| | Deforestation-induced erosion in Madagascar (October 2004) |
Tony Juniper: We of course are aware that there is a range of opinions on the arrangements to make this work. This will, by definition, need to be an emergency response to get funding deployed next year. Given the reluctance of countries to invest in new institutions it is very likely that existing ones will need to be used. There is a lot of expertise in the World Bank and, irrespective of peoples' fears about its history, it is likely that it would be one of the options for countries to do this. Although other options have been put forward as well. If one looks around at the institutions, it would seem that the World Bank would emerge as one of the likely candidates for discharging some functions. But yes we are aware that there are a number of views about different institutional arrangements.
Mongabay: Another big concern with carbon conservation efforts is indigenous rights. How is the Prince's project working to ensure that indigenous people aren't disadvantaged by the process?
Tony Juniper: This is a critical question, right in the heart of the whole rainforest preservation issue: how can we ensure that forest peoples and indigenous communities can continue to live their lifestyles, which tend to favor forests staying where they are? Further, how will those organizations representing indigenous groups fit into the process?
We believe our proposals support the need to incorporate indigenous views into the final deal and indeed the kind of arrangements we've put forward would help countries get in the position where the commercial and other interests that impinge on indigenous rights can be brought under control. The main threat indigenous communities are facing is economic pressures to gain access to resources and land. If countries have different incentives to keep forests standing they might be in a better position to work more constructively with their indigenous communities, which have often served protectors of the forests. We've always said that forest people have to be a vital part of the solution. But the solution at a higher level is economic in terms of creating a space for countries to embark on different land use strategies.
Mongabay: Switching gears a bit. The Prince's Rainforest Project recent launched a campaign featuring a charismatic animated frog and well-known celebrities. Are you using the frog to raise awareness on how consumer actions affect deforestation?
Tony Juniper: That campaign necessarily is aimed at the very broad level given the short amount of time between now and the Copenhagen summit. So we've kept it very much as a statement of support for tropical forests from the public rather than get into the nitty-gritty of certified palm oil, or timber, or soya beans. But we have been doing a lot of outreach on that side as well in explaining the issues to the public.
On the supply side we've been working with different companies in a constructive way to hopefully give them encouragement to go further. The primary thrust now is the emergency response deployed to help developing countries change their land use strategies. But after they change their land use planning there will be a need for the consumer countries to respond by supporting sustainable palm oil, timber, and beef as part of the economic solution.
Mongabay: Are you working with the Forest Footprint Disclosure Project (forestdisclosure.com)?
Tony Juniper: We welcome their work and think it could make an important impact going forward. Many companies remain unaware of the impact they are having on forests so that initiative seems to be on a good path.
Mongabay: What's your timeline?
Tony Juniper:We're hoping that countries will say something clear and specific on their intention to come forward with an interim solution to deforestation before countries meet at the U.N. conference in Copenhagen.
Mongabay: Are you optimistic that might happen?
Tony Juniper:Yes, I'm a natural optimist.
Related articles
Are we on the brink of saving rainforests?
(07/22/2009) Until now saving rainforests seemed like an impossible mission. But the world is now warming to the idea that a proposed solution to help address climate change could offer a new way to unlock the value of forest without cutting it down.Deep in the Brazilian Amazon, members of the Surui tribe are developing a scheme that will reward them for protecting their rainforest home from encroachment by ranchers and illegal loggers. The project, initiated by the Surui themselves, will bring jobs as park guards and deliver health clinics, computers, and schools that will help youths retain traditional knowledge and cultural ties to the forest. Surprisingly, the states of California, Wisconsin and Illinois may finance the endeavor as part of their climate change mitigation programs.
Prince Charles' new online initiative for rainforests makes media splash
(05/06/2009) Releasing a video with as many species of celebrity as ants in the rainforest, while simultaneously turning to online sites such as MySpace and YouTube, appears to have worked for Prince Charles, a longtime advocate of rainforest conservation. His conservation organization's new outreach to online users has garnered considerable coverage from the international media.
How to save the Amazon rainforest
(01/04/2009) Environmentalists have long voiced concern over the vanishing Amazon rainforest, but they haven't been particularly effective at slowing forest loss. In fact, despite the hundreds of millions of dollars in donor funds that have flowed into the region since 2000 and the establishment of more than 100 million hectares of protected areas since 2002, average annual deforestation rates have increased since the 1990s, peaking at 73,785 square kilometers (28,488 square miles) of forest loss between 2002 and 2004. With land prices fast appreciating, cattle ranching and industrial soy farms expanding, and billions of dollars' worth of new infrastructure projects in the works, development pressure on the Amazon is expected to accelerate. Given these trends, it is apparent that conservation efforts alone will not determine the fate of the Amazon or other rainforests. Some argue that market measures, which value forests for the ecosystem services they provide as well as reward developers for environmental performance, will be the key to saving the Amazon from large-scale destruction. In the end it may be the very markets currently driving deforestation that save forests.
Prince Charles says hedge funds could save rainforests
(09/11/2008) Prince Charles renewed his call to protect rainforests for the services they provide humanity. Speaking Wednesday at a black-tie dinner in London, Charles compared the need to protect forests to fighting a war.
Markets could save rainforests: an interview with Andrew Mitchell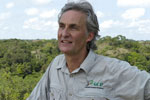 (08/17/2008) Markets may soon value rainforests as living entities rather than for just the commodities produced when they are cut down, said a tropical forest researcher speaking in June at a conservation biology conference in the South American country of Suriname. Andrew Mitchell, founder and director of the London-based Global Canopy Program (GCP), said he is encouraged by signs that investors are beginning to look at the value of services afforded by healthy forests.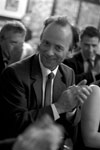 (04/02/2008) Last week London-based Canopy Capital, a private equity firm, announced a historic deal to preserve the rainforest of Iwokrama, a 371,000-hectare reserve in the South American country of Guyana. In exchange for funding a "significant" part of Iwokrama's $1.2 million research and conservation program on an ongoing basis, Canopy Capital secured the right to develop value for environmental services provided by the reserve. Essentially the financial firm has bet that the services generated by a living rainforest — including rainfall generation, climate regulation, biodiversity maintenance and carbon storage — will eventually be valuable in international markets. Hylton Murray-Philipson, director of Canopy Capital, says the agreement — which returns 80 percent of the proceeds to the people of Guyana — could set the stage for an era where forest conservation is driven by the pursuit of profit rather than overt altruistic concerns.