A five week expedition into a remote extinct volcano has uncovered a treasure trove of new species in Papua New Guinea, including what may be the world's largest rat, a fanged frog, and a grunting fish. In all the expedition estimates it may have found around forty species unknown to science.
The expedition was undertaken by a BBC film crew and scientists in January. Local trackers led them into the unexplored jungle, hidden beneath the Bosavi volcano's 2,800 meter summit. Six months prior to arrival, fields of spinach and sweet potato were planted to feed the expedition in such a remote area.
The scientists suspect that in all that they have found sixteen new species of frog, three new fish, twenty insects and arachnids, a new bat species, and of course the giant rat. One of the insects was a walking stick as long as person's forearm.
| | |
| --- | --- |
| | The giant woolly rat of Bosavi. Photo by: Kristofer Helgen. |
Referring to the volcano as a 'lost world', the filmmakers marveled at how tame the giant woolly rat appeared, which one said was about the size of his pet cat. The rat is 82 centimeters long (or two feet, eight inches) and weights 1.5 kilograms (nearly three-and-a-half pounds).
Lost Land of the Volcano a program detailing the expedition and its findings will air on the BBC One beginning September 8th at 9PM.
Photos of some of the insects are available here on the BBC news site.
Video of the giant woolly rat is here .
Related articles
Photos: hundreds of new species discovered in Himalayan region, threatened by climate change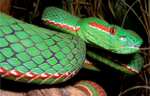 (08/10/2009) Scientists from a variety of organizations have found over 350 new species in the Eastern Himalayas, including a flying frog, the world's smallest deer, and a gecko which has walked the earth for 100-million-years, according to a new report by the World Wildlife Fund (WWF). The report, entitled Where World's Collide, warns that these rare biological treasures, as well as numerous other species, are threatened in the Eastern Himalayas by climate change.
Photos: treasure trove of new species discovered in Ecuador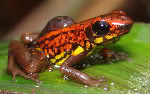 (06/16/2009) Near the once-contentious border of Ecuador and Peru in the mountainous forests of the Cordillera del Condor, scientists from Conservation International (CI) conducted a Rapid Assessment Program (RAP), uncovering what they believe are several new species, including four amphibians, one lizard, and seven insects. The team focused on the Upper Nanharitza River Basin, which has been geologically isolated from the rest of the Andes, giving it broad potential for new species.
Photos: top 10 species discovered in 2008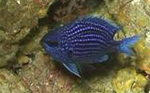 (05/22/2009) Scientists documented 18,516 previously unknown species in 2007, report researchers from the International Institute for Species Exploration at Arizona State University, who also unveiled the "top 10 new species" described in 2008. The "top 10" species include a pea-sized seahorse, caffeine-free coffee, bacteria that live in hairspray, a tiny snake, a two foot long insect from Malaysia, a fossilized specimen of the oldest known live-bearing vertebrate, a snail whose shell twists around four axes, a ghost slug from Wales, a deep blue damselfish, and a palm that flowers itself to death.