The world's big cats are not easy patients, especially when trying to give them pain killers after a procedure. They will tear off transdermal patches; they are too powerful to restrain for easy—and safe—injections or pills; and when in pain they generally refuse food, making it impossible to hide the drugs in their dinner. Now, however, veterinarian researchers from Wildlife Conservation Society's Bronx Zoo and the University of Tennessee believe they have found a solution: a surgically implanted, mini-pump that provides pain relief, and can be easily removed after the patient makes a full recovery.
"Osmotic pumps are a reliable, largely non-invasive means of providing pain relief to big cats such as leopards, tigers and other species after surgery," said Dr. John Sykes of the Wildlife Conservation Society's Global Health Program and lead author on the paper published in the American Journal of Veterinary Research. "They can be placed within the cat at the end of an operation and then removed after a period of weeks with no other handling required."
| | |
| --- | --- |
| | The world's rarest cat: the Critically-Endangered amur leopard. There are approximately 300 amur leopard in zoos (almost ten times more than in the wild) that may benefit from the new pump. Photo by Julie Larsen Maher. |
The osmotic pump provides a continuous supply of pain medication, allowing vets and zookeepers to forgo daily injections of drug darts for weeks after the operation. The dose of the drug is controlled by vets through the concentration of the drug inside the pump.
"It's a win-win in that it reduces the effort by veterinarians to treat big cats while helping to reduce stress and thus speed healing in the cats themselves," said Dr. William Karesh, Vice President and Director of WCS's Global Health Program.
Osmotic pumps have already been used on other zoo denizens: WCS vets have used such pumps to give antibiotics to snakes at the Bronx Zoo.
Related articles
Photos: snow leopard in Afghanistan
(08/31/2009) Using camera traps, the Wildlife Conservation Society (WCS) has captured the elusive and rare snow leopard on film in Afghanistan for a second time. The feline was caught on film in the Sast Valley in Afghanistan's Wakhan Corridor. The snow leopard is currently listed as Endangered by the IUCN. The cat is also listed as protected under Afghanistan's new endangered species list, which outlaws hunting it. The IUCN estimates that only 100-200 snow leopards still survive in Afghanistan.
Tiger brutally killed in zoo, body parts taken to sell for Chinese medicine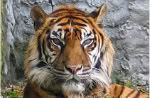 (08/25/2009) Poachers broke into the Jambi Zoo on Saturday morning in Indonesia. Using meat they drugged a female Sumatran tiger named Sheila and then skinned her in the cage. They left behind very little of the great cat: just her intestines and a few ribs. Authorities suspect that the tiger's body parts will be sold in the thriving black market for Chinese medicines where bones are used as pain killers and aphrodisiacs.
Lion population in Kenya could disappear in 10 to 20 years
(08/20/2009) The Kenyan Wildlife Service recently announced that massive declines in lion population may lead to their disappearence from the region within less than 2 decades. Kenya currently has an estimated 2000 lions, but is losing the large cats at a rate of around 100 each year.