A common bird in Europe, the great tit tends to stick to insects and seeds as a food source with caterpillars as a particular favorite. However, a new paper in Biology Letters found that the song bird employs unique feeding behavior in a cave in Hungary: they kill and eat hibernating pipistrelle bats. This is the first instance ever recorded of a song bir preying on bats.
The great tits only prey on the bats in the winter when food is scarce and the bats are easy targets. The great tits wait outside caves for the bats to start making noises on waking. The great tits then hunt while the bats are still woozy, pecking them to death.
"It doesn't look like this is an overwhelming thing that threatens the bat population," Bjorn Siemers a member of the research team from the Max-Planck-Institute for Ornithology in Seewiesen, Germany, told the BBC. "So then the question to ask is 'how do they invent it?', and so far we can only speculate – it could be a kind of cultural learning."
There have been other reports of great tits possibly preying on bats in Sweden and Poland, meaning that the behavior may not be localized.
While great tits are small, about 5 inches long, pipistrelle bats are even smaller, measuring only an inch or two in length.
Testing if 'bat' was a preferable meal, researchers left out other kinds of food—sunflowers seeds and bacon. On the days they did this the great tits generally left the bats alone meaning that they likely only hunt bats when hunger drives them to it.
Related articles
Reed wablers use social learning to defend themselves against cuckoos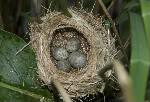 (06/04/2009) The cuckoo bird is famous for its parental strategy: rather than raise its own children it infiltrates the nest of an unsuspecting bird of a different species, replacing that bird's eggs with its own; when the cuckoo babies are born the 'adoptive' parents end up unwittingly rearing young that is not theirs. However, at least one bird species—the reed wabler—has learned to defend itself against such clever incursions.
Rooks use tools in captivity rivaling 'habitual tools users such as chimpanzees'
(05/26/2009) The rook, a member of the crow family, is the most recent bird to prove the ability to use tools, a capacity once thought to belong only to humans. Although rooks have never been observed using tools in the wild, researchers were astounded at how quickly—sometimes during the first try—rooks were able to employ tools to attain food.
Birds can dance, proving humans aren't the only ones with rhythm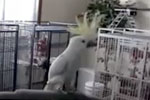 (04/30/2009) Another ability long-thought to belong solely to humans, like tool-use or counting, does in fact occur in other species, according to two new studies. In this case, it is the capacity to move rhythmically with music. Studying two different birds the research groups found that the birds weren't just moving randomly or mimicking owners, but actually changing the tempo of their movement to match the music—in other words, dancing.