Britain's Advertising Standards Authority (ASA), a group that regulates advertisements, has again banned a "misleading" ad by the palm oil industry, reports the Guardian.
ASA ruled that a campaign run by the Malaysian Palm Oil Council (MPOC) makes dubious claims, including that palm oil is the "only product able to sustainably and efficiently meet a larger portion of the world's increasing demand for oil crop-based consumer goods, foodstuffs and biofuels." The advertorial [PDF] said criticism over "rampant deforestation and unsound environmental practices" were part of "protectionist agendas" not based on scientific fact.
| | |
| --- | --- |
| | Oil palm seed. Palm oil is used widely in processed foods. By virtue of its high yield, palm oil is a cheaper substitute than other vegetable oils. In an effort to reduce costs, some candymakers are even using palm oil in place of cocoa butter in their milk chocolate products. Photo by Rhett A. Butler |
ASA held the ad breached several of its advertising standards codes, including "substantiation," "truthfulness," and "environmental claims." In rebuking the MPOC, the ASA said that the merits of new eco-certification scheme promoted by the palm oil industry is "still the subject of debate" and that the ad's attacks on detractors implied that all criticisms of the palm oil industry "were without a valid or scientific basis."
"We considered the refutation of these criticisms would also, conversely, be interpreted by readers as a statement that production of palm oil would not result in deforestation or be conducted using practices detrimental to the environment, which MPOC were not able to substantiate," said the ASA.
The advertising regulator also questioned MPOC's assertions on poverty alleviation, noting that while oil palm cultivation had brought wealth to Malaysia, it also had detrimental social impacts, including displacement of forest communities.
| | |
| --- | --- |
| | The "Green Answer" or Greenwashing? The ad PDF features macaques, a species of money common in human-altered landscapes, in an oil palm. |
ASA concluded that "the ad must not appear again in its current form."
ASA also rejected a MPOC ad last year for questionable statements about the environmental impact of palm oil. The placement used iguanas and hummingbirds — species found nowhere near Malaysia — to suggest that biodiversity thrives in plantations despite a large body of scientific studies showing that oil palm estates are biologically impoverished compared even with heavily logged forests. The campaign also claimed oil palm estates store more carbon than rainforests (the opposite is true) and downplayed deforestation caused by plantation expansion (MPOC's CEO maintains that the palm oil industry has "always" been sustainable and hasn't been responsible for any deforestation).
ASA
The ASA is the self-regulatory organization of Britain's advertising industry. The group is funded by a levy on the advertising industry, rather than the British government. Its role is to "regulate the content of advertisements, sales promotions and direct marketing in the UK" by investigating complaints to determine whether such campaigns comply with its advertising standards codes. These codes stipulate that "before distributing or submitting a marketing communication for publication, marketers must hold documentary evidence to prove all claims, whether direct or implied, that are capable of objective substantiation" and that "no marketing communication should mislead, or be likely to mislead, by inaccuracy, ambiguity, exaggeration, omission or otherwise."
The most recent ASA complaints were filed by Friends of the Earth, an activist group, and two unnamed parties.
The full text of the ASA decision appears at ASA Adjudications: Malaysia Palm Oil Council t/a MPOC
Related articles
Malaysian palm oil chief claims oil palm plantations help orangutans
(06/18/2009) Dr. Yusof Basiron, CEO of the Malaysian Palm Oil Council, the government-backed marketing arm of the Malaysian palm oil industry, claims on his blog that endangered orangutans benefit from living in proximity to oil palm plantations. Environmentalists scoff at the notion, maintaining that oil palm expansion is one of the greatest threats to orangutans.
Biodiversity of rainforests should not be compared with oil palm plantations says palm oil council chief
(11/11/2008) Scientists should compare the biodiversity oil palm plantations to other industrial monocultures, not the rainforests they replace, said Dr. Yusof Basiron, CEO of the Malaysian Palm Oil Council (MPOC), in a post on his blog. Basiron's comments are noteworthy because until now he has maintained that oil palm plantations are "planted forests" rather than an industrial crop.
Palm oil industry relies on greenwashing to mislead consumers, alleges report
(10/08/2008) The Malaysian palm oil industry is relying on marketing tactics that mislead the public about its environmental performance rather than taking effective steps to become "greener" alleges a new report from the environmental group Friends of the Earth (FOE).
Sustainability conference reveals a rift in the Malaysian Palm Oil Council
(05/01/2008) Last month's sustainability conference sponsored by the Malaysian Palm Oil Council (MPOC) revealed a rift between some planters and the industry marketing organization.
Malaysian palm oil industry puts sustainability in the spotlight
(04/17/2008) Seeking to differentiate its palm oil from that produced less responsibly in other countries, the Malaysian Palm Oil Council (MPOC) sponsored a three-day meeting this week in Kota Kinabalu, on the island of Borneo.
Palm oil is a net source of CO2 emissions when produced on peatlands
(12/17/2007) Researchers have confirmed that converting peat forests for oil palm plantations results in a large net release of carbon dioxide, indicating industry claims that palm oil helps fight climate change are unfounded, at least when plantations are established in peatlands.
Greenwashing the palm oil industry
(11/12/2007) A new report from Greenpeace alleges that members of the Roundtable on Sustainable Palm Oil — an industry-driven initiative to clean up palm oil production — are using palm oil derived by clearing endangered rainforests and draining carbon-rich peatlands on the Indonesian island of Sumatra.
Oil palm does not store more carbon than forests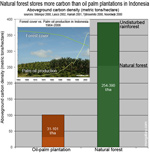 (11/08/2007) Officials from the Indonesian ministry of agriculture and the palm oil industry are distributing materials that misrepresent the carbon balance oil palm plantations, according to accounts from people who have seen presentations by members of the Indonesian Palm Oil Commission. Ministry of agricultural officials are apparently arguing that oil palm plantations store and sequester many times the amount of CO2 as natural forests and therefore converting forests for plantations is the best way to fight climate change. In making such claims, these Indonesian officials are ignoring data that show the opposite, putting the credibility of the oil palm industry at risk, and undermining efforts to slow deforestation and reign in greenhouse gas emissions.